FDA Declines to Remove Bisphenol A From Food Packaging
WASHINGTON, DC, April 2, 2012 (ENS) – The U.S. Food and Drug Administration said Friday it will allow bisphenol A to remain in food packaging while it continues to study the effects of the chemical on human health and the environment.
Bisphenol A, or BPA, is a hormone-disrupting chemical used in the linings of beer and soda cans, vegetable and soup cans and in products such as reusable plastic water bottles.
Researchers have found that BPA, which is used to harden plastics, leaches from containers into food and beverages and has been linked to health problems, including cancer, reproductive dysfunction and heart disease.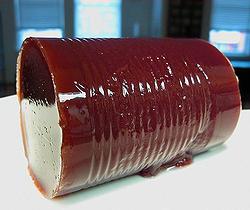 Canned cranberry sauce (Photo by MrTinDC)
The FDA said it "has determined, as a matter of science and regulatory policy, that the best course of action at this time is to continue our review and study of emerging data on BPA."
The agency issued this determination in response to a federal court ruling in a lawsuit brought against the agency by the nonprofit Natural Resources Defense Council.
NRDC in 2008 petitioned the agency to require elimination of bisphenol A from all food packaging. When no response to its petition was forthcoming, NRDC sued in 2011, asking the U.S. District Court for the Southern District of New York to compel the agency to respond.
Later that year, the court issued a consent decree requiring Food and Drug Administration to make a final decision on NRDC's petition by March 31, 2012.
In rejecting a 2008 petition from the Natural Resources Defense Council, the agency said it was not making a final determination of BPA's safety and instead will continue to examine the ongoing research of BPA's effects.
The agency said, "this announcement is not a final safety determination and the FDA continues to support research examining the safety of BPA."
Dr. Sarah Janssen, a scientist in the public health program at the Natural Resources Defense Council, said, "BPA is a toxic chemical that has no place in our food supply. We believe FDA made the wrong call."
"The agency has failed to protect our health and safety – in the face of scientific studies that continue to raise disturbing questions about the long-term effects of BPA exposures, especially in fetuses, babies and young children," said Dr. Janssen.
"The FDA is out-of-step with scientific and medical research," she said. "This illustrates the need for a major overhaul of how the government protects us against dangerous chemicals."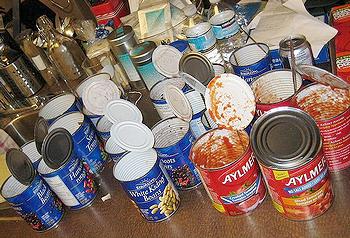 Food cans are lined with material containing bisphenol A. (Photo by Alison McCausland)
Congressman Edward Markey, a Massachusetts Democrat who serves as senior member of the Energy and Commerce Committee, which has jurisdiction over the Food and Drug Administration, said, "Despite steps taken around the world to eliminate the use of this toxic chemical in food and beverage packaging, the FDA continues to ignore safety concerns and allow BPA in the household products American families use every day."
For the past three Congresses, Markey has fought to ban BPA and ensure the safety of all food packaging by introducing the Ban Poisonous Additives Act.
In March, Markey sent three separate petitions to the FDA requesting the agency permanently remove regulatory approval for the use of BPA in infant formula and baby and toddler food packaging, small reusable household food and beverage containers, and canned food packaging.
"Many manufacturers have already stopped using BPA in their products due to public pressure, leading to the development of alternatives for this harmful chemical," said Markey. "I call on the FDA to accept my petition and close the door on the use of this chemical in America's food and beverage packaging and provide assurance that BPA forever will be kept out of our bodies."
Last month, ENS reported that the Campbell Soup Company is phasing out the use of BPA in its can linings. (ENS, March 7, 2012)
Jeanne Rizzo, Breast Cancer Fund president and chief executive, called the FDA's decision "deeply disappointing."
"The body of evidence against BPA has been mounting over the years we've been calling on the FDA to make a definitive determination on BPA's safety," Rizzo said. "Most of us are exposed to BPA every day."
By measuring BPA in urine, scientists can estimate the amount of BPA that has entered peoples' bodies.
In the 4th National Report on Human Exposure to Environmental Chemicals, scientists with the Centers for Disease Control and Prevention measured BPA in the urine of 2,517 participants. They found BPA in the urine of nearly all of the people tested, which indicates widespread exposure to BPA in the U.S. population.
BPA has been found in blood and urine of pregnant women, in the umbilical cord blood of newborns and in breast milk soon after women gave birth, said Rizzo. "Nearly 200 lab studies show that exposures to even low doses of BPA, particularly during pregnancy and early infancy, are associated with a wide range of adverse health effects later in life, including breast cancer," she said.
Rizzo points to studies showing that BPA exposure can make non-cancerous breast cells grow and survive like cancer cells, and can actually make the cells less responsive to the cancer-inhibiting effects of tamoxifen, a drug used in the treatment of breast cancer.
"Yet the FDA is saying it wants even more evidence of harm before acting," she says. "If BPA were a potential pharmaceutical drug, it is highly doubtful that, given the adverse effects already seen in animal models, it would ever be allowed into clinical trials in humans. Indeed, we are all currently part of an uncontrolled human BPA experiment."
Copyright Environment News Service (ENS) 2012. All rights reserved.
© 2012, Jim Crabtree. All rights reserved.