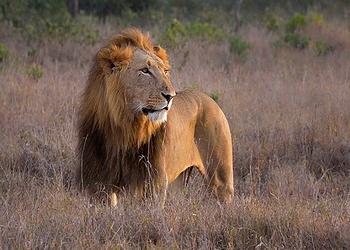 MONTREAL, Quebec, Canada, May 23, 2017 (ENS) – "While wildlife keeps all of us alive, its future is squarely in our hands," says John Scanlon, who heads the Convention on International Trade in Endangered Species, CITES. "We alone will determine the fate of the world's wildlife and in doing so our own destiny."
Scanlon made these observations at the World Travel and Tourism Council's 17th Global Summit in Bangkok, Thailand in late April, an event held in advance of the International Day for Biological Diversity, celebrated around the world on May 22.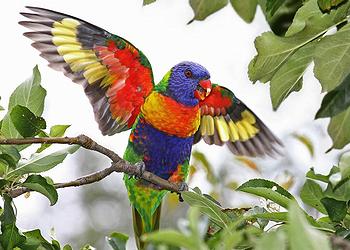 In Monday's global celebrations, held under the theme of Biodiversity and Sustainable Tourism, people enjoyed the benefits of ecotourism, but also examined the potentially negative impacts that tourism can have on biodiversity.
Dr. Cristiana Pașca Palmer, executive secretary of the Convention on Biological Diversity said, "As we celebrate the 16th edition of the International Biodiversity Day let us all remember that by celebrating and protecting biodiversity we respect and give consideration to all forms of life that exist on this beautiful planet and that support the very existence of humans."
Opened for signature at the Earth Summit in Rio de Janeiro in 1992, the Convention on Biological Diversity, CBD, entered into force in December 1993. This international treaty governs the conservation of plants and animals, the sustainable use of the components of biodiversity and the equitable sharing of the benefits derived from the use of genetic resources. Based in Montreal, with 196 Parties to date, the Convention has near universal participation among countries.
Biodiversity and tourism are intimately linked. The travel and tourism sector is one of the largest and fastest growing global industries, accounting for 10 percent of global GDP and one in every 10 jobs.
And it's growing quickly. The tourism sector grew by 3.9 percent in 2016, says the UN World Tourism Organization, with inevitable impacts on the animals and plants that visitors travel to experience.
About 40 million people are drawn every year to the Caribbean's beautiful beaches and marine life, providing $25 billion of revenue annually, nearly half the region's total income.
In Belize, which bridges the divide between the Caribbean and Central America and encompasses the world's second largest reef, more than 50 percent of residents support themselves by income generated through reef-related tourism and fisheries.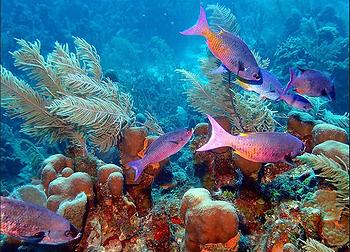 Some 1.4 million people visit Australian parks every year to enjoy their natural landscapes and culture, contributing $23 billion a year to the economy.
"Tourism is like fire: you can cook your food with it, but if you are not careful, it could also burn your house down!" writes Jochen Flasbarth, director-general, nature conservation in Germany's Federal Ministry for the Environment, Nature Conservation and Nuclear Safety.
In his Forward to the publication "Managing Tourism and Biodiversity: User's Manual on the CBD Guidelines on Biodiversity and Tourism Development," Flasbarth details the risks.
"Risks include the immense volumes of traffic and waste and the huge land and resource consumption connected to travel. Sensitive ecosystems, especially those in coastal and mountain regions, are also the areas that are particularly interesting for tourism. For example, an estimated 71 percent of the dune landscapes that existed in the Mediterranean region in 1990 have now disappeared. At Germany's coasts of the North and Baltic Seas, this figure is around 15 to 20 percent."
The key is responsible travel to natural areas that conserve the environment and improve the wellbeing of local people who often act as stewards for the biodiverse areas.
"Many conventional businesses, such as hotels and tourism operators, have taken steps to ensure that they adhere to sustainable tourism principles and best practices in their day to day operations," said Dr. Pașca Palmer.
She says many travellers are now making choices based on whether or not good conservation practices are followed by operators at their destinations.
Nepal's Chitwan National Park is a great example of wildlife-based tourism generating local jobs, with government and operators engaging with and supporting local communities.
In Chitwan National Park on Monday, in the presence of the Prime Minister Pushpa Kamal Dahal, ministers, representatives of local communities, international organizations, and media, Nepal destroyed confiscated stockpiles of wildlife parts. Parts of tigers, rhinos, leopards, pangolins, various reptiles and many other species were destroyed.
"Today's event will not end wildlife crime," said Scanlon, "but it does help to raise public awareness of the serious threats posed to wild animals and plants, people and economies by such crimes and it provides an ideal opportunity to make a very public expression of Nepal's steadfast determination not to tolerate any poaching or illegal trade of its wildlife."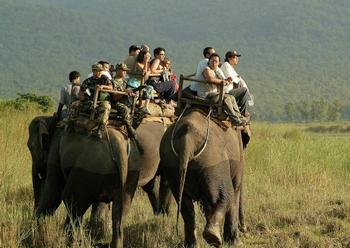 "The strong measures being taken in Nepal not only benefits its extraordinary wildlife," Scanlon said. "They are ensuring personal security, providing local jobs and community development, and supporting well-managed wildlife based tourism, and along with it the national economy."
At Bwindi Impenetrable National Park, in Southwest Uganda, tourists arriving to see gorillas have increased from 1,300 a year in 1993 to around 20,000 today, according to Dilys Roe,a principal researcher in the Natural Resources research group of the London-based International Institute for Environment and Development, IIED.
International tourists pay US$600 each to track gorillas and the Uganda Wildlife Authority shares US$10 per permit sold with local people recognizing that their support is important for conservation. But local benefits from gorilla tourism are very limited.
"Relationships between local people and the park are poor, and poaching, snaring and other illegal activities continue," wrote Roe on the IIED blog on Monday. "This poses a significant threat to the park and to the long-term conservation of the mountain gorillas. It also represents a missed opportunity for harnessing tourism as an engine for local economic development in this remote rural area of Uganda."
To address these problems, IIED is working with the Institute for Tropical Forest Conservation, the Responsible Tourism Partnership and the International Gorilla Conservation Programme to develop new or improved local tourism products and services that meet the needs and interests of tourists, tour operators and lodges. This project is supported by the UK government's Darwin Initiative.
"We know that tourism impacts on biodiversity can be devastating," said Inger Andersen, director general of the International Union for the Conservation of Nature, IUCN. "Land clearing for tourism infrastructure, pollution and uncontrolled numbers of visitors destroy critical ecosystems that are often home to threatened species and provide an array of benefits to both people and nature."
"As the official advisory body on nature under the World Heritage Convention, IUCN sees these impacts first hand. Andersen says over a quarter of all natural sites on the UNESCO World Heritage List are negatively affected by tourism.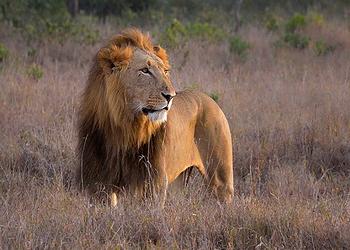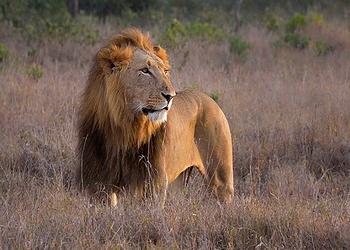 But, she says, the impacts of tourism on the natural world do not have to be so destructive, and, "The industry itself can directly contribute to preserving the very places it depends on."
In 2014 IUCN launched a new global standard of excellence – the Green List of Protected and Conserved Areas, which recognizes and helps ensure success in managing some of the most valuable natural places on the planet. Sustainable tourism is an important element of this success.
Andersen points to the Ol Pejeta Conservancy in Kenya, a green-listed area inhabited by the world's last three northern white rhinos. The Conservancy recently won the prestigious Tourism for Tomorrow award for its work to improve lives in surrounding communities. It supports six health centers serving 20,000 community members, supplies water, solar power and computers to local schools, and provides cook stoves and solar devices to households.
"So we all have a responsibility," says Andersen. "The tourism industry needs to lean in to create sustainable solutions for the industry and the consumer. And we as consumers have to work on the demand side of the equation, by booking our vacations and trips to destinations that support sustainable tourism. In that way, tourists will return home refreshed, but will also have contributed to creating a fairer and healthier planet, proving that the tourist industry can thrive while contributing to the protection of the planet."
Copyright Environment News Service (ENS) 2017. All rights reserved.