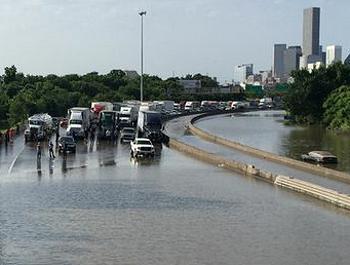 HOUSTON, Texas, May 26, 2015 (ENS) – Heavy rains, flash floods, hail and high winds pummeled Houston today, severe weather conditions that hit the city Monday night.
Houston Mayor Annise Parker has proclaimed a state of disaster for the nation's fourth largest city, warning, "Roads are incredibly dangerous, and the flooding situation poses an immediate threat to you if you get caught in it."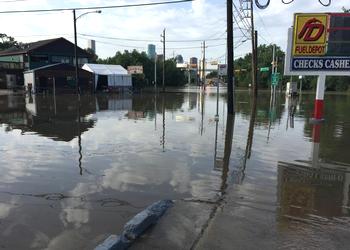 The extreme weather has claimed at least 10 lives in Texas and Oklahoma and has forced thousands of residents from their homes.
At least two people were found dead in two separate Houston locations early this morning. The Houston Fire Department said one victim was found in the cab of a flooded truck. Emergency workers pulled another victim from the limbs of a tree.
More than 200 water rescues have been reported in Houston, said Michael Walter, speaking for the city's emergency operations center.
At a news conference this morning, Houston officials urged citizens to stay home until the water recedes. There is significant flooding on major roads and highways across the area, and as the city drains, this creates a serious flooding hazard, they said.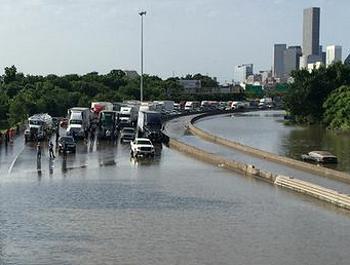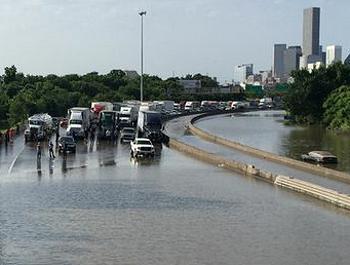 People attempting to drive through flooded areas may find themselves stuck, or swept away in rapidly moving flood water. They asked residents to remember the slogan, "Turn Around, Don't Drown."
The National Weather Service has issued an emergency Flash Flood Warning for much of Houston, saying that torrential rains have already produced significant flooding across the entire city, "an increasingly dangerous situation."
The Houston Independent School District canceled classes for its more than 200,000 students. Houston's Metro mass transit system has suspended bus and rail service.
Severe weather has buffetted much of Texas since May 4, forcing Texas Governor Greg Abbot to declare a state of emergency in a total of 37 counties.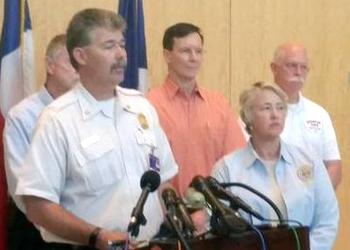 Mayor Parker also has requested an emergency declaration from Governor Abbott.
Hundreds of fans were stranded overnight at the Houston Rockets-Golden State Warriors NBA playoff basketball game at Toyota Center in Houston.
The Texas cities of Austin and Dallas also reported flooding, with scores of water rescues.
In the city of San Marcos, 165 miles west of Houston, 13 people are still missing. Eight of the missing were in a vacation home that was swept down the rising Blanco River river and smashed into a bridge early Monday.
Two people have died in this area due to flash flooding – one in San Marcos and another in Caldwell County.
A North Texas man drowned when water released from the main dam for Eagle Mountain Lake to prevent the lake from overflowing overturned his kayak.
Chad Lorance with the Tarrant Regional Water District told reporters Tuesday that Joshua Reed of Fort Worth and others with him disregarded signs Saturday and entered a restricted part of the Trinity River next to the dam.
Reed's body was recovered Sunday. The Tarrant County medical examiner's office says Reed died of accidental drowning.
In neighboring Oklahoma, three people died as a result of severe weather over the Memorial Day weekend.
On Saturday, a woman in Tulsa died when she lost control of her car in flooding rains. In the town of Claremore on Sunday, a firefighter died when he was washed into a storm drain while trying to rescue someone from high water. On Monday, a man died in the nearby town of Sapulpa.
The National Weather Service has issued a flood watch from the Plains to the Gulf of Mexico. Forecasts call for thunderstorms, hail, high winds, flash flooding, river flooding and tornadoes across Texas this week.
Over the past month, the American Red Cross has responded to severe weather across Texas, including tornadoes and flash flooding.
Facing ongoing violent storms and rising water, people feel the emotional toll of these disasters, fearing for the safety of loved ones and threats to their homes.
Red Cross disaster mental health counselors are reaching out to survivors, allowing them to unburden their hearts.
"As you listen to people telling their story, it's a way for them to process what's been going on. It helps them to come to terms with it," said Jerry Montgomery, a Red Cross volunteer who is leading the team of about a dozen mental health counselors in Texas.
"It's normal to be upset, maybe to cry. It's just a normal reaction to an abnormal event," she said. "We help them to understand their feelings are normal and they aren't crazy."
Children often are upset by a traumatic event and need the specialized skills of Red Cross counselors like Richard and Carolyn Newkirk. The husband and wife team were in Van, Texas after a tornado struck that community Monday, May 11, damaging the elementary school and more than 100 homes.
The Newkirks say survivors are just glad to be alive and exhibit open generosity, giving and sharing. They say children can be particularly resilient even if they lost everything.
Copyright Environment News Service (ENS) 2015. All rights reserved.
Environment News Service (ENS) © 2015 All Rights Reserved.