'Exceptional' Drought Parches United States
LINCOLN, Nebraska, August 1, 2011 (ENS) – In July, exceptional drought across the Lower 48 states hit the highest levels in the history of the U.S. Drought Monitor.
An official with the National Drought Mitigation Center at the University of Nebraska-Lincoln says nearly 12 percent of the contiguous United States fell into the "exceptional" classification during the month, peaking at 11.96 percent on July 12.
That level of exceptional drought has never before been seen in the monitor's 12-year history, said Brian Fuchs, UNL assistant geoscientist and climatologist at the National Drought Mitigation Center.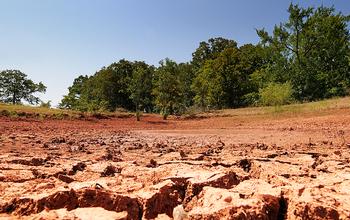 Dried up pond in Oklahoma, July 21, 2011 (Photo by bassgal71)
Exceptional drought brings widespread crop and pasture losses, as well as shortages of water in reservoirs, streams and wells, creating water emergencies. Across Texas, crops are shriveling in the fields and pastures are burning. Many farmers and ranchers will have little or nothing to harvest. As of this afternoon, Dallas has had 31 consecutive days with temperatures of 100 degrees or higher.
In Oklahoma, the drought has destroyed hay fields, forcing livestock producers to seek hay from less-affected areas and prompting Governor Mary Fallin to issue an executive order allowing truck drivers double their hay loads.
"The weather has made this an extremely tough year for Oklahoma farmers," said Governor Fallin last week, after securing a disaster declaration in 69 Oklahoma counties from the U.S. Department of Agriculture. "This declaration will help those who have been hard hit by drought and other bad conditions to get the assistance they need."
Meanwhile, Excessive Heat Warnings, Watches, and Advisories remain in effect across parts of the Mississippi Valley, Central and Southern Plains, warns the National Weather Service.
The U.S. Drought Monitor uses a ranking system that begins at D0 (abnormal dryness) and moves through D1 (moderate drought), D2 (severe drought), D3 (extreme drought) and D4 (exceptional drought).
The most recent drought monitor report, released late last week, indicated that 59 percent of the United States was drought-free, while 41 percent faces some form of abnormal dryness or drought.
Two weeks ago, 64 percent of the country was drought-free.
Currently, 18 percent of the country is classified as under either extreme or exceptional drought, Fuchs said. Much of it is in the south, particularly Texas, where the entire state is experiencing drought – three-fourths is considered exceptional.
Other states that are at least 85 percent abnormally dry or in drought include:
New Mexico (100 percent in drought, 48 percent exceptional)
Louisiana (100 percent abnormally dry or in drought, 33 percent exceptional)
Oklahoma (100 percent abnormally dry or in drought, 52 percent exceptional)
South Carolina (97 percent abnormally dry or in drought, 16 percent extreme to exceptional)
Georgia (95 percent abnormally dry or in drought, 68 percent extreme to exceptional)
Arkansas (96 percent abnormally dry or in drought, 6 percent extreme to exceptional)
Florida (89 percent abnormally dry or in drought, 20 percent extreme to exceptional)
In the next two to three weeks, some drought-affected areas may see some improvement, said Fuchs, but Tropical Storm Don, Texans' hope for rainfall on the weekend was disappointing.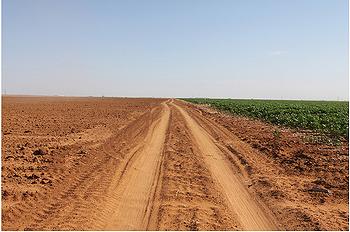 Texas dry land cotton, right, and an irrigated field, left, July 21, 2011. Millions of acres will be lost to drought this year. (Photo by Matt Felder courtesy Texas Farm Bureau)
Don came ashore near Baffin Bay late Friday, weakened abruptly prior to landfall, Don producing only scattered showers, amounting to less than an inch of rain.
"It's been so dry in Texas for so long, this one storm will be a drop in an empty bucket," said Texas State Climatologist John Nielsen-Gammon, a professor of atmospheric sciences at Texas A&M University
The period from February through June was by far the driest on record with a Texas-wide average of 4.26 inches of rain. The next driest occurred in 1917 with 6.45 inches.
The heat wave baking the Central and Eastern U.S. last month claimed more records. July was the warmest month ever recorded in Washington, DC (84.5), Oklahoma City (89.2) and Wichita Falls, Texas (92.9).
The drought monitor combines numeric measures of drought and experts' best judgment into a weekly map. It is produced by the National Drought Mitigation Center, the U.S. Department of Agriculture and the National Oceanic and Atmospheric Administration and incorporates review from 300 climatologists, extension agents and others across the nation.
Each week the previous map is revised based on rain, snow and other events, observers' reports of how drought is affecting crops, wildlife and other indicators.
Copyright Environment News Service (ENS) 2011. All rights reserved.
© 2011 – 2012, Jim Crabtree. All rights reserved.