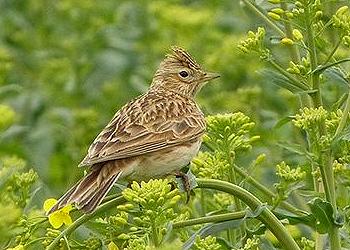 BRUSSELS, Belgium, May 24, 2015 (ENS) – Across Europe, once common farmland birds such as the Eurasian Skylark are declining, and around 17 percent of all bird species are threatened, finds a new report providing the most comprehensive picture yet on the State of Nature in the European Union.
The European Commission Wednesday adopted the report, which covers the period 2007-2012. It is the first assessment to cover both the Birds and Habitats Directives and results from the largest collaborative data-collection and assessment of nature ever undertaken across the EU Member States.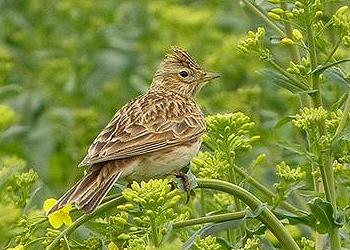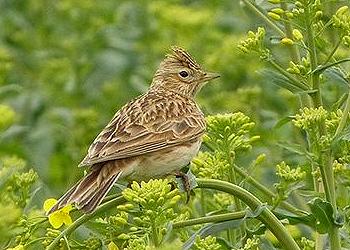 The findings show that 52 percent of birds have a secure status, and some species and habitats are doing better than in the recent past. But 17 percent of birds are still threatened and another 15 percent are near threatened, declining or depleted.
Karmenu Vella, commissioner for environment, maritime affairs and fisheries, said, "This report is significant and timely. While it shows a mixed picture overall, it clearly demonstrates that efforts to improve vulnerable ecosystems can be highly effective. It also underlines the scale of the challenges that remain. We have to rise to those challenges, as the health of our nature is linked to the health of Europe's people, and to our economy."
The EU Natura 2000 network of protected areas, which is 18 percent of the EU's land area and is the largest network of protected areas in the world, has also had an important positive influence on the conservation status of species and habitat types.
Some bird species appear to be benefiting from targeted conservation measures aimed at adapting land-use practices, especially in Natura 2000 sites.
For instance, agri-environmental and land management programs implemented in Spain, Portugal, Austria, Hungary and Germany have helped the recovery of the Great Bustard, Otis tarda, a species dependent on open landscapes such as grasslands, steppes and undisturbed cultivated areas, which is declining elsewhere in Europe.
Despite suffering a population decline in some EU countries, the White-backed Woodpecker, Dendrocopos leucotos, which is heavily dependent on old and dead deciduous trees, has increased in Finland, where it has benefited from changing forest management practices in Natura 2000 sites.
Several species of birds of prey, including the Carpathian Basin populations of the Eastern Imperial Eagle, Aquila heliaca, have increased due to protection of nesting sites and habitat management.
Looking at other species protected under the Habitats Directive, 23 percent have a favorable assessment, but 60 percent are still in an unfavourable status. Grasslands, wetlands and dune habitats are of particular concern, the report shows.
Habitat types show a worse conservation status and trend than species, as only 16 percent of habitat assessments are favorable.
The overwhelming majority, 77 percent, of habitats have an unfavorable status.
The main threats to habitats are agricultural practices such as over-grazing, abandonment of pastoral systems, fertilization and pesticides, and human-induced changes in waterways.
Species associated with aquatic environments such as rivers, lakes and wetlands are suffering poor status and deteriorating trends, the report shows.
The highest proportions of favorable assessments for the terrestrial biogeographic regions were reported for the Black Sea and Alpine regions, while the Boreal and Atlantic regions show the highest proportion of unfavorable assessments.
Although there is a smaller number of species assessments in the marine regions, the proportion of unknown assessments is much higher for these (up to 88 % in the Macaronesian region).
The Baltic Sea region shows the worst status, with 60 percent of the assessments being unfavourable-bad, followed by the Black Sea Region at 33 percent.
Vascular plants and amphibians show the highest level of favorable assessments.
Europe's largest umbrella group of environmental organizations, the European Environmental Bureau, EEB, has joined with other nongovernmental organizations from across Europe in launching a public e-action "Nature Alert" asking people to participate in the ongoing EU Public Consultation on Regulations and calling on the Commission to defend EU Nature Directives: http://www.eeb.org/index.cfm/activities/biodiversity-nature/biodiversity/nature-alert/.
During the first week, last week, over 100,000 people joined the call.
Twitter messages are sent to European Commission President Jean-Claude Juncker, VP Frans Timmermans and European Environment Commissioner Vella with the hashtag #NatureAlert.
The EEB last week sent a letter to President Juncker to call for "effective and ambitious new laws to tackle the real challenges of climate change, biodiversity loss, overconsumption of resources and protection of human health."
A group of more than 50 nongovernmental organizations, including the EEB, have set up a Better Regulation Watchdog to keep an eye on the European Commission.
The Watchdog will work to ensure that better regulation means laws to improve social, environmental, labor, consumer, economic and public health standards for citizens and an inclusive and competitive Europe founded on economic, social and environmental sustainability.
Reacting to the State of Nature report, Pieter de Pous, EU Policy Director for the EEB, said, "This report shows once again that environmental legislation works when implemented seriously and that it is needed more then ever before."
"The fact more than 100,000 EU citizens have in less than a week called on the European Commission to defend EU nature protection laws shows such legislation has massive popular support. The message is crystal clear: EU nature policies should be better enforced, not revised, and sustainable development made the overarching priority of the EU."
Every six years, Member States report on the conservation status of species and habitat types protected under the EU Directives. The report covers all 240 wild bird species, 231 habitat types and more than 1,200 other species of EU interest.
This 'State of Nature in the EU' report is supported by a more detailed technical report prepared by the European Environment Agency, which also includes country-specific data.
The reports serve as input to the coming Mid-Term Review of the EU Biodiversity Strategy. The findings of the report will also feed into the ongoing Fitness Check of the Birds and Habitats, which is part of a broader exercise of taking stock of EU legislation to ensure that it is fit for its purpose.
Copyright Environment News Service (ENS) 2015. All rights reserved.