Europe's New CO2 Emission Targets 'Toughest in the World'
BRUSSELS, Belgium, July 13, 2012 (ENS) – The European Commission Wednesday proposed further cuts to carbon dioxide, CO2, emissions from new cars and vans by 2020.
The proposals move the European Union toward its stated goal of cutting overall greenhouse gas emissions to 20 percent below 1990 levels by 2020 and moving towards decarbonizing the transport sector to minimize climate change.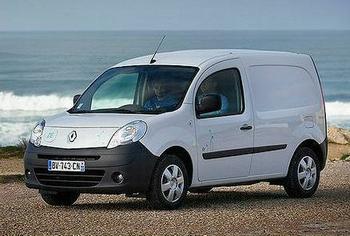 Zero-emission electric vans such as this Renault Kangoo ZE will have no trouble with the new targets. (Photo courtesy Renault)
Cars and vans together account for around 15 percent of EU carbon dioxide (CO2) emissions.
The latest proposals would cut average emissions from new cars to 95 grams of CO2 per kilometer (gCO2/km) in 2020.
In 2011, by comparison, average emissions from new cars were required to be no more than 135.7 gCO2/km, with a mandatory target of 130 gCO2/km in 2015.
Under the new proposal emissions from vans would be reduced to 147 gCO2/km in 2020 from 181.4 gCO2/km in 2010, the latest year for which figures are available.
The mandatory target for vans is set at 175 gCO2/km by 2017.
Connie Hedegaard, EU Commissioner for Climate Action, called the new targets "a win-win for the climate, consumers, innovation and jobs." "With our proposals we are not only protecting the climate and saving consumers money. We are also boosting innovation and competitiveness in the European automotive industry," said Hedegaard. "And we will create substantial numbers of jobs as a result."
The European Automobile Manufacturers' Association says it will now work with its members to conduct a full analysis of how the proposed targets should be reached as well as their feasibility, and what this means in practice for the industry as a whole.
The auto industry shares concerns about global warming and is contributing actively to find sustainable solutions, said ACEA Secretary General Ivan Hodac.
"It is clear that CO2 levels from vehicles have to continue on their downward trend and the industry is committed to deliver on this," he said.
But he called the new 2020 targets "extremely challenging."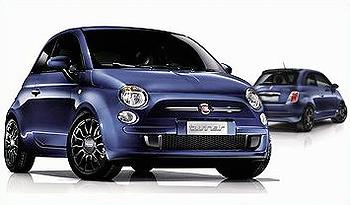 The Fiat 500 twinair is powered by the lowest CO2 emission gasoline engine in the world at 92g/km. (Photo courtesy Fiat)
"These are tough targets – the toughest in the world," Hodac said. "Indeed, contrary to some claims, the proposed targets for the European fleet are far more stringent than those in the United States, China or Japan."
This will increase manufacturing costs in Europe, creating a competitive disadvantage for the region and further slowing the renewal of the fleet, he said.
In 2011, the average fleet emissions were 136.6 gCO2/km compared to 186 gCO2/km in 1995, which is a 26.6 percent decrease over the period, Hodac pointed out.
The Commission's analysis shows that the 2020 targets are achievable, economically sound and cost effective. The technology is readily available, its cost is "substantially lower than previously thought" and its implementation should boost employment and GDP and benefit consumers and industry, the minister said.
"This is a clear win-win situation for everyone," Hedegaard maintained. "This is one more important step towards a competitive, low-carbon economy. More CO2 reductions beyond 2020 need to be prepared and these will be considered in consultation with stakeholders."
Hodac said, "Considering that most manufacturers are losing money in Europe at the moment, the industry needs as competitive a framework as possible. Targets – while ambitious – must be feasible. The overall regulatory framework and market environment must be supportive, as also agreed in the recently concluded CARS 21 process."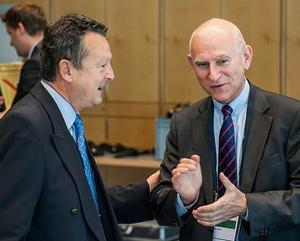 European Car Manufacturers' Association head Ivan Hodac, left, and Patrick Oliva, Michelin senior vice-president, strategic anticipation and sustainable development, at the Ministers' Roundtable: The Automotive Future, International Transport Forum, May 2012 (Photo by ITF)
Overall, consumers would save a total of roughly 30 billion euros per year in fuel costs, the Commission estimates.
The need for new technologies and improvements in fuel efficiency will have positive impacts on demand for components, leading to the creation of new jobs, the minister said.
Fuel efficiency is expected to have a beneficial effect on employment as fuel efficiency increases the value of cars manufactured and leads to higher labor demand, since vehicle manufacturing is labor-intensive.
The Commission estimates that the targets could increase EU Gross Domestic Product by 12 billion euros annually and spending on employment by some nine billion euros a year.
The proposals would in total save 160 million tonnes of oil – worth around 70 billion euros at today's prices – and around 420 million tonnes of CO2 in the period to 2030, according to the European Commission.
Next, the proposals will be submitted to the European Parliament and the Council for discussion and adoption. The proposals would amend two existing regulations establishing binding requirements for manufacturers to meet the 2015 mandatory target for cars and the 2017 target for vans.
Implementing measures for the regulations are already in place and CO2 emissions from new vehicles are monitored annually.
Over 70 cities and towns in eight countries around Europe operate or are preparing Low Emission Zones, or LEZs, to help meet the EU health-based air quality limit values, where the most polluting vehicles are regulated.
This means that vehicles may be banned, or in some cases charged, if they enter the LEZ when their emissions are over a set level.
All LEZs affect heavy duty vehicles, some affect diesel vans, others also affect diesel and gas-fueled cars; in Italy, motorcycles and three-wheelers are also included.
Click here for a website, supported by the European Union, that provides a single source of information on Low Emission Zones across Europe.
Copyright Environment News Service (ENS) 2012. All rights reserved.