BRUSSELS, Belgium, May 15, 2012 (ENS) – Airlines flying to and from European airports have complied with the EU Emissions Trading Scheme and reported their greenhouse gas emissions data, except for the refusal of aircraft operators from China and India.
Europe's Climate Action Commissioner Connie Hedegaard said today that China and India have only 10 commercial airlines currently operating to or from the EU, representing less than one percent of emission reports and less than three percent of emissions.
In this, the second year of emissions reporting, aircraft operators showed a very high level of compliance, with more than 1,200 emissions reports for 2011 submitted to the Member States.
As in 2010, almost all commercial airlines with significant operations to or from EU airports reported their 2011 emissions on time, ahead of the introduction of mandatory reporting. At this time aircraft emissions do not trigger obligations to surrender allowances and are not needed for specific regulatory purposes.
Emissions of greenhouse gases from European power plants and factories participating in the EU Emissions Trading System fell by more than two percent last year, while the EU economy was growing, according to official figures released today.
The EU ETS covers more than 12,000 installations in the 27 EU member states, as well as Iceland, Liechtenstein and Norway.
Verified emissions of greenhouse gases from these installations dropped to 1.889 billion tonnes of CO2-equivalent last year, more than two percent below the 2010 level.
"ETS Emissions decreased by more than two percent in 2011 despite an expanding economy recovery," said Commissioner Hedegaard. "This good result shows that the ETS is delivering cost-effective emissions reductions. It also emphasizes why the ETS remains the engine to drive low-carbon growth in Europe."
Launched in 2005, the EU ETS works on the cap and trade principle. There is a cap, or limit, on the total amount of greenhouse gases that can be emitted by the factories, power plants and other installations in the system. Within this cap, companies receive emission allowances which they can sell to or buy from one another as needed. The limit on the total number of allowances available ensures that they have a value.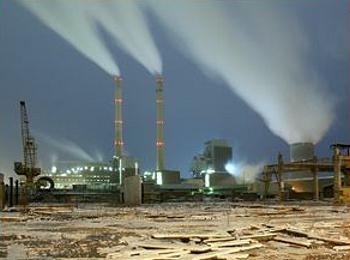 Coal-fired Heilbron power plant in the German state of Baden-Wurttemberg (Photo by Sebastian Stumpf)
At the end of each year each company must surrender enough allowances to cover all its emissions, or heavy fines are imposed. If a company reduces its emissions, it can keep the spare allowances to cover its future needs or else sell them to another company that is short of allowances. The flexibility that trading brings ensures that emissions are cut where it costs least to do so.
The number of allowances is reduced over time so that total emissions fall. In 2020 emissions are expected to be 21 percent lower than in 2005.
On the positive side, Hedegaard pointed to the fact that companies' level of compliance with the EU ETS rules was again high in 2011.
Less than one percent of the participating installations did not surrender allowances covering all their 2011 emissions by the deadline of April 30, 2012.
Two percent of installations failed to submit their verified emissions for 2011 by the same deadline.
These noncompliant installations are typically small and in total account for less than one percent of emissions covered by the EU ETS, the commissioner said.
However, there have been problems with the EU's Emissions Trading Scheme.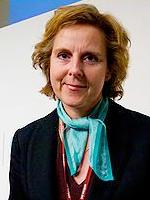 EU Climate Commissioner Connie Hedegaard (Photo by Simon Wedege)
"There is still a growing buffer of unused allowances," Hedegaard said. "This is why the Commission, as announced last month, is now reviewing the time profile of phase 3 auctions with a view to reducing the number of allowances for auction in the early years of phase 3."
The EU ETS has been reformed for the third trading period, known as phase 3, which will start on January 1, 2013 and runs until 2020.
The second trading period began on January 1, 2008 and runs until December 31, 2012, coinciding with the period during which industrialized countries must meet their Kyoto Protocol emission targets. The European Union and EU Member States have such emission targets.
The system has an excess of more than 900 million allowances, the commissioner said, explaining that last year's record use of international credits has increased the buffer of unused allowances by some 450 million.
Analysts have said that the euro zone's fiscal crisis is reducing demand for the carbon pollution allowances, signalling that EU carbon prices may sink to record lows in the near future.
Since 2008, installations can surrender international certified emission reduction credits, or CERs, generated through the Kyoto Protocol's flexible mechanisms in order to offset part of their emissions.
The two Kyoto flexible mechanisms are:
Joint Implementation projects allow countries with emission reduction or limitation commitments under the Kyoto Protocol to offset them with emission reduction or removal projects in other such countries. JI projects produce Emission Reduction Units, or ERUs, each equivalent to a reduction of one tonne of carbon dioxide emission.
The Clean Development Mechanism, allows countries with commitments under the Protocol to implement emission reduction or removal projects in developing countries, which do not have such commitments. CDM projects produce Certified Emission Reductions, or CERs, each equivalent to a reduction of one tonne of carbon dioxide emission.
ERUs have accounted for 1.2 percent of all surrenders since 2008. A total of 100 million ERUs have been used in the EU Emissions Trading Scheme since 2008.
CERs accounted for 5.8 percent of all surrenders in the period 2008-2011.
In total, the EU Emissions Trading Scheme has been responsible for the use of 456 million CERs – 267 million from China and 79 million from India (59 percent and 17 percent respectively of the total use).
Other CERs originated in South Korea (13 percent) and Brazil (six percent), with a further 20 countries of origin accounting for the remaining six percent.
The combined CER and ERU surrenders since 2008 have used up roughly 39 percent of the approximately 1.4 billion credits that are allowed over the 2008-2012 trading period.
Greenhouse gas emissions also can be offset directly by buying and deleting emissions allowances inside the EU Emissions Trading Scheme.
Copyright Environment News Service (ENS) 2012. All rights reserved.