European Airspace Could Reopen Tuesday If Ash Levels Allow
BRUSSELS, Belgium, April 19, 2010 (ENS) – EU transport ministers agreed to gradually lift flight restrictions beginning Tuesday morning without waiting for the cloud of ash from a volcano in Iceland to disperse completely. Air traffic has ground to a halt across northern Europe since the Eyjafjallajokull volcano last week began belching a cloud of ash kilometers into the atmosphere.
"From tomorrow morning we should see more planes flying," EU Transport Commissioner Siim Kallas told reporters following a video conference with EU transport ministers.
The agreement for a "progressive and coordinated" reopening of European airspace with full guarantees of safety will go into force at 0600 GMT on Tuesday.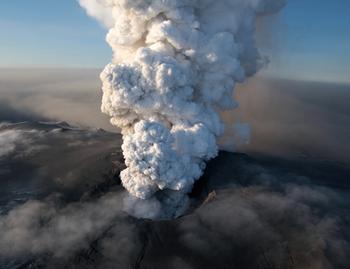 Ash spews from the Eyjafjallajokull volcano in southern Iceland. (Photo courtesy No 10 Downing)
"This is good news for Europe's stranded passengers, and good news for the airline industry and other sectors of the economy hard hit by this crisis," Kallas said. "There will be no compromise on safety. All the decisions must be based on scientific evidence and expert analysis."
Five days after the eruption of volcano began, thousands of planes are still grounded and millions of passengers are still stranded around the world. Airline losses have skyrocketed to over US$1 billion, and airlines across Europe have been desperately seeking ways to start flying again safely.
Eruptions from the volcano were somewhat weaker early today than they were on the weekend but later in the day, the volcano's eruptions intensified. The volcano now is sending an ash plume up to five kilometers (three miles) into the atmosphere, according to the Icelandic Met Office.
The brownish-grey plume is about 400 kilometers (250 miles) long blowing in a roughly southeasterly direction from Iceland across northern Europe.
Eurocontrol, the EU air traffic agency, said fewer than one-third of flights in Europe took off Monday – between 8,000 and 9,000 of the continent's 28,000 scheduled flights.
Air traffic control is not being supplied to most of northern European airspace, including Belgium, the Czech Republic, Denmark, Estonia, Finland, parts of France, Germany, Hungary, Ireland, the Netherlands, northern Italy, Poland, Romania, Slovenia, Switzerland, parts of Ukraine and the UK.
Southern Europe, including Portugal, Spain, parts of Italy and France, the Balkan area, Bulgaria, Greece and Turkey, as well as parts of northern Europe, such as Norway and parts of Sweden, are currently open to civil traffic. Spain has offered to become an emergency hub for the entire continent.
Volcanic clouds are so hazardous to jet planes that air transport authorities monitor the entire atmosphere around the planet on a continuous basis to provide warnings to pilots.
Fine bits of glass in the ash cloud can erode parts of a jet engine and melt under the extreme pressure and heat, leading to engine stalls and flame-outs. In the past 30 years, more than 90 commercial jets have encountered clouds of volcanic ash and suffered damage as a result.
The Spanish Minister of Public Works, Jose Blanco, said that the EU-27 agreed with Eurocontrol to divide the airspace into three zones based on their volcanic ash content, and to allow air operations in the area unaffected by the cloud "by 08.00 Spanish time tomorrow morning, at the latest."
At a press conference, Blanco explained that the first of these zones is the region above the volcanic plume where there is still a strict no-fly zone. The second zone, covers an area where ash may be present but in which operations will be coordinated by the authorities of member states. The third zone is the area unaffected by the ash and in which there are no flight restrictions.
The classification of each of these three zones will be defined over the next few hours using the existing technical reports from the test flights carried out on Sunday and Monday as well as using reports from Eurocontrol and the Vulcanological Institute.
Successful test flights by British Airways and Air France indicate that it might be possible to fly safely over a wider area than has been open to air traffic for the past five days.
On Sunday evening, a British Airways Boeing 747 completed a 2 hour 46 minute flight over the Atlantic Ocean. The aircraft took off from Heathrow at 17:55 local time and climbed to 40,000 feet, flying 550 miles due west of Cardiff.
The aircraft was piloted by Captain Ian Pringle and Captain Stephen Hawkins. Also on board were the company's chief executive, Willie Walsh, the director of flight operations, Stephen Riley, and the general manager of engineering, Robert Crew.
British Airways says, "The conditions were perfect and the aircraft encountered no difficulties. It will now undergo a full technical analysis at British Airways' engineering base at Cardiff."
Air France Sunday carried out five test flights with a view to obtaining information about the impact of the cloud of volcanic ash on aircraft operations.
Two of these flights were operated by Airbus A320 in South West France and three by Boeing 777, from Marseille and Toulouse to Paris-Charles de Gaulle. No irregularity was observed with these five flights, Air France said in a statement today.
Today, several medium and long-haul Air France flights are operating with no passengers on board, seven took place in France, which should validate air corridors to the south, to Amsterdam and elsewhere, said Gourgeon. "Several dozen flights have been operated in Europe and no abnormalities were reported on any of them."
For tomorrow, Tuesday April 20, Air France plans to increase this number to 17 long-haul flights and more if the air corridors become operational.
"The situation is now extremely urgent. Millions of passengers are stranded all over the world," said Gourgeon. In the past few days, more than 60,000 flights have been cancelled in Europe. The European air transport industry, which has come to a complete standstill, is losing 150 million euros per day and today is the fifth day."
Air France-KLM accounts for a quarter of these losses, an estimated 35 million euros. Gourgeon warned, "500,000 direct employees, and three times as many staff employed indirectly, could very soon be temporarily laid off."
Germany's aviation authority says it has granted Lufthansa permission to fly 50 planes back to Germany with about 15,000 passengers aboard. Other airlines such as Air Berlin have sought similar permission.
Eurocontrol expects 40-45 percent of flights in European airspace on Tuesday to go ahead, compared to 30 percent today.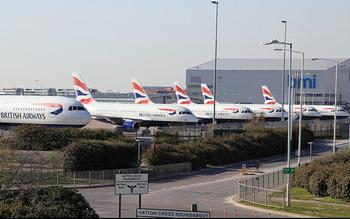 British Airways planes parked at Heathrow Airport. April 19, 2010 (Photo by Art of the State)
The airlines are asking for financial help to ease the impact of this natural disaster. Walsh said, "To assist us with this situation, European airlines have asked the EU and national governments for financial compensation for the closure of airspace. There is a precedent for this to happen as compensation was paid after the closure of U.S. airspace following the terrorist events of 9/11 and clearly the impact of the current situation is more considerable."
Blanco also said that while airspace is not fully operational, Member States and the European Commission will seek alternative transport methods to guarantee the mobility of European citizens.
He announced the agreement with the UK government to use various Spanish airports as "hubs" to distribute British passengers on intercontinental flights, helping the mobility of some 200,000 people.
These airports include Madrid, Bilbao, Vitoria or El Prat, although the details of the collaboration are still being finalized and will be announced soon, said the minister.
In relation to potential financial compensation for airlines, he confirmed that the only objective of the meeting of European ministers was to deal with citizens' mobility.
He explained that the President of the EU, Jose Manuel Durao Barroso, had already created a working committee to assess the consequences of this crisis.
President Barroso said, "The volcanic ash cloud has created an unprecedented situation. I have asked Vice-President Kallas to coordinate the Commission's response and fully assess the impact of the situation created by volcanic ash cloud on the economy, and the air travel industry in particular."
Copyright Environment News Service (ENS) 2010. All rights reserved.