Europe Pledges Hundreds of Millions to Sustainable Energy for All
BRUSSELS, Belgium, April 18, 2012 (ENS) – The European Commission, the EU's executive branch of government, has undertaken to support sustainable energy services to 500 million people in poorer countries by 2030.
At the EU Sustainable Energy for All summit in Brussels Monday, European Commission President Jose Barroso announced the Commission's new Energizing Development initiative, saying, "Investing in access to clean energy will help developing countries to create jobs, markets, and ensure sustainable growth."
"While one part of the planet lives in the digital era and in the times of digital communication, the other part has still no access to basic electricity, power or energy," said Barroso.
The International Energy Agency estimates that 1.3 billion people lack electricity to light their homes or conduct business and one billion more only have intermittent access.
The summit was held in support of the Sustainable Energy for All initiative created by UN Secretary General Ban Ki-moon for this, the International Year of Sustainable Energy for All, as declared by all UN Member States.
Ban told summit participants the EU's political commitment to sustainable energy access will "enable developing countries to leapfrog over the energy systems of the past and build the resilient, competitive, clean energy economies of the future."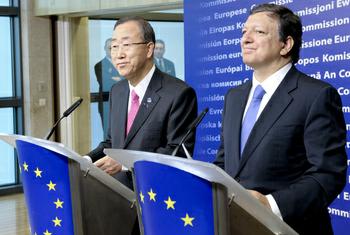 UN Secretary-General Ban Ki-moon, left, and European Commission President Jose Manuel Barroso at a joint news conference in Brussels, April 16, 2012. (Photo by Evan Schneider courtesy UN)
Many developing countries are now poised for economic growth, according to two reports issued by the World Bank today.
The World Bank report on Africa says, "Economic growth in Sub-Saharan Africa remains strong and is poised for lift-off after growing at 4.9 percent in 2011."
The bank's report on Latin America and the Caribbean states, "Current growth forecasts for the region stand between 3.5 and 4 percent for 2012 and 2013, higher than those of Eastern Europe and Central Asia, and similar to those of East Asia."
Speaking in Brussels, the UN secretary-general commended the European Union "for making energy central to its development policies, and for advancing the issue of energy access, along with renewable and energy efficiency, to the forefront of the global development agenda,"
With one billion euros invested in global energy projects over the last five years, the EU is already "the first global donor in this area," said Barroso, but more is needed to help meet the globally agreed Millenium Development Goals to reduce poverty and build sustainable development by 2015.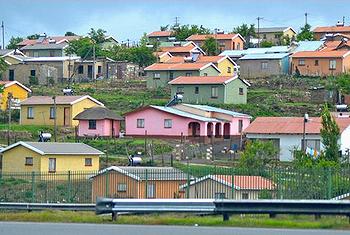 Solar panels and solar hot water systems on low income housing in Kwazulu Natal, South Africa (Photo by Connect4Climate)
As part of the Energizing Development initiative, Barroso announced that over the next two years the EU will create a Technical Assistance Facility worth 50 million euros, using EU experts to foster technical expertise in developing countries.
"This will help those developing countries that opt in to the UN Sustainable Energy for All initiative and commit to the necessary reforms to catalyze and leverage investment," Barroso said. "Because it is clear that aid alone is not enough, we need the private sector on board and a strong commitment of our partner countries."
The EU and its 27 Member States will also contribute a further "several hundred million Euros" to boost concrete new investments and projects in sustainable energy for developing countries.
Barroso said the Commission will present the initiative as part of the European contribution to the UN's Rio+20 conference on sustainable development June 20-22 in Rio de Janeiro, Brazil.
Rio+20 marks the 20th anniversary of the 1992 UN Conference on Environment and Development in Rio, at which many of today's environmental initiatives were agreed by heads of state and government.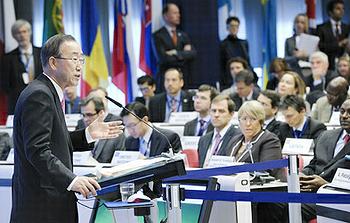 UN Secretary-General Ban Ki-moon addresses the Sustainable Energy for All summit, April 16, 2012 (Photo by Evan Schneider courtesy UN)
Rio+20 will focus on achieving a green economy in the context of sustainable development poverty eradication and building the institutional framework for sustainable development. There, governments are expected to adopt clear and focused practical measures for implementing sustainable development.
The Secretary-General's Sustainable Energy for All initiative is intended to catalyze global action in support of three, interlinked and complementary objectives, all to be achieved by 2030 – ensure universal access to modern energy services, double the global rate of improvement of energy efficiency, and double the share of renewable energy in the global energy mix.
Ban has gathered a high-level group of leaders from global corporations, financial institutions, and foundations to advise and guide the Sustainable Energy for All initiative.
Co-chaired by Kandeh Yumkella, chair of UN-Energy and director-general of the UN Industrial Development Organisation, and Bank of America Chairman Charles Holliday, these leaders are working with UN agencies and member states to produce a comprehensive, concrete sustainable energy action agenda leading up to the Rio+20 summit.
Copyright Environment News Service (ENS) 2012. All rights reserved.