Europe Bans Sale of Baby Bottles Containing Bisphenol A
BRUSSELS, Belgium, June 1, 2011 (ENS) – Baby bottles containing the chemical bisphenol A must be off store shelves across the European Union today, as the EU's ban on the marketing and import of these products takes effect.
The ban was mandated in an EU law adopted in late January. The directive prohibits manufacture in the EU of baby bottles containing bisphenol A as of March 1 and bans the sale and import into the EU of such products as of June 1.
Health and Consumer Policy Commissioner John Dalli said, "June 1 is a milestone in our efforts to better protect the health of EU citizens, in particular the health of our children."
"Due to the fact that there are uncertainties concerning the effect of the exposure of infants to bisphenol A, the Commission deemed it both necessary and appropriate to take action. The aim is to further reduce the exposure of the most vulnerable part of our population – infants."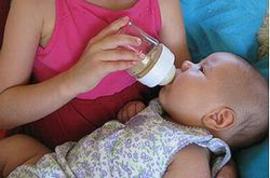 Clear hard plastic baby bottles contain bisphenol A. (Photo by Mary Tsao)
BEUC, the European Consumers' Organisation, said, "We welcome this step. However, as consumers, in particular vulnerable consumers such as pregnant women and children, have to be better protected, we call on the Commission to take further action to reduce exposure to endocrine disrupting chemicals including BPA."
BPA is an organic chemical that is used in the manufacture of polycarbonate plastics, which are used to manufacture baby bottles among other plastic products.
Bisphenol A is a known endocrine disrupter, a substance which can interfere with the hormonal system, and has a similar effect to that of the female sexual hormone, estrogen.
Traces of BPA can be released from polycarbonate plastic containers into the food they carry if these containers are heated at high temperatures.
During the first six months of the infants' lives, exposure to the substance is the highest, especially if infant formula is the only source of nutrition. Also, during this period an infant's system is growing and does not have the capacity to eliminate BPA.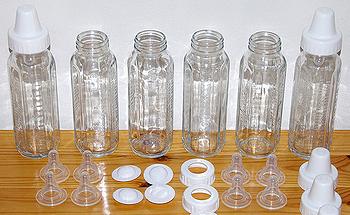 Glass baby bottles contain no bisphenol A. (Photo by Moshe Reuveni)
Manufacturers of bisphenol A have long claimed the product is safe. "BPA is not a carcinogenic risk to humans," said the European Chemicals Industry Council in a 2002 review, citing "overwhelming scientific evidence" that BPA is safe for all its intended uses. The Council has not commented directly on the ban on BPA in baby bottles.
In 2010, France and Denmark took national measures to restrict the use of bisphenol A. France focused on baby bottles only, while Denmark targeted also other food contact materials intended for children.
The Commission asked the European Food Safety Authority to assess the new scientific evidence and EFSA delivered its opinion in September 2010.
The EFSA concluded that bisphenol A is safe up to a daily intake of 0.05 miligrams per kilo of bodyweight. The exposure of all groups of the population is below this limit.
But the EFSA raised questions about the possible impact of BPA on infants, and concluded that more robust data on the areas of uncertainty are needed.
"There were areas of uncertainty, deriving from new studies, which showed that BPA might have an effect on development, immune response and tumor promotion," said Dalli.
He said, "The decision is good news for European parents who can be sure that as of mid-2011 plastic infant feeding bottles will not include BPA."
Monique Goyens, director general of BEUC, said, "Consumers expect products to be safe, an expectation which is compromised by products containing bisphenol A. This is why we urge the European Commission to make use of the precautionary principle and ban the use of bisphenol A from consumer products."
In a position paper on bisphenol A released earlier this year, BEUC said, "It is important that action will be taken now to stimulate research and innovation on safe alternatives as industry should not continue to pretend that no substitution will be possible."
"We also call for changing the current risk assessment methods which look at chemical by chemical and neglect the chemical cocktail effect to which consumers nowadays are exposed," said the consumers' organization.
As evidence that the "chemical cocktail" is present in human blood from the first moments of life, the BEUC paper cites a U.S. study that analyzed the cord blood of newborn babies. It showed that "their blood already contains hundreds of hazardous chemicals such as heavy metals, flame retardants, dioxins, phthalates and pesticides," the BEUC warned.
BPA has two main applications, it is used as stabilizer and hardener for clear polycarbonate plastic and in epoxy resins coating the insides of food and drink containers to protect them from corrosion.
BPA is often used in:
the outer plastic shield of baby soothers
cans for beverages and food
plastic kitchen cutlery and micro-wave crockery
electronic devices with a plastic housing such as coffee machines
storage media such as CDs, DVDs and Blue-ray disks
cash receipts printed on thermal paper
filling and sealing material for dentistry applications
leisure equipment such as surfboards and tennis rackets
medical equipment
construction materials such as floor materials, filling materials and binding agents
paints and varnishes
The BEUC also is calling for BPA to be added to the Candidate List under the EU chemicals law, REACH, as a Substance of Very High Concern, as this is the precondition for stricter regulations governing its use.
In 2006, 3.8 million metric tonnes of BPA were produced worldwide, the BEUC paper states. About 1.15 million tonnes were produced in the European Union.
Copyright Environment News Service (ENS) 2011. All rights reserved.