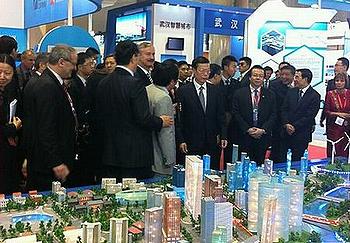 BEIJING, China, November 25, 2013 (ENS) – The European Union and China are working together to improve urban mobility. Hundreds of European and Chinese city mayors as well as academics and business representatives with an interest in the future of urbanization gathered in Beijing at the Second EU China Urban Forum Thursday through Saturday to share ideas and identify future co-operation activities.
In his keynote address on opening day in the Great Hall of the People, European Commission Vice-President Siim Kallas said, "The impact of our urbanization efforts goes beyond European and Chinese domestic interests. We need to ensure the sustainable development of our cities not only for our citizens and our economies but because our cities have a global impact on environment, resources and greenhouse gas emissions – with significant geo-political consequences."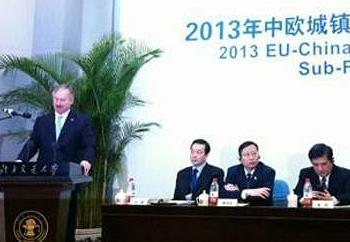 Tianjin, Shenzhen and 10 other Chinese cities signed partnership agreements with European cities and organizations during the forum.
"China expects more EU countries and cities as well as enterprises and organizations to establish close and practical partnership with their Chinese counterparts," said Xu Shaoshi, head of the National Development and Reform Commission, the country's top economic planner.
Kallas said, "Cities are and always will be places of exchange: exchange of goods and ideas. Cities will be the drivers of economic growth in the 21st Century – but there is a risk that the quality of life in cities deteriorates, making them unattractive, inefficient and socially divisive."
"Together Europe and China can lead the way towards sustainable urbanization and create a win-win situation for our citizens, business and the environment," said Kallas, who is in charge of transport for the European Union. Improving urban mobility to increase the accessibility and attractiveness of urban areas is a major challenge in both Europe and China, he said.
The European Commission – in consultation with the EU Chamber of Commerce in China – has agreed with the Chinese government to focus on co-operation in: public transport operations and management, congestion management, sustainable urban mobility planning and urban road safety.
Europe is widely regarded as having excellent urban mobility expertise and technologies, while China, with its large and rapidly expanding cities, is the world's largest market for urban mobility goods and services.
Over the past year European and Chinese experts have worked together to prepare policy recommendations to present to the Chinese leadership to help the Chinese State Council set the right course for urban mobility in China.
Because of its rapid urbanization and scale, said Kallas, China has a special responsibility but also a unique opportunity. "If China chooses the right path it can be a global leader in urbanization and a model for rapidly urbaniaing countries throughout the world."
Kallas called on the audience of mayors to "make a special effort to bridge the gap between Europe and China, so that we can avoid the problems of chaotic, unmanaged urbanization and build healthy, safe and prosperous cities and through our work together lead the way to sustainable urbanization throughout the world."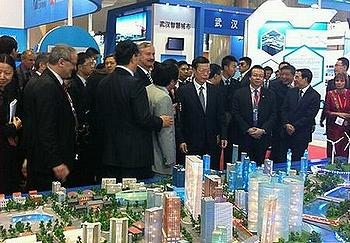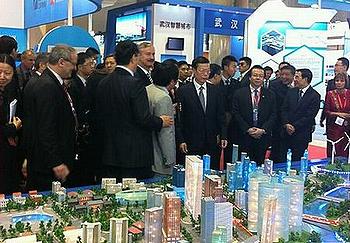 "By combining the best of our experiences Europe and China can improve the lives of hundreds of millions of our citizens and have a positive impact on the rest of the world," Kallas said. "Together China and Europe can define the future of global urbanization, one of the most important issues of the 21st Century."
Opening the EU-China Exhibition on Urban Development in Beijing on Wednesday, Chinese Vice Premier Zhang Gaoli called for deepened and practical cooperation between China and European countries in urbanization.
China and Europe are in different stages of urbanization and their cooperation in the field has great potential and prospects, said Zhang.
China needs to learn advanced concepts, technology and managerial experiences from European countries as it is formulating an urbanization plan, he said.
Meanwhile, participating in China's urbanization construction will help European countries and enterprises to expand the market of industries and products, he said.
Zhang called for practical collaboration between China and Europe by enhancing governmental communications and negotiations and allowing companies to cooperate.
The EU/China Urban Partnership was signed by European Commission President José Manuel Barroso on behalf of the European Union and its Member States in May 2012. The broad agreement aims to stimulate exchange and joint activities between experts, companies, politicians and public administrations.
At the forum's closing ceremony, President Barroso said, "urbanization is an extremely complex issue, involving dozens of different players in myriads of alternative situations. … We can offer our experience and our co-operation in dealing with these challenges. We can also learn with the experience of China. This is what the Urbanization partnership is all about, seeking the best solutions in a cooperative manner for a common challenge."
"Although China and EU are in different urbanization phases," Barroso said, "they face similar challenges and have great space for cooperation."
Copyright Environment News Service (ENS) 2013. All rights reserved.
PHOTO: Siim Kallas, center, joins Chinese officials at the opening of EU-China Exhibition on Urban Development in Beijing (Photo courtesy Office of Commissioner Kallas)