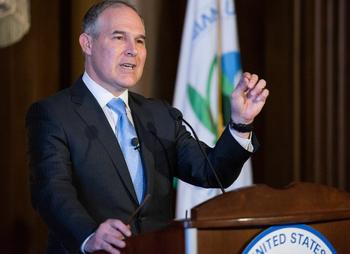 WASHINGTON, DC, February 24, 2017 (ENS) – Scott Pruitt took the helm at the U.S. Environmental Protection Agency Tuesday, with a host of problems already on his plate – an agency with which he has no experience, thousands of newly released emails showing his ties to the fossil fuel industry when he was Oklahoma attorney general, expectations from the Trump White House and the Republican Congress that he will cut back the EPA's reach in favor of industrial development, and pressure from environmentalists ready to go to court.
Pruitt delivered a speech to EPA employees that opened, "I seek to listen, learn, and lead with you to address the issues we face as a nation. You can't lead unless you listen. Civility is something I believe in very much. We ought to be able to get together and wrestle through some very difficult issues and do so in a civil manner."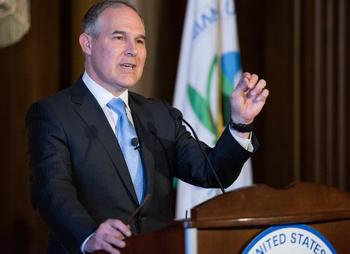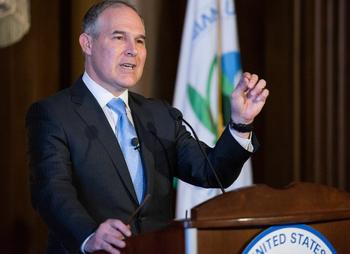 Pruitt will accept no over-reach, something the Republicans often complained about during the Obama presidency. Pruitt says the EPA can only do what Congress has authorized it to do. "Those that we regulate ought to know what they can expect from us," he said.
"I seek to ensure that we engender the trust of those at the state level, that those at the state level see us as partners and not as adversaries," he said.
Pruitt said growing the economy and protecting the environment can go hand in hand, "I believe that we as a nation can be both pro-energy and jobs, and pro-environment. We don't have to choose between the two."
"I think our nation has done better than any nation in the world at making sure that we do the job of protecting our natural resources, and protecting our environment, while also respecting economic growth," said the new administrator.
But Pruitt is already under pressure. He may have to wait months to have his senior leadership team in place as concern grows that he will be running a large federal agency that he does not understand, and did not attempt to understand ahead of his February 17 Senate confirmation vote, the publication "Inside EPA" reported Thursday.
"His supporters fear that these deficiencies may hamper Pruitt's bid to steer EPA back to focusing on its core mission of clean air, clean water and cleaning up contaminated sites," said "Inside EPA."
Among his supporters' concerns is that, "Pruitt is believed to have selected a chief of staff, Ryan Jackson, who similarly lacks any EPA experience and has been hostile to the agency during his tenure as staff director and chief of staff to Senator James Inhofe," an Oklahoma Republican and a well-known climate skeptic. Jackson has been Inhofe's chief of staff since January 2011 and worked with him closely in other roles before that.
In addition, Pruitt will be facing an avalanche of Republican actions seeking to rescind Obama-era protections for places like the proposed Pebble Mine on Alaska's Bristol Bay, which supports the world's largest sockeye salmon fishery. The fishery employs more than 14,000 and generates revenues of more than $500 million annually.
Earlier this week, House Science, Space and Technology Committee Chairman Lamar Smith, a Texas Republican, asked the EPA Administrator to rescind the EPA's 2014 decision to use Section 404(c) of the Clean Water Act to block development of what would be one of the world's largest copper and gold mines.
Canadian-owned mining company, Northern Dynasty Minerals, and its subsidiary, the Pebble Limited Partnership, have been proposing to build this mine for the past decade.
In his letter to the EPA administrator Congressman Smith argued that Section 404(c) was used "in a preemptive fashion for the Pebble Mine in Bristol Bay, Alaska."
Smith holds that rescinding the decision would "allow a return to the long-established Clean Water Act permitting process and stop attempts by the EPA to improperly expand its authority," and it would "create regulatory certainty for future development projects that will create jobs and contribute to the American economy."
The committee's Ranking Member Eddie Bernice Johnson, a Texas Democrat, sent Pruitt a letter too, holding Republicans to their own slogan. Johnson wrote, "I hope that you believe putting America First also means protecting Americans first before the interests of foreign corporations."
She pointed out the adverse environmental impacts of developing the proposed mine in Bristol Bay. These impacts were described by the 2014 decision, which warned that the Pebble mine development could destroy up to 94 miles of salmon spawning streams.
A scathing report <https://www.kerrisdalecap.com/wp-content/uploads/2017/02/Northern-Dynasty-Minerals-NAK.pdf> issued this week by the New York-based hedge fund Kerrisdale Capital Management calls the Pebble project, "a gargantuan open-pit mine right on top of an environmentally, politically, and economically sensitive pristine watershed that EPA staff already concluded was too destructive and dangerous to allow."
"Northern Dynasty has skillfully exploited the Trump narrative to reignite enthusiasm for a company that the market had left for dead," Kerrisdale Capital concludes. "But 'telling a good story' is all Northern Dynasty has ever been good at."
"It's not just some stroke of bad luck that everyone who has touched the Pebble deposit, from Teck to Mitsubishi to Rio Tinto to Anglo American to Northern Dynasty itself, has given up on it or tried to," Kerridale states. "The project is fundamentally and irretrievably flawed, requiring far too much expensive infrastructure to generate an adequate return on investment mining low-grade ore."
"Northern Dynasty itself has long been aware of these fatal flaws but opted to paper them over rather than fess up," Kerrisdale reports.
Even if the Pruitt EPA withdraws its veto, the project is still flawed, Kerrisdale warns. "Alaskans clearly don't want it,
and they have the power to stop it even if mining-friendly regulators eventually, in five to seven years, give their blessing. Moreover, at the federal level, Democrats clearly don't want it, and they too will have the power to stop it by re-initiating the veto process the next time they take the White House. With so many ways to lose, the Pebble project is doomed: politically impaired and commercially futile. Northern Dynasty's shares are worthless."
As EPA administrator, Pruitt faces another big problem, too – emails that show his close association with the fossil fuel industry during his tenure as Oklahoma attorney general.
As a result of an Open Records Act request and lawsuit filed by the nonprofit Center for Media and Democracy, on Tuesday night the Oklahoma Attorney General's office released more than 7,500 pages of emails and other records it withheld before Pruitt's confirmation as EPA administrator.
Nick Surgey, research director at the Center for Media and Democracy, said, "The newly released emails reveal a close and friendly relationship between Scott Pruitt's office and the fossil fuel industry, with frequent meetings, calls, dinners and other events."
"There is no valid legal justification for the emails we received last night not being released prior to Pruitt's confirmation vote other than to evade public scrutiny," said Arn Pearson, general counsel for Center for Media and Democracy.
"There are hundreds of emails between the AG's office, Devon Energy, and other polluters that senators should have been permitted to review prior to their vote to assess Pruitt's ties to the fossil fuel industry," Pearson said.
Among the documents that were released, the Center for Media and Democracy has found:
The oil and gas lobby group American Fuel & Petrochemical Manufacturers (AFPM) coordinated opposition in 2013 to both the Renewable Fuel Standard Program and ozone limits with Pruitt's office. While AFPM was making its own case against the RFS with the American Petroleum Institute, it provided Pruitt with template language for an Oklahoma petition, noting "this argument is more credible coming from a State."
Later that year, Pruitt did file opposition to both the Renewable Fuel Standard and ozone limits.
In a "New York Times" Pulitzer winning series in 2014, Eric Lipton exposed the close relationship between Pruitt and Devon Energy. These newly released emails reveal more of the same. In one email, Devon Energy helped draft language that was later sent by Pruitt to the Obama-era EPA about the release of the potent greenhouse gas methane from oil and gas fracking.
In 2013, Devon Energy organized a meeting between Pruitt, Leonard Leo of the Federalist Society and coal industry lawyer Paul Seby to plan the creation of a "clearinghouse" that would "assist AGs in addressing federalism issues." Melissa Houston, then Pruitt's chief of staff emailed Devon Energy saying "this will be an amazing resource for the AGs and for industry."
Newly released emails from Pruitt's time as Oklahoma attorney general show several examples where he or top officials in his office coordinated with fossil fuel groups to target EPA's climate and air regulations, buttressing critics' claims that the new administrator is too close with the industry he now must regulate.
The release of these emails comes as Pruitt is trying to calm the fears of career staffers that he is not committed to EPA's core mission of protecting public health and the environment.
And more incriminating documents may be forthcoming.
"We will keep fighting until all of the public records involving Pruitt's dealings with energy corporations are released," said Surgey, "both those for which his office is now asserting some sort of privilege against public disclosure and the documents relevant to our eight other Open Records Act requests."
Environmentalists are bracing for four years of fighting to protect the planet.
"Our focus will now be fighting Mr. Pruitt's agenda of dismantling clean air and water protections that have saved so many lives. If unchecked, the Trump administration's plans will mean more smog, mercury, carbon, and arsenic pollution in our air and water," Elizabeth Thompson, president, Environmental Defense Fund Action, told "Inside EP."
"In all, removing the many safeguards Mr. Pruitt has opposed in his career would cause up to 50,000 premature deaths, 850,000 asthma attacks, 28,000 hospital and emergency room visits, 21,000 heart attacks, and three million missed school and work days, and would eliminate $500 billion in net economic benefits, based on EPA analysis," Thompson said.
Mark Schlosberg, national organizing director with the nonprofit Food & Water Watch, said, "Pruitt at EPA means more than just increased drilling and fracking. It will mean more factory farms and pollution in lakes and rivers. It will mean even less scrutiny of Monsanto and Dow's toxic herbicides (which are already running roughshod through our food system). It will mean more Flint-type drinking water contamination. And it will mean no progress on climate change – after all, Pruitt is a climate denier. Couple that with Trump's plans to gut EPA funding and enforcement powers and we're looking at unimagined human and environmental impacts."
The public interest environmental law firm Earthjustice has more than 100 attorneys in offices across the country, all ready to take the Pruitt EPA to court to protect communities and the environment.
Upon the Senate's confirmation of Pruitt before his withheld emails were released, Earthjustice President Trip Van Noppen said, "This is a sad day for our country, especially for those living in polluted neighborhoods who count on the Environmental Protection Agency for help cleaning up their air, water and land. Scott Pruitt is unfit to lead the EPA. We couldn't be more disappointed in the Senate's insistence on putting the interests of the polluters before the well-being of our communities."
"Earthjustice's mission remains the same," said Van Noppen, "to protect the environment and health of all people. We have the law, the facts, the science and public opinion on our side. We will fight in every court across the country when Administrator Pruitt tries to take a sledgehammer to the agency charged with the protection of our air and water."
Copyright Environment News Service (ENS) 2017. All rights reserved.
Environment News Service (ENS) © 2017 All Rights Reserved.