EPA to Limit New Uses of Potentially Harmful Chemicals
WASHINGTON, DC, March 20, 2012 (ENS) – Companies would be required to report to the federal government all new uses of five groups of potentially harmful chemicals, whether in domestic or imported products, under a new policy proposed today by the U.S. Environmental Protection Agency.
Over the years, these chemicals have been used in consumer products and industrial applications, including paints, printing inks, pigments and dyes in textiles, flame retardants in flexible foams, and plasticizers.
The proposed regulatory actions are known as significant new use rules under the Toxic Substances Control Act.
The proposed rules would require that anyone who intends to manufacture, import, or process any of the chemicals for an activity that is designated as a significant new use to submit a notification to EPA at least 90 days before beginning the activity.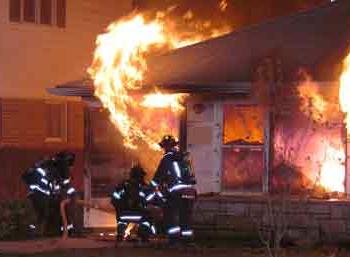 Two of the five chemicals the EPA is proposing to regulate are brominated flame retardants. (Photo courtesy CDC)
This notification means EPA can evaluate the intended new use and take action to prohibit or limit that activity, if warranted.
The five chemicals the EPA is targeting are:
Polybrominated diphenylethers (PBDEs): These organobromine compounds are used as flame retardants in products such as building materials, electronics, furnishings, motor vehicles, airplanes, plastics, polyurethane foams, and textiles. They have been shown to reduce fertility in humans at levels found in households. The benefit of these chemicals is their ability to slow ignition and rate of fire growth, and so increase escape time in the event of a fire. But because of their toxicity and persistence, industrial production is to be eliminated under the Stockholm Convention, an international treaty to control and phase out persistent organic pollutants.

For PBDEs, the EPA also issued a proposed test rule under section 4(a) of Toxic Substances Control Act that would require manufacturers or processors to conduct testing on health and environmental effects of PBDEs.

Benzidine dyes: 48 dyes are derived from benzidine and members of its chemical family. These dyes are used in the production of textiles, paints, printing inks, paper, and pharmaceuticals. They can leach from textiles, such as clothing, that are in prolonged contact with human skin. They are also used as reagents and biological stains in laboratories, are used in the food industries, and have more recent uses in laser, liquid crystal displays, ink-jet printers, and electro-optical devices. Benzidine and dyes metabolized to benzidine are classified as known human carcinogens.
A short chain chlorinated paraffin: Chlorinated paraffins are used as components of lubricants and coolants in metal cutting and metal forming operations, as secondary plasticizers and flame retardants in plastics, and as additives in paints. Their persistent, bioaccumulative and toxic characteristics pose a health risks, particularly for children, including genetic impacts, effects on the nervous system and cancer. A February legal settlement between a chemical manufacturer and the federal government ended the manufacture of short-chained chlorinated paraffins in the United States.
Hexabromocyclododecane (HBCD): This brominated flame retardant is used in polystyrene foam employed as thermal insulation in the building industry. Other uses are in upholstered furniture, automobile interior textiles, car cushions and insulation blocks in trucks, packaging material, video cassette recorder housing and electric and electronic equipment. HBCD is found in samples of tissue from birds, mammals, fish and other aquatic organisms as well as in soil and sediment. Due to its persistence, toxicity, and ecotoxicity, a global ban on HBCD is currently being considered under the Stockholm Convention on Persistent Organic Pollutants. In Europe, it is classed as a substance of very high concern.
Phthalate di-n-pentyl phthalate (DnPP): This plasticizer is found in birth control pills and other pharmaceuticals, cosmetics, soaps, perfumes and sunscreens, dental sealants, pesticides, and emissions from steel foundries and motor vehicles as well as emissions from the incineration of polyvinyl chloride products in incinerators. It is considered a trigger for asthma.
"Although a number of these chemicals are no longer manufactured or used in the U.S. they can still be imported in consumer goods or for use in products," said Jim Jones, the EPA's acting assistant administrator for the Office of Chemical Safety and Pollution Prevention.
"Today's proposed actions will ensure that EPA has an opportunity to review new uses of the chemicals, whether they are domestically produced or imported, and if warranted, take action to prohibit or limit the activity before human health or environmental effects can occur," said Jones. "These actions also signal EPA's ongoing commitment to the American people that the agency is taking significant steps to make sure that the chemicals manufactured and used in this country are safe."
On September 29, 2009, EPA Administrator Lisa Jackson announced that the agency is putting in place a comprehensive approach to enhance its chemicals management program within the limits of existing authorities, since Congress has not updated the Toxic Substances Control Act although a measure to do so was introduced last year.
Today's proposed significant new use rules were identified in action plans the agency issued on these and other chemicals over the last two years.
As one component of this strategy, EPA has identified a work plan of 83 chemicals for further review under the Toxic Substances Control Act. EPA identified seven of these chemicals for risk assessment in 2012. EPA will complete some of these assessments this year and will initiate new assessments from the work plan in the coming years. This spring, EPA plans to identify specific chemicals for risk assessment in 2013 and 2014.
Information on these chemical-specific rules and the agency's action plans, including additional actions under consideration or development, can be found at: http://www.epa.gov/oppt/existingchemicals/
Copyright Environment News Service (ENS) 2012. All rights reserved.