EPA Salutes 18 Green Power Partners: Banks, Cities, Corporations and a Zoo
PORTLAND, Oregon, October 21, 2010 (ENS) – The U.S. EPA is honoring 18 organizations – from cities to banks to corporations to a zoo – as EPA Green Power Partners for using green power, growing the nation's voluntary green power market, and reducing greenhouse gas emissions.
The 18 award winners are using more than five billion kilowatt-hours of green power annually, equivalent to the annual carbon dioxide emissions of more than 700,000 vehicles.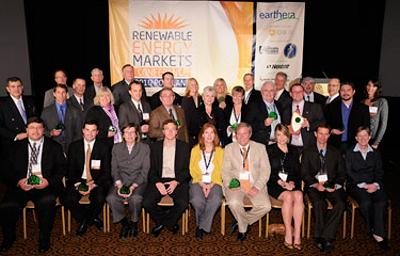 2010 Green Power Partners with their awards at the Renewable Energy Markets Conference (Photo courtesy REM)
"EPA congratulates our leadership award winners for demonstrating by example the importance of using clean, renewable energy," said Gina McCarthy, assistant administrator for EPA's Office of Air and Radiation.
"By using green power, these winners are leading the way toward cleaner air and a healthier environment while helping advance the market for renewable energy," she said.
Through the Green Power Partnership, EPA works with nearly 1,300 partner organizations who voluntarily purchase green power to reduce the environmental impacts of conventional electricity use.
Green power is electricity generated from renewable resources such as solar, wind, geothermal, biogas, and low-impact hydro, which produces no net increase of greenhouse gas emissions.
EPA co-sponsors the Green Power Leadership Awards in conjunction with the U.S. Department of Energy and the non-profit Center for Resource Solutions.
Awards were presented in four categories Wednesday at the Renewable Energy Markets Conference in Portland, Oregon.
Green Power Partner of the Year awards went to four organizations: Kohl's Department Stores, Motorola, TD Bank, and Whole Foods Market.
This is the third year Whole Foods Market has been recognized as a Green Power Partner. The first Fortune 500 company to purchase wind power for 100 percent of its electricity use across its United States operations, the company plans to offset 100 percent of its purchased electricity use in 2011 for the fifth year in a row.
"Whole Foods Market has committed to reducing our energy consumption by 25 percent per square foot by 2015 and uses a comprehensive alternative energy approach to reduce reliance on fossil fuels including a mix of on-site solar power and fuel cells and electricity offsets from wind power," said Kathy Loftus, global leader of sustainable engineering and energy management for Whole Foods. "We're proud to be recognized once again by EPA for our commitment to the development of the nation's green power market."
The communications infrastructure and device manufacturer Motorola is currently purchasing enough green power to meet more than 30 percent of the company's purchased electricity use in the United States.
"We are proud to receive this prestigious award from the U.S. EPA for the second consecutive year," said Jodi Shapiro, vice president, Environment, Health and Safety, Motorola. "Purchasing green power helps our organization become more sustainable while also sending a message to others that supporting clean sources of electricity is a sound business decision and an important choice to help fight climate change."
Two cities were recognized as Green Power Communities of the Year.
Park City, Utah is home to the Sundance Film Festival, two world-class resorts, and 8,000 residents. Park City first committed to purchasing green power in 2003 through a City Council Resolution and became an EPA Green Power Community in 2006.
A website, ParkCityGreen.org, promotes sustainability practices and green power to residents and businesses. More than 10 percent of the community now purchases green power,
The university town of Corvallis, Oregon with its 55,000 residents uses more than 100 million kWh of green power annually, approximately 15 percent of the community's total electricity consumption.
Oregon State University is the largest single purchaser of green power in Corvallis and this is in part due to the "green energy" fee that students approved in 2007. The University purchases more than 51 million kilowatt-hours of green power annually, accounting for more than half of its overall electricity use.
One of the nation's largest cities, San Francisco, and a small printing company in Connecticut were the award-winners in the On Site Generation category.
"San Francisco's commitment to clean energy is producing green jobs and real benefits for our City today," said Mayor Gavin Newsom on Wednesday. "The economic advantages of a green economy are very tangible and we can feel the effects of clean energy in the air we breath; with each solar panel, day-by-day, we're fueling San Francisco's transformation into a green economy powered by increasingly clean, renewable energy."
The City of San Francisco is a leader in on-site green power generation, using more than 25 million kilowatt-hours (kWh) annually from its biogas facilities and nine municipal solar installations. These solar installations are located on nine facilities and rooftops throughout the City, including the City's largest reservoir and the San Francisco International Airport.
San Francisco is soon set to begin generating up to five megawatts of solar energy at the Sunset Reservoir Solar Array at what will be California's newest and largest municipal solar project, an array of nearly 24,000 solar panels.
Phoenix Press, Inc. is a family-owned and operated printer located in New Haven, Connecticut. In 2010, the printer installed one of the state's largest wind turbines – a 100 kilowatt turbine that produces approximately 165,000 kilowatt-hours of electricity a year. The turbine provides 40 percent of Phoenix Press' yearly electricity use.
The printer also purchases Forest Stewardship Council-certified paper, uses soy and vegetable-based inks, and recycles 100 percent of its paper waste.
Ten Green Power Purchasing awards were given to:
BD, a global medical technology company
BNY Mellon, a global financial services provider operating in 36 countries and 100 markets
Carnegie Mellon University of Pittsburgh, Pennsylvania
Chicago Public Schools
Harris Bank, based in Chicago
Indianapolis Zoo
Intel Corporation, the world's largest semiconductor manufacturer
Pearson, an international media company publishing the Financial Times and Penguin Books
Port of Portland, Oregon
State of Illinois
Intel received its third consecutive Green Power Leadership Award and is currently No. 1 on the EPA's National Top 50 Green Power list. The chip maker was recognized for its annual purchase of more than 1.4 billion kWh of green power, which corresponds to removing nearly 200,000 passenger cars from the streets for one year – and helping to spur renewable energy market growth.
"This is just one part of Intel's energy management strategy to demonstrate leadership and support for renewable technologies," said Marty Sedler, director of global utilities and infrastructure for Intel. "A portfolio of actions, including solar installations and conservation programs, drive our focus on reducing energy costs, increasing environmental awareness, and reducing our carbon footprint. It's good for our shareholders, customers, employees and the environment."
The Indianapolis Zoo buys a utility green power product from Indianapolis Power & Light and it is the first zoo in the nation to receive an EPA Green Power Leadership Award.
The EPA award was the second environmental award for the zoo this week. On Tuesday, the zoo was presented with the Indiana Governor's Award for Environmental Excellence award during the 18th annual Association of Indiana Solid Waste Management Districts conference.
The zoo was cited for its commitment to educational programming that has encouraged one million plus annual zoo visitors to take steps in their own lives to embrace environmental conservation. Results include the recycling of over 6.5 tons of paper; four tons of glass, aluminum and plastic; and 24 tons of cardboard.
Jared Blumenfeld, the EPA's Regional Administrator for the Pacific Southwest, applauded the award winners, saying, "Their responsible energy use should be a model for all cities and corporations in the fight to solve climate change."
Copyright Environment News Service (ENS) 2010. All rights reserved.