EPA Rules Force American Electric Power to Shutter Coal Plants
COLUMBUS, Ohio, June 9, 2011 – The largest U.S. utility, American Electric Power, today said the company would have to retire nearly one-quarter of its coal-fueled power generation capacity to comply with a series of regulations proposed by the U.S. Environmental Protection Agency.
AEP said the cost of its compliance plan could range from $6 billion to $8 billion in capital investment through the end of the decade. High demand for labor and materials due to a constrained compliance time frame could drive actual costs higher than these estimates.

Michael Morris (Photo courtesy AEP)
"We support regulations that achieve long-term environmental benefits while protecting customers, the economy and the reliability of the electric grid, but the cumulative impacts of the EPA's current regulatory path have been vastly underestimated, particularly in Midwest states dependent on coal to fuel their economies," said Michael Morris, AEP chairman and chief executive officer.
"The sudden increase in electricity rates and impacts on state economies will be significant at a time when people and states are still struggling," Morris warned.
The EPA has proposed four rule changes:
New mercury emission limits under the Clean Air Act
New limits on emissions of sulfur dioxide and nitrogen oxides under the Clean Air Transport Rule
New federal coal-ash disposal rules
Use of cooling water towers under the Clean Water Act
Morris said, "We have worked for months to develop a compliance plan that will mitigate the impact of these rules for our customers and preserve jobs, but because of the unrealistic compliance timelines in the EPA proposals, we will have to prematurely shut down nearly 25 percent of our current coal-fueled generating capacity, cut hundreds of good power plant jobs, and invest billions of dollars in capital to retire, retrofit and replace coal-fueled power plants."
But several of the EPA deadlines have been set by federal courts and are beyond the agency's control.
AEP owns and operates about 80 generating stations in the United States, with a capacity of nearly 38,000 megawatts. Nearly 25,000 megawatts of that generation capacity, 66 percent, is fueled by coal. Natural gas and oil represents 22 percent and nuclear six percent. The remaining six percent comes from wind, hydro, pumped storage and other sources.
Based on the regulations as proposed, AEP's compliance plan would retire nearly 6,000 megawatts of coal-fueled generation and upgrade or install new advanced emissions reduction equipment on another 10,100 megawatts.
Under the compliance plan, AEP would also refuel 1,070 megawatts of coal-fired generation as 932 MW of natural gas capacity and build 1,220 megawatts of natural gas-fueled generation.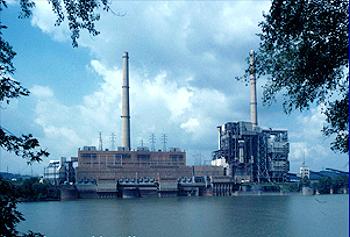 AEP's Philip Sporn coal-fired power plant in West Virginia would be retired under the compliance plant. The plant is named after Philip Sporn, president of AEP from 1947 to 1961. (Photo courtesy AEP)
Although some jobs would be created from the installation of emissions reduction equipment, Morris said AEP expects a net loss of approximately 600 power plant jobs with annual wages totaling approximately $40 million as a result of compliance with the proposed EPA rules.
AEP's announcement brought an immediate outcry from the current and former governors of West Virginia, a coal mining state where AEP plans to retire three coal-fired power plants.
U.S. Senator Joe Manchin, a West Virginia Democrat who served as the state's governor from 2005 to 2010, said the U.S. EPA is "out of control."
"It's decisions like the one made by AEP today that demonstrate the urgent need to rein in government agencies like the EPA, preventing them from overstepping their bounds and imposing regulations that not only cost us good American jobs, but hurt our economy," said Manchin. "Onerous regulations issued by the EPA are the reason that 242 West Virginians will lose their jobs, and that's simply wrong."
Current West Virginia Governor Earl Ray Tomblin, a Republican, said, "Today's announcement by AEP reinforces the belief that the EPA is out of touch with the economic impact of their overreaching regulations."
"We all want a clean and healthy environment," said Tomblin. "But the EPA's inflexible approach that is driving our Nation's energy policy is wrong, and it will permanently damage industries, businesses, and cause significant negative impacts on consumers and workers. It needs to stop."
But environmental groups support the EPA's regulations.
Mary Anne Hitt, director of the Sierra Club's Beyond Coal Campaign, said, "Earlier today AEP announced that it may phase out several outdated and dangerous coal plants. If AEP follows through with this plan, then it will join a growing list of utilities including TVA, Dominion, and TransAlta that have come to the same conclusion: coal has become an increasingly poor investment."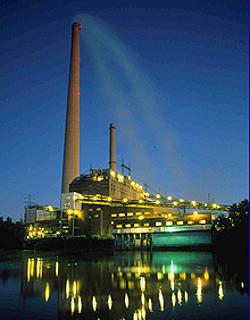 At AEP's Muskingum River coal-fired power plant in Beverly, Ohio Units 1-4 (840 MW) will be retired by 2014. (Photo courtesy AEP)
"The coal plants targeted for phaseout lack modern pollution controls and contribute to thousands of premature deaths, asthma attacks and heart attacks every year. It is time to replace these dirty and dangerous energy sources with clean, safe and reliable forms of production that will create thousands of jobs and revitalize local communities," said Hitt.
"Pollution from coal-fired power plants is known to contribute to four of the five leading causes of death in the United States and adds nearly $62 billion per year in health costs," she said. "The EPA air toxics proposal, which the Sierra Club strongly supports, is estimated to save 17,000 lives every year and create 31,000 construction and 9,000 utility worker jobs."
In Ohio, AEP would close the 100 megawatt Picway Plant in Lockbourne, Ohio and shut down five units at two other plants for a total loss of about 1,100 megawatts by 2014.
However, AEP will complete construction of the 580 MW natural gas Dresden Plant in Dresden, Ohio, in 2012.
U.S. Senator Rob Portman, an Ohio Republican who serves on the Energy and Natural Resources Committee, today said that the closure of these generating sources due to the new EPA regulations will have a "dangerous effect on Ohio's economy." The closures would result in the loss of 157 jobs, $10.4 million in annual wages and $9.1 million annually in tax revenue, said Portman. Electricity costs for consumers and employers would increase by 10-15 percent, he warned.
"Today's announcement by AEP is a specific example of how the administration's overregulation is stifling the economy at a time when we need to grow the economy," Portman said. "The administration's current path is not what Congress intended when the Clean Air Act was adopted."
Morris said the AEP compliance plan, including retirements, "could change significantly" depending on the final form of the EPA regulations and regulatory approvals from state commissions.
Copyright Environment News Service,ENS, 2011. All rights reserved.
Environment News Service (ENS) © 2011 – 2012 All Rights Reserved.