EPA Fugitive Sentenced for 'Clean Scanning' Cars
LAS VEGAS, Nevada, March 3, 2011 (ENS) – Joseph DeMatteo of Clark County, Nevada has been sentenced to serve five months home detention, followed by a term of three years probation, for criminally violating the Clean Air Act by falsifying vehicle emissions test reports in Las Vegas. He was also ordered to pay a $100 special assessment to the court.
DeMatteo, a U.S. Environmental Protection Agency fugitive, was one of 10 Nevada-certified emissions testers indicted on January 6, 2010 by a federal grand jury on one felony count for falsifying vehicle emissions test reports between November 2007 and May 2009. It is a crime to knowingly alter or conceal any record or other document required to be maintained by the Clean Air Act.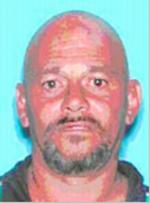 Joseph DeMatteo (Photo courtesy EPA)
While the other nine defendants were promptly located and charged, DeMatteo failed to surrender to federal law enforcement authorities. Shortly after the indictments were released, DeMatteo was placed on the EPA fugitive list.
DeMatteo was arrested in Las Vegas on June 8, 2010 by special agents after EPA received a tip on his whereabouts. On October 14, 2010, DeMatteo pleaded guilty to making a material false statement in violation of the Clean Air Act.
"Today's sentence demonstrates that individuals who knowingly violate our nation's environmental laws and then flee the court's jurisdiction will be caught and brought to justice," said Cynthia Giles, assistant administrator for EPA's Office of Enforcement and Compliance Assurance.
The defendants engaged in a practice known as "clean scanning" vehicles. The identification number of a vehicle that cannot pass the emissions test – or is not even present for testing – is entered into the computer system, but a different car that can pass the emissions test is actually tested. The data is then recorded on the vehicle inspection report so that the initial car fraudulently "passed" the test. The cost of getting the fraudulent report was anywhere from $10 to $100 more than the usual emissions testing fee.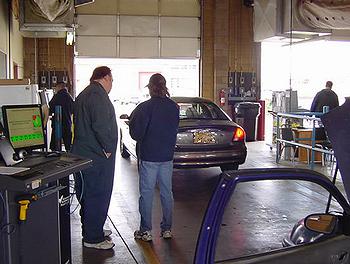 Would-be inspector is trained to test cars for emissions, Las Vegas, Nevada (Photo credit unknown)
Las Vegas is required to perform emissions testing because currently it violates ozone and carbon monoxide standards. Ozone is linked to a number of serious health problems, including causing asthma attacks and increasing the risk of premature death in people with heart or lung disease. Carbon monoxide can cause harmful health effects by reducing oxygen delivery to the body's organs.
"Abusing emissions testing responsibilities puts communities' air quality at risk. With information provided through the EPA fugitive's list, we were able to work with the public and other law enforcement agencies to capture and complete the sentencing of a defendant who attempted to circumvent the law," said Giles.
The case was investigated by EPA's Office of Criminal Enforcement and the Nevada Department of Motor Vehicles Compliance Enforcement Division. The case was prosecuted by the U.S. Attorney's Office for the District of Nevada and the Justice Department's Environmental Crimes Section.
Launched in December 2008, EPA's fugitive website contains information about individuals who have failed to turn themselves in after being indicted and charged with or convicted of violating environmental laws.
To date, information from citizens or law enforcement organizations have assisted in the arrest or capture of five fugitives and the surrender of two others. Of those, five were sentenced, one was found not guilty, and one is scheduled for sentencing later this month.
Because some fugitives may be armed and dangerous, the EPA asks that the public not try to apprehend any of the individuals. A form on the website can be used to report information related to a fugitive's identity and/or current location. EPA reviews all reports submitted.
Citizens may also report the information to their local police or, if outside the United States, to the nearest U.S. Embassy.
Copyright Environment News Service (ENS) 2011. All rights reserved.
Environment News Service (ENS) © 2011 – 2012 All Rights Reserved.