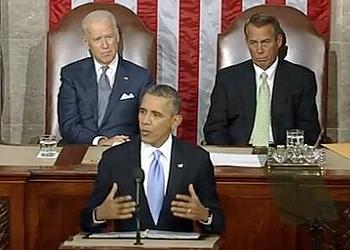 WASHINGTON, DC, January 28, 2014 (ENS) – From the first words of his State of the Union Address tonight, President Barack Obama focused on jobs and economic growth. Even his support for cleaner sources of energy to combat climate change was presented in the context of expanding the American economy. But environmentalists were critical of the President for including fossil fuels in his "all-of-the-above" energy policy.
"Now, one of the biggest factors in bringing more jobs back is our commitment to American energy. The all-of-the-above energy strategy I announced a few years ago is working, and today, America is closer to energy independence than we've been in decades," declared Obama.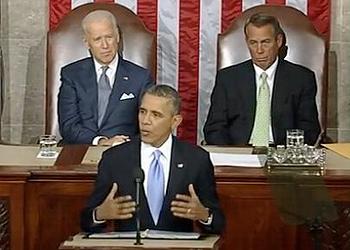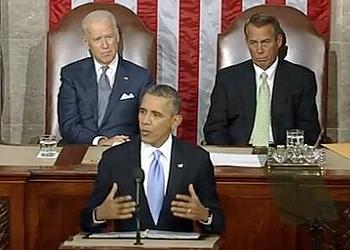 "One of the reasons why is natural gas," he said. "If extracted safely, it's the bridge fuel that can power our economy with less of the carbon pollution that causes climate change."
"Businesses plan to invest almost $100 billion in new factories that use natural gas," Obama told the joint session of Congress. "I'll cut red tape to help states get those factories built, and this Congress can help by putting people to work building fueling stations that shift more cars and trucks from foreign oil to American natural gas."
"My administration will keep working with the industry to sustain production and job growth while strengthening protection of our air, our water, and our communities," he said. "And while we're at it, I'll use my authority to protect more of our pristine federal lands for future generations."
"It's not just oil and natural gas production that's booming; we're becoming a global leader in solar, too," the President said. "Every four minutes, another American home or business goes solar; every panel pounded into place by a worker whose job can't be outsourced."
Obama once again hammered home his determination to stop subsidizing the highly profitable companies that produce coal, oil and gas. "Let's continue that progress with a smarter tax policy that stops giving $4 billion a year to fossil fuel industries that don't need it, so that we can invest more in fuels of the future that do," he said.
Increasing energy efficiency has been an Obama Administration goal, and tonight Obama said he has moved the country in that direction "by partnering with businesses, builders, and local communities to reduce the energy they consume."
"When we rescued our automakers, for example, we worked with them to set higher fuel efficiency standards for our cars," the President said. "In the coming months, I'll build on that success by setting new standards for our trucks, so we can keep driving down oil imports and what we pay at the pump."
"Taken together, our energy policy is creating jobs and leading to a cleaner, safer planet," he said. "Over the past eight years, the United States has reduced our total carbon pollution more than any other nation on Earth."
"But we have to act with more urgency – because a changing climate is already harming western communities struggling with drought, and coastal cities dealing with floods," said the President.
"That's why I directed my administration to work with states, utilities, and others to set new standards on the amount of carbon pollution our power plants are allowed to dump into the air," he said. "The shift to a cleaner energy economy won't happen overnight, and it will require tough choices along the way. But the debate is settled. Climate change is a fact. And when our children's children look us in the eye and ask if we did all we could to leave them a safer, more stable world, with new sources of energy, I want us to be able to say yes, we did."
Some environmental groups applauded Obama's State of the Union Address, but some took aim at his "all-of-the-above" energy strategy, saying it doesn't go far enough to combat climate change, while others worry he might yet approve the proposed Keystone XL pipeline that would carry tar sands oil from Canada to the Texas Gulf Coast.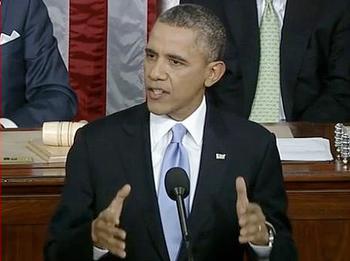 "We are encouraged that President Obama made climate change a centerpiece of his speech tonight. We applaud his commitment to facing this challenge, for the benefit of our children and grandchildren," said Trip Van Noppen, president of the nonprofit public interest law firm Earthjustice.
"The success of the President's climate plan and our children's future depends on viewing all fossil fuels decisions through the lens of climate impacts, as the President has said he would do for the Keystone XL pipeline. Those agencies responsible for drilling off our coasts, fracking, mountaintop removal, and fossil fuel exports have to prioritize climate change just as the EPA is doing, and the President needs to ensure that they do," Van Noppen said.
On January 16, Earthjustice was among 18 national environmental and public health organizations that sent a letter to President Obama urging him move beyond his "all of the above energy strategy."
"An 'all-of-the-above energy strategy' cannot work for the President's own climate action plan and the climate vision he espoused tonight," said Van Noppen. "All energy sources were not created equal. Clean energy is better for our families, communities, future generations, and American competitiveness. The United States should be placing our bets on 'best of the above,' not 'all of the above.' The President rightly called out the need to invest in solar energy that can power our homes and our economy rather than fossil fuels."
"While the President touted natural gas, we shouldn't be committing ourselves to a future fueled by gas. The President is right that we must protect air and water and stop the methane pollution coming from the gas sector now. But we should not be locking ourselves into fossil fuel dependence that doesn't pass the President's own climate test," he said.
350.org founder Bill McKibben added, "An all of the above energy strategy is exactly as sensible as an all of the above foreign policy-I kept waiting for the part of the speech where he'd explain why North Korea and England should be treated the same. If he actually took climate change seriously, he'd understand that more oil means higher temperatures – that's just how physics works."
Sierra Club head Michael Brune, too, was critical of the President's support of fossil fuels. "Unfortunately, the sum total of the President's commitments fall short of what American families need to ensure a safe, healthy planet for our children," he said. "We can't drill or frack our way out of this problem.  There is far more potential for good job creation in clean energy like solar and wind, and common sense solutions like energy efficiency."
"Make no mistake – natural gas is a bridge to nowhere. If we are truly serious about fighting the climate crisis, we must look beyond an 'all of the above' energy policy and replace dirty fuels with clean energy. We can't effectively act on climate and expand drilling and fracking for oil and gas at the same time."
Harold Wimmer, National President and CEO of the American Lung Association, said, "The United States urgently needs to reduce the health threats of our changing climate, starting with the biggest sources of carbon pollution. The American Lung Association is heartened tonight to hear President Obama reiterate his commitment to placing sensible limits on carbon pollution from power plants."
"President Obama can make the next generation of America's power plants the least toxic and most modern in the world," said Wimmer. "The U.S. Environmental Protection Agency must set standards that limit carbon pollution from tomorrow's plants and propose standards this year for cleaning up today's plants. Anything less shortchanges our children and our health."
A coalition of Pennsylvania environmental and progressive groups, committed to implementing carbon pollution standards for power plants, praised the President, but called for more action to curb greenhouse gas emissions from coal-burning power plants.
PennFuture President and Chief Executive Officer Cindy Adams Dunn said, "Every day, power plants dump massive amounts of carbon pollution into our air. That has to stop. We urge the President and the Environmental Protection Agency to move forward with strong standards that will reduce carbon pollution from power plants by more than 25 percent below current levels by 2020 while encouraging increased energy efficiency and promoting clean, renewable energy technologies. This level of decrease is essential to help achieve the president's 2020 goal of a 17 percent cut in climate pollution."
Rhone Resch, president and CEO of the Solar Energy Industries Association, lauded Obama's commitment to renewable energy generation.
"From the rooftop of the White House to the floor of the People's House, President Obama continues to show his strong, unwavering support for solar energy," said Resch. "On behalf of the 143,000 Americans who work in the U.S. solar industry – and the tens of millions of people who support it – the best way to thank the President for his leadership is to go out and prove him right."
"Today, we're well on our way to doing that, with solar now the fastest-growing source of renewable energy in America, pumping tens of billions of dollars into the U.S. economy," said Resch. "But despite this milestone, we believe the best is yet to come."
"With an estimated 13,000 megawatts of solar currently installed in the U.S., we're generating enough clean, reliable electricity today to power more than two million American homes – or every single home in a state the size of Colorado," Resch said. "Like the President, we see 2014 as a year of action, a year of progress and a year in which more and more Americans turn to solar to save money, help meet their energy needs and improve our environment."
Democrats in Congress were supportive of the President's policies, as expected.
Congresswoman Eddie Bernice Johnson, a Texas Democrat who serves as Ranking Member of the House Committee on Science, Space and Technology, said, ""I also agree that we need to be investing in climate change research and efforts to curb carbon pollution through energy efficiency and alternative fuels. Climate change is real and we must act before it's too late."
Senator Barbara Boxer, a California Democrat who chairs the Environment and Public Works Committee, said, "I agree with the President that Congress must protect jobs by passing bills that invest in our nation's water resources and transportation infrastructure this year. And I was heartened by the President's call for action to fight climate change. As the President said, we owe it to our children and grandchildren to do everything in our power to protect them from the devastating impacts of climate change."
As expected, Republicans were not supportive.
The official Republican rebuttal was delivered by Cathy McMorris Rodgers, Washington Republican, who criticized the President but did not mention the environment, renewable energy, public lands or climate change.
Republican Senators Mike Lee of Utah and Rand Paul of Kentucky, both aligned with the tea party, also delivered responses. Neither mentioned climate change or renewable energy.
Regarding public lands, Lee said only, "It's the federal government hurting rural communities, especially in the west, by controlling and mismanaging public lands." The federal government is required by law to control public lands. Lee did not describe the alleged mismanagement, and he offered no alternative policy.
Copyright Environment News Service (ENS) 2014. All rights reserved.
© 2014, News Editor. All rights reserved.