Environmental Priorities to Dominate UN Chief's Second Term
NEW YORK, New York, January 3, 2012 (ENS) – Ban Ki-moon began his second five-year term as secretary-general of the United Nations on Sunday with environmental issues high on his list of priorities.
"We have to connect the dots among climate change, food crisis, water scarcity, energy shortages and women's empowerment and global health issues. These are all interconnected issues," said Ban in an interview with the UN News Centre and UN Radio on December 27, 2011.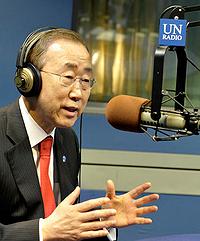 Secretary-General Ban Ki-moon explains his priorities for the next five years over UN Radio, December 27, 2011. (Photo by Mark Garten courtesy UN)
Ban, a career diplomat in South Korea's Ministry of Foreign Affairs and in the United Nations, said the priorities for his second term are the five "generational opportunities" he sees for the the 193-member world body.
Two of them are environmental – promoting sustainable development and sustainable energy for all, and preventing natural and man-made crises and disasters.
The other three are more general – making the world safer and more secure, helping countries and peoples in transition, and encouraging gender empowerment.
Ban will present his administration's plan of action to accomplish these goals to the General Assembly later this month.
In several recent speeches, the secretary-general has recalled his meeting with a boy during a visit last year to the South Pacific island nation of Kiribati – where the land is threatened by sea level rise – as an example of the enormous faith and expectations which the peoples of the world invest in the United Nations.
"He appealed to me to 'Please help us address this climate change. Our homes and our way of life may be swept away overnight'," Ban said.
The secretary-general said that boy's appeal is one of the reasons why climate change must remain at the top of the global agenda.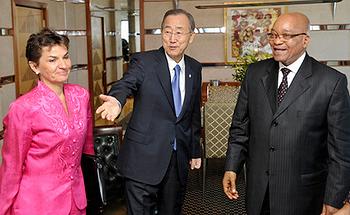 Secretary-General Ban Ki-moon, center, shares a laugh with South African President Jacob Zuma and Christiana Figueres, executive secretary of the UN Framework Convention on Climate Change in Durban, South Africa, December 6, 2011. (Photo by Mark Garten courtesy UN)
"I came to office speaking of climate change as the defining challenge of our era. I was determined to raise it to the top of the global agenda," Ban told a news conference on December 14, 2011.
"Five years later, we have made significant progress – from Bali to Copenhagen to Cancun and, now, Durban," he said.
"At Durban, we defied the sceptics," Ban said. "We showed clearly that UN multilateral negotiations can deliver: consensus on a clear target and timeline for reaching a legally binding agreement involving all countries; a recommitment to the Kyoto Protocol and the institutions that have produced major reductions in greenhouse gases; advances on technology and financing, including the Green Climate Fund."
He said, "Looking ahead, we will build on this Durban spirit of cooperation to advance on climate change financing and, in particular, our new initiative on Sustainable Energy for All."
In recognition of the importance of energy access for sustainable economic development and supporting achievement of the Millennium Development Goals, the UN General Assembly has designated 2012 as the International Year of Sustainable Energy for All.
The secretary-general briefs reporters in Durban, South Africa, December 6, 2011 (Photo by Mark Garten courtesy UN)
The secretary-general is leading this initiative, which calls for private sector and national commitments and aims to attract global attention to the importance of energy for development and poverty alleviation.
The goal is to meet three objectives by 2030: ensuring universal access to modern energy services, doubling the rate of improvement in energy efficiency, and doubling the share of renewable energy in the global energy mix.
In June, all these issues will be front and center at the United Nations Rio+20 Conference on Sustainable Development.
World leaders will gather again in Rio de Janeiro 20 years after the UN's seminal Earth Summit where two environmental treaties were launched – the Convention on Biological Diversity and the Framework Convention on Climate Change.
Ban is pledging to harness "the strong power of partnerships" to respond to the planet's biggest challenges, such as climate change and poverty.
"Together, nothing is impossible," he told UN News. "If we strengthen these partnerships among governments, business communities, civil organizations and philanthropists, then I think all these powerful partnerships can bring us towards the right direction."
"There is a broader lesson," Ban told reporters at the December 14 news conference. "Whether the issue is climate change, peace, security and human rights, or humanitarian relief, the United Nations has never been so needed."
"I believe we are at an inflection point in history. All is changing. The old rules are breaking down," said the secretary-general. "We do not know what new order will emerge. Yet we can be confident, the United Nations will be at the fore."
Copyright Environment News Service (ENS) 2012. All rights reserved.