Environment Central to New U.S.-Indonesian 'Comprehensive Partnership'
JAKARTA, Indonesia, November 9, 2010 (ENS) – Cooperation on climate change and the environment is a central pillar of a new Comprehensive Partnership announced tonight by Indonesian President Susilo Bambang Yudhoyono and U.S. President Barack Obama.
"America has a stake in an Indonesia that pursues sustainable development, because the way we grow will determine the quality of our lives and the health of our planet," said President Obama at a joint news conference with the Indonesian leader. "That is why we are developing clean energy technologies that can power industry and preserve Indonesia's precious natural resources – and America welcomes your country's strong leadership in the global effort to combat climate change."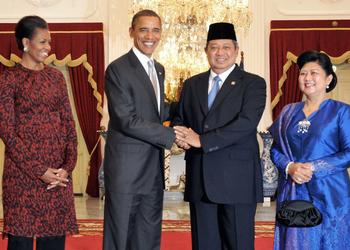 From left: First Lady Michelle Obama, President Barack Obama, President Susilo Bambang Yudhoyono, First Lady Ani Yudhoyono at the Presidential Palace in Jakarta, Indonesia November 9, 2010 (Photo courtesy Office of President Yudhoyono)
President Yudhoyono said the new partnership will encompass the areas of trade and investment, education, energy, climate change and the environment, security and democracy, and also civil society.
The Indonesian President said he hopes "this partnership may build upon people-to-people relations between our two great nations."
Today for the first time, President Obama returned to Jakarta, the city where he spent four years as a boy while his mother, Stanley Ann Dunham, worked as a government relations consultant with the American oil company Mobil. Dunham married Indonesian geologist Lolo Soetoro, Obama's stepfather, with whom Obama lived with as a child.
While "the landscape has changed completely" since then, President Obama said today, "the sights and the sounds and the memories all feel very familiar. And it's wonderful to be able to come back as President and hopefully contribute to further understanding between the United States and Indonesia."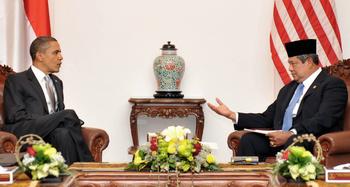 President Barack Obama, left, in discussions with President Susilo Bambang Yudhoyono. November 9, 2010. (Photo by Pete Souza courtesy The White House)
Tonight at a state dinner in Jakarta, President Yudhoyono presented the late Dunham with the highest state award, a gesture which "deeply moved" President Obama.
In his toast, President Obama quoted an Indonesian proverb, "Bagai aur dengan tebing – like bamboo and the river bank, we rely on each other."
"In the spirit of friendship between our two countries, we are reminded of the truth that no nation is an island, not even when you're made up of thousands of islands," said President Obama, toasting his hosts. "We all rely on each other together, like bamboo and the river bank."
"We're forging new ties between our people to address common challenges," President Obama at the news conference earlier this evening. He recognized Indonesia as, "one of the world's largest democracies, as the largest economy in Southeast Asia and as a member of the G20, as a regional leader, as a vast archipelago on the front lines of climate change."
"To strengthen cooperation in science and technology that fuels growth, we are going to be pursuing joint research in areas like energy and biodiversity conservation," said President Obama.
The two leaders agreed to enhance cooperation in the area of clean energy, and President Yudhoyono invited the United States to participate in the development of geothermal energy, one of Indonesia's great sources of renewable energy.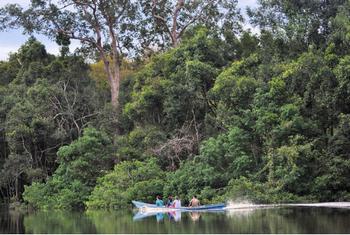 Forest in the Indonesian state of Kalimantan on the island of Borneo. (Photo by Jen Lipp)
"We also discussed the opportunity to cooperate in the area of climate change, environment, and also management of the forest," said President Yudhoyono. "Indonesia possesses the responsibility to manage our forests, to reduce the emissions of greenhouse gas effects from the forest. We also have a target to reduce 26 percent of our emissions by 2020, with the cooperation of the international community, the United States and Indonesia, as developing country and developed country."
"We're proud to support Indonesia's leadership under President Yudhoyono in confronting climate change," Obama said. "I understand there's been a lot of rain this year, and obviously we can't look at one year as indicative of the future but I think there's no doubt that as an archipelago, Indonesia will be on the front lines when it comes to the potential impacts of climate change. So we're glad to work with President Yudhoyono on this issue, and we welcome and will support the new partnership between Indonesia and Norway to slow emissions from deforestation and degradation of peat land."
Greenpeace today challenged the United States to increase the financial support it gives Indonesia to reduce deforestation. The funding, part of the US-Indonesia Comprehensive Partnership, includes US$7 million for the establishment of a Climate Change Center and $10 million initial funding for projects to protect peatlands.
The U.S.-Indonesia agreement includes $119 million for the Science, Oceans, Land Use, Society and Innovation partnership, which encompasses a second Tropical Forest Conservation Act agreement, and the Forestry and Climate Support Project.
"While we welcome greater cooperation between the U.S. and Indonesia to tackle deforestation, these funds are inadequate when compared with the scale and impact of deforestation in Indonesia," said Rolf Skar, senior campaigner for Greenpeace USA.
"In addition to increasing this funding, the U.S. must ensure the money is spent wisely, prioritizing protection of natural forests, peatlands and the welfare of communities that depend on them," Sklar said.
At the upcoming United Nations climate talks in Cancun, Indonesia is expected to announce details of the agreement it is negotiating with Norway, which offered US$1 billion in forest protection funds earlier this year.
Central to the deal is a two-year moratorium on new concessions to destroy forests and peatlands, expected to start January 1, 2011.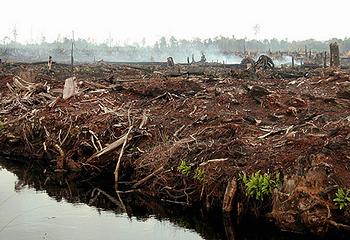 Peat fire smolders on land cleared by burning to make way for a palm oil plantation in Riau province, Indonesia. (Photo by Wakx)
"To be effective, the upcoming two-year moratorium must be extended include the millions of hectares of forests already slated for destruction by palm oil and paper companies and in addition, full protection must be given to carbon-rich peatlands," said Bustar Maitar, forest campaigner, Greenpeace Southeast Asia.
"As a result companies would have to significantly increase their productivity and only grow plantations on land that has already been deforested," said Maitar. "This would be good for the Indonesian economy, its people and the environment."
Foundations for the Comprehensive Partnership between Indonesia and the United States were laid earlier this year.
In March, the two nations signed a Science and Technology Agreement providing a legal framework for expanded bilateral cooperation and collaboration on science-based decision making, health sciences, energy, marine research, and the environment. Once it enters into force, the agreement will allow for the creation of a Joint Committee on Science and Technology Cooperation.
In June, the United States announced it would support Indonesia in establishing a Climate Change Center that will link science to policy on strategic priorities. While the design of the Center is still under discussion, the United States is moving forward to implement cooperation, as well as discuss new forms of technical assistance that will assist Indonesia to both mitigate and adapt to climate change.
The Millennium Challenge Corporation, a U.S. government foreign aid agency, is negotiating a large, multi-year compact to promote economic growth and poverty reduction, for submission to its Board of Directors in 2011. The negotiations are focused on "green prosperity, access to economic opportunities, and governance," according to a statement from the White House today.
"Green Prosperity investments are expected to enhance livelihoods consistent with a low carbon, environmentally and socially sustainable growth strategy," said the White House statement. "Programs under the compact will look to leverage and complement climate change and development programs under the U.S.-Indonesia Comprehensive Partnership as well as support the Norway-Indonesia initiative."
NASA is finalizing negotiations on a Statement of Intent addressing future cooperation with Indonesia on capacity building and education, Earth science applications for societal benefits, scientific data exchange, space weather monitoring and research, and measuring and monitoring emissions and the impacts of climate change.
The U.S. Environmental Protection Agency, together with the Jakarta Provincial Government, has launched Breathe Easy, Jakarta, a program designed to reduce the harmful effects of air pollution in the city.
On November 10, local time, President Obama flew to Seoul, South Korea, where he will attend a meeting of the G-20 heads of government to discuss the global financial system and the world economy November 11 and 12.
Copyright Environment News Service (ENS) 2010. All rights reserved.