Endangered Listing for Greater Sage-Grouse Warrented But Withheld
WASHINGTON, DC, March 5, 2010 (ENS) – The greater sage-grouse "warrants" the protection of the Endangered Species Act but listing the species at this time is "precluded by the need to address higher priority species first," Interior Secretary Ken Salazar announced today.
The U.S. Fish and Wildlife Service, an Interior Department agency, made the decision that the greater sage-grouse will be placed on the ESA candidate list for future action along with some 270 other species. This means the greater sage-grouse, Centrocerus urophasianus, will not receive federal protection and states will continue to be responsible for managing the bird.
"The sage-grouse's decline reflects the extent to which open land in the West has been developed in the last century," said Salazar. "This development has provided important benefits, but we must find common sense ways of protecting, restoring, and reconnecting the Western lands that are most important to the species' survival while responsibly developing much-needed energy resources."
"Voluntary conservation agreements, federal financial and technical assistance and other partnership incentives can play a key role in this effort," the secretary said.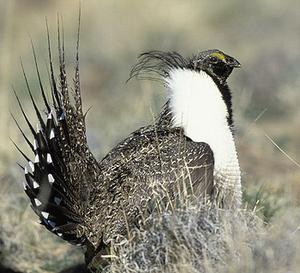 Greater sage-grouse (Photo by Gary Kramer courtesy USFWS)
Adding the species to the candidate list will allow federal agencies to work with private landowners. This includes financial and technical assistance, and the ability to develop conservation agreements that provide regulatory assurances to landowners who take actions to benefit the species. Interior officials point to one such agreement that was signed last month in western Idaho, encompassing an area of over half a million acres.
There is plenty of room in the West to allow development of conventional energy such as oil and gas, renewable energy, and grazing and still protect the sage-grouse, Salazar told reporters on a teleconference call today.
The siting of energy developments must be "smart from the start" he said, based on the best science and the sharing of information with states and private landowners. He said public lands already leased for energy development would be reviewed for impacts on sage-grouse habitat.
Greater sage-grouse are found in Washington, Oregon, Idaho, Montana, North Dakota, eastern California, Nevada, Utah, western Colorado, South Dakota and Wyoming and the Canadian provinces of Alberta and Saskatchewan. They currently occupy about 56 percent of their historical range.
First described by the Lewis and Clark expedition, in the early 19th century up to 16 million greater sage-grouse populated the plains. Today their total population is estimated between 100,000 and 500,000 birds.
If trends since the mid-1960s persist, Fish and Wildlife Service biologists say, many local sage-grouse populations may disappear within the next 30 to 100 years, with remaining fragmented populations more vulnerable to extinction in the long-term.
Yet the biologists say the sage-grouse population as a whole remains large enough and is distributed across such a large portion of the western United States that other species facing more immediate and severe threats of extinction must take priority for listing actions.
The decision marks the agency's second attempt to assess the species for listing after the Bush administration published an ecologically flawed, politically tainted decision not to list the grouse in 2005. Western Watersheds Project, a western conservation organization, successfully litigated a remand of the negative listing decision in 2007.
Chief Judge B. Lynn Winmill of the U.S. District Court in Idaho overturned the Bush administration's 2005 decision not to extend federal protection to the grouse.
In his ruling, Judge Winmill stated that the Fish and Wildlife Service's decision "was tainted by the inexcusable conduct of one of its own executives, Julie MacDonald, whose tactics included everything from editing scientific conclusions to intimidating FWS staffers." MacDonald, formerly deputy assistant secretary for fish, wildlife and parks, resigned in disgrace in May 2007.
The federal government may be headed back to court to defend the decision announced today.
"I look forward to making a careful review of the U.S. Fish and Wildlife Service's reasons for this decision for sage grouse," said Jon Marvel, executive director of Western Watersheds Project. "That review will determine if further litigation is needed to bring the agency into compliance with the law."
Many human activities have destroyed sage-grouse habitat, the conservationists argue, such as livestock grazing, oil and gas development, agricultural conversion, application of herbicides and pesticides, unnatural fire, urban sprawl, mining, off-road vehicle use, and the placement and construction of utility corridors, roads and fences.
"The only way sage-grouse will survive is if large areas of the sagebrush sea are left undeveloped, and chronic disturbances like livestock grazing are removed from those areas," said Katie Fite, biodiversity director for Western Watersheds Project. "This sad delay will make it much more difficult to effectively conserve this magnificent bird."
Bureau of Land Management Director Bob Abbey, whose agency manages more greater sage-grouse habitat than any other government agency, said the BLM today issued guidance that will expand the use of new science and mapping technologies to improve land-use planning.
The guidance will develop additional measures to conserve sage-grouse habitat while ensuring that energy production, recreational access, including hunting, and other uses of federal lands "continue as appropriate."
Click here to view the U.S. Fish and Wildlife Service's 12-Month Findings for Petitions to List the Greater Sage-Grouse (Centrocercus urophasianus) as Threatened or Endangered.
Copyright Environment News Service (ENS) 2010. All rights reserved.