Enbridge Fined $3.7 Million for Kalamazoo River Oil Spill
WASHINGTON, DC, July 3, 2012 (ENS) – Federal pipeline safety regulators Monday proposed a record $3.7 million civil penalty against Enbridge Energy for a major crude oil spill into the Kalamazoo River near Marshall, Michigan nearly two years ago.
The July 25, 2010 spill contaminated approximately 38 miles of the Kalamazoo River. Spill responders have recovered 1,150,000 gallons of tar sands oil, and more oil remains in the river.
The investigation conducted by the U.S. Department of Transportation's Pipeline and Hazardous Materials Safety Administration, PHMSA, found 24 violations of its hazardous liquid pipeline safety regulations by Enbridge, a Canadian company based in Calgary, Alberta.
The violations are related to integrity management, failure to follow operations and maintenance procedures, and reporting and operator qualification requirements.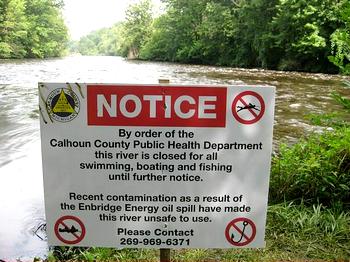 Over one million gallons of crude oil flowed into Talmadge Creek and then into the Kalamazoo River from the Enbridge Energy pipeline rupture. (Photo by Sierra Club)
"We will hold pipeline operators accountable if they do not follow proper safety procedures to protect the environment and local communities," pledged U.S. Transportation Secretary Ray LaHood, announcing the penalty.
PHMSA issued its notice and proposed civil penalty to Enbridge in a Notice of Probable Violation, NOPV.
Enbridge's Line 6B ruptured on the evening of July 25, 2010, while the pipeline was undergoing a scheduled shutdown. Despite control center alarms, operators made several attempts to restart the line, resulting in greater pressure that expelled even more oil.
On July 26, a local natural gas company employee notified the Enbridge control center about the spill. By that time, more than 20,000 barrels (630,000 gallons) of crude oil had been spilled.
"The expected initial corrective action is to notify appropriate company and emergency response personnel to investigate and mitigate the effects of any unsafe conditions. This was not done until approximately 17 hours after discovery of the conditions," the PHMSA wrote in the Notice of Probable Violation sent to Richard Adams, vice president, U.S. Operations, Enbridge Energy, based in Superior, Wisconsin.
Responding to the Notice, Stephen Wuori, president, Liquids Pipelines, Enbridge Inc., said, "Enbridge completed a detailed internal investigation of this incident in the fall of 2010 and has made numerous enhancements to the processes and procedures in our control center since the Line 6B accident, including the training provided to pipeline operators, and has made significant changes in this critical component of our operations."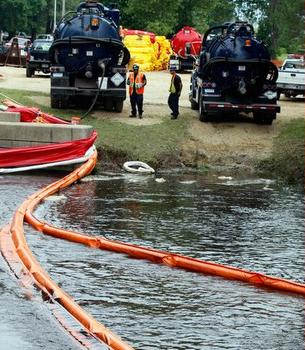 Workers attempt to remove oil and contaminated water from the Kalamazoo River at Marshall, Michigan, July 31, 2010 (Photo by Rebecca Cook / Greenpeace USA)
"Incident prevention, detection and response have also been enhanced," Wuori said. "We will carefully examine the NOPV to determine whether any further adjustments are appropriate."
Wuori declined to comment specifically on the contents of the NOPV until the company completes its analysis of the document. The company has 30 days to respond.
The costs of the spill far exceed the penalty, with damage and cleanup costs now in the neighborhood of $750 million.
The NOPV comes as Enbridge has applied to the U.S. government to double the capacity of the same pipeline to accommodate more thick crude oil from Canada's tar sands.
The nonprofit Natural Resources Defense Council points out that that Enbridge applied for greater capacity on the pipeline before receiving the National Transportation Safety Board report detailing the causes of the accident and also before seeing an upcoming report from the National Academy of Sciences showing whether or not tar sands oil can be safely moved in this type of pipeline.
The federal investigation of the Kalamazoo tar sands spills shows that the pipeline accident "could have and should have been prevented," said the NRDC on Monday.
PHMSA identified 24 probable violations of minimum federal safety regulations in four general categories:
Enbridge had been aware of corrosion on its 6B line since 2004 and did nothing to fix it. Enbridge identified corrosion on this line in a 2004 in-line inspection. A year later, the company found crack-like anomalies on the same pipe segment, but Enbridge did not attempt any remediation of the corrosion or cracks, and the line ruptured on July 25, 2010
Enbridge did not provide officials with accurate and timely information. Enbridge did not notify officials of the spill until 17 hours after they discovered it. Later, Enbridge provided authorities with inaccurate or out-of-date information regarding the spill and its clean-up activities.
Enbridge did not follow its written safety procedures for responding to, investigating and correcting a spill. In many cases, Enbridge's failure to follow these procedures increased the size and severity of the spill, and increased the risk of public exposure to harmful toxins.
Enbridge underestimated the worst case spill scenario for its pipeline. Enbridge found that the worst case spill scenario would involve a maximum spill of 151,000 gallons, assuming a rupture of this magnitude would be identified and shut down in eight minutes. During the Kalamazoo spill, it took Enbridge 17 hours to shut the pipeline down.
Pipeline companies and trade groups often argue that strong pipeline safety regulations are not necessary because it's already in their interest to prevent spills, commented the NRDC.
"PHMSA's investigation shows flaw with this argument," the NRDC said. "When forced to choose between expensive safety measures and saving money, pipeline operators face strong pressures to make the wrong choice."
Copyright Environment News Service (ENS) 2012. All rights reserved.