Eleven Missing After Gulf Drilling Rig Explodes, Burns
NEW ORLEANS, Louisiana, April 21, 2010 (ENS) – Eleven people are still missing after an explosion and fire late Tuesday night aboard a mobile offshore oil drilling rig about 41 miles southeast of Venice, Louisiana.
The explosion sent a pillar of flame into the night sky. It was first reported at 10 pm local time on the deepwater semisubmersible drilling platform Deepwater Horizon. The oil rig is still burning with over a million gallons of #2 fuel oil or marine diesel fuel reported onboard.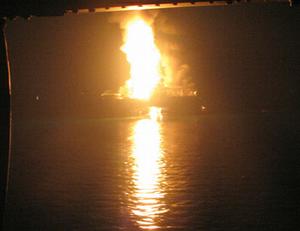 Fire aboard the Deepwater Horizon burns through the night. (Photo by U.S. coast Guard Petty Officer 2nd Class Scott Lloyd)
The cause of the explosion is under investigation by the federal Mineral Management Service and the U.S. Coast Guard. "Initial indications show that this was not a terrorist incident," the Coast Guard said in a statement.
The estimated 126 people who were on board now are off the rig. Some evacuated by means of lifeboats, but some crewmembers reportedly jumped into the water to escape as the rig burst into flames, jumping from a height of 75 to 100 feet.
Search and rescue operations are continuing with multiple Coast Guard helicopters, planes, and cutters at the scene looking for the 11 missing crewmembers. There is minimal sheening and conditions are good for search and rescue, said a Coast Guard spokesperson.
The Coast Guard reports that 115 crewmembers have been accounted for. Seventeen crewmembers were medevaced from the scene and of those, seven critical injuries are reported. Three of the critically injured crewmembers were met by ambulance at Coast Guard Air Station New Orleans; two were medevaced to West Jefferson hospital in New Orleans by air ambulance and two were flown to Mobile Trauma Center in Mobile, Alabama.
Ninety-four crewmembers are being transferred to shore at Port Fourchon aboard the Damien Baxton, an offshore supply vessel. There are no major injuries reported for these members. Four crewmembers have been transferred to another vessel.
The Deepwater Horizon is owned by Transocean Ltd., a Swiss company that is the world's largest offshore drilling contractor. The rig is leased by BP Exploration & Production, Inc.
Transocean's Emergency and Family Response Teams are working with the U.S. Coast Guard and BP Exploration & Production to care for all rig personnel and search for the missing crewmembers, the company said in a statement today.
BP Group Chief Executive Tony Hayward said, "Our concern and thoughts are with the rig personnel and their families. We are also very focused on providing every possible assistance in the effort to deal with the consequences of the incident."
David Rainey, BP's vice president of Gulf of Mexico Exploration, told a news conference today that there is "minor pollution now" but he said "there is potential for a pollution event."
Rainey said that seven major oil response vessels now are en route or on site, including the largest oil spill response vessel in the world.
Transocean Vice President for Quality, Health, Safety and Environment Adrian Rose told reporters that water is now being sprayed onto the fire and the company plans to deploy a remote operated vehicle down within the rig to stem the source of the blaze.
Rose told reporters that workers had drilled this well to its total depth of about 18,000 feet and the well was being closed when the incident occurred.
He said the drill bit had been pulled out and cement was being installed to plug the riser that goes from the sea bottom to the rig when an abnormal pressure buildup occurred in the riser.
"We are assuming that this is a blow-out, but we don't know yet," said Rose. We haven't investigated exactly the cause yet."
Deputy Secretary of the Interior David Hayes told reporters, "When the time comes, we will undertake an investigation. The Minerals Management Service has an ongoing memo of agreement with the U.S. Coast Guard that lays out the procedures to be followed in such an investigation."
Copyright Environment News Service (ENS) 2010. All rights reserved.