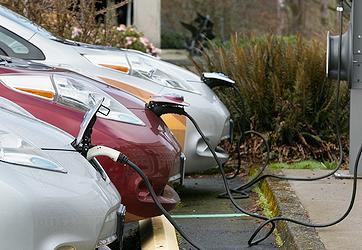 SAN FRANCISCO, California, May 5, 2015 (ENS) – Electric vehicles will supplant petroleum-powered vehicles in the United States within 25 years, finds a new report from the nonprofit Plug In America, which works to accelerate the shift to plug-in vehicles.
Plug In America reports on efforts underway to accelerate the growth of the plug-in electric vehicle market in the study, "The Promotion of Electric Vehicles in the United States – A Landscape Assessment."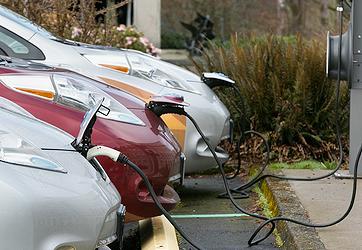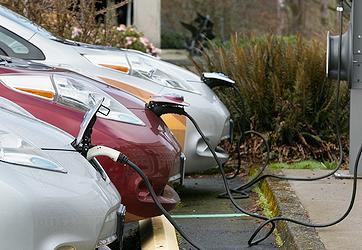 Today there are over 300,000 plug-in electric vehicles all 50 states as compared with over 250 million fossil fueled vehicles.
Interest in electric vehicles is growing quickly. Nearly 120,000 of those EVs were delivered to new owners in 2014.
"The U.S. stands at the crossroads of the largest technology shift in personal transportation in its history," says principal researcher Kirk Brown, Plug In America's director of strategic partnerships.
During 2014, Plug In America researchers assessed overall promotional efforts for EVs by interviewing key stakeholders across industry, government and allied organizations.
"The question ahead is how do we capture this early market growth and deliver the benefits of these vehicles to all consumers, everywhere," Brown said.
The Plug In America analysis finds that despite the fact that PEVs can reduce or eliminate transportation pollution, government policies are inconsistent across the country.
Automakers have created over two dozen models of plug-in electric vehicles, yet only a few are actually available for purchase in all 50 states.
"Consumers simply cannot fathom why the electric vehicle they're most interested in is not available at a dealership in their home state," says the report's senior editor Dan Davids, Plug In America's chair. "Our report shows that only six manufacturers collectively deliver well over 90 percent of these vehicles."
The United States leads the world in plug-in electric vehicle adoption with a 45 percent share of global sales.
The report quotes the Electric Drive Trade Association's July 2014 market snapshot. Data highlights:
* – Roughly 100% growth in the number of PEVs on US roads between June 2013 and June 2014 – from 111,962 to 222,590
* – 8,389 public EV charging locations with 20,420 stations installed
* – 19 available models from 10 automakers: BMW, Chevy, Fiat, Ford, Honda, Mercedes, Mitsubishi, Nissan, Tesla and Toyota
* – 20 additional models expected through 2016 including vehicles from new manufacturers such as Audi, Kia, Porsche and VW
Now General Motors is entering the plug-in EV market. In January Chevrolet confirmed production of its next-generation pure electric vehicle, based on the Bolt EV concept. It will be built at the General Motors Orion Assembly facility in Michigan.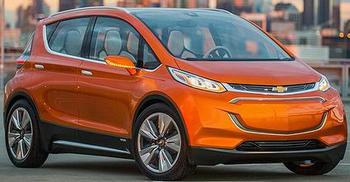 The Bolt EV concept was introduced at the North American International Auto Show in Detroit in January.
Alan Batey, president, General Motors North America, said, "The message from consumers about the Bolt EV concept was clear and unequivocal: build it."
Said Batey, "We are moving quickly because of its potential to completely shake up the status quo for electric vehicles as the first affordable long-range EV in the market."
Industry data show that consumer satisfaction with plug-in electric vehicles is "overwhelmingly positive."
"The advantages of dramatically lower operating cost, significantly reduced impact to the environment, convenience of fueling at home, and the pleasure of a better driving experience combine to generate enthusiasm for this new vehicle category," finds the report.
Yet national awareness of plug-in electric vehicles remains low, due to restricted availability of many models in the marketplace and uncoordinated promotional campaigns, although the transition to PEVs aligns "profoundly" with environmental goals of reducing pollution and addressing climate change, the report concludes.
In his 2011 State of the Union address, President Barack Obama called for putting one million electric vehicles on the road by 2015.
According to the Congressional Budget Office (CBO), between 2012 and 2019 the federal government will spend $7.5 billion on policies to boost the U.S. PEV industry, primarily through the federal tax credit for the purchase of electric vehicles.
By contrast, major oil producers will receive tax benefits of roughly $4 billion per year – or $28 billion during the CBO's timeframe. The tax code allows these same oil producers to pay income tax at a roughly 13-14 percent rate, far below the 35 percent top corporate rate.
The U.S. military is investing heavily in PEVs. A recent report from Navigant Research shows that the U.S. Department of Defense plans to acquire more than 92,400 EVs for non-tactical purposes between 2013 and 2020.
The Plug-in America report finds that an opportunity exists to catalyze market growth for plug-in electric vehicles by tapping more deeply the resources of supportive stakeholders, including: industry, all levels of government, NGOs, and philanthropic foundations.
"Long-term market viability for PEVs cannot be assured without additional resources being brought to bear, including lasting commitments from philanthropic foundations," the report states.
Efforts are underway to increase the penetration of EVs into economically disadvantaged communities. The California Air Resources Board will be issuing revisions to its vehicle rebate program in 2015, designed to do just that.
Leveraging the real-world experience of seasoned PEV drivers by proactively seeking their guidance is critical to accelerating market growth, according to the report.
The report concludes that accelerating the growth of this market requires that stakeholders collaborate more effectively toward a shared aim, working beyond local or narrow organizational interests to align promotional efforts across all 50 states.
Copyright Environment News Service (ENS) 2015. All rights reserved.