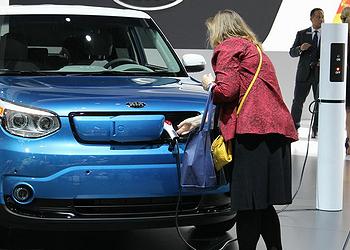 LOS ANGELES, California, August 3, 2015 (ENS) – Electric cars will soon be available to low-income residents of Los Angeles through a new car-sharing project.
The California Air Resources Board has awarded a $1.6 million grant to the City of Los Angeles and its community partners for a pilot project that provides electric vehicle car-sharing options in low-income communities.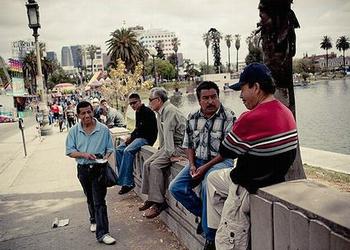 During an event held July 24 at an affordable housing development in the MacArthur Park neighborhood, residents, community groups, city and state officials celebrated the hallmark program that will increase access to advanced technology and reduce carbon emissions and gasoline use in one of America's most polluted cities.
In a neighborhood better known for gangs and drugs than electric vehicles, the housing development plans to install an electric car-sharing station shortly.
This electric vehicle car-sharing program will offer clean, affordable transportation choices for families without contributing to air pollution or to climate change.
The Air Resources Board's Car Sharing and Mobility Options in Disadvantaged Communities Pilot Project was made possible by two bills authored by State Senate President pro Tempore Kevin de León, a Los Angeles Democrat.
One creates the the Charge Ahead initiative and the other directs the Board to invest revenue from the state's cap-and-trade program in neighborhoods disproportionately impacted by climate change and poor environmental quality.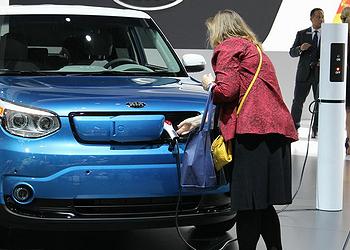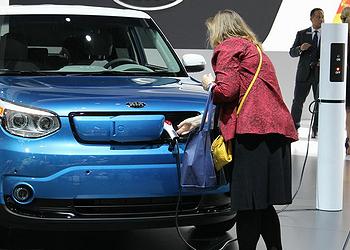 "Fighting smog and climate change so that our kids can breathe clean air requires more transportation options that don't rely on dirty fossil fuels," said Senator De León.
"This electric car-sharing pilot project offers a glimpse of the future, and represents the type of shift in policy, infrastructure, and behavior that we need," he said.
The proposal selected for a grant was designed by the Los Angeles Mayor's Office of Sustainability and will serve about 7,000 residents in some of the city's working-class communities.
The program will help California reach its ambitious climate goals to put 1.5 million electric vehicles on the road by 2025, cut petroleum use by half by 2030, and make real progress in Los Angeles' Sustainable City Plan.
Mayor Eric Garcetti said, "Our EV car sharing pilot is a perfect example of how our state's Cap and Trade dollars should be put to work: providing transportation options for Angelenos in need, and helping us achieve our clean air goals outlined in my Sustainable City pLAn."
California Air Resources Board Chair Mary Nichols was instrumental is selecting this project for funding.
"Once again California is putting its money where its mouth is – by making the cleanest cars available in neighborhoods and communities where they are most needed," said Nichols.
The pilot project will educate residents about car sharing and transportation alternatives, install electric vehicle charging stations, and introduce a car sharing fleet of advanced technology electric vehicles.
The Los Angeles Department of Water and Power, the largest municipal utility in the nation, will provide support for the EV infrastructure.
Community and environmental organizations are pleased with the initiative.
Michelle Kinman, clean energy advocate with Environment California," said, "This pioneering car sharing pilot project has the potential to jumpstart the clean vehicle revolution in diverse communities throughout California and beyond."
Federal surveys of American households have found that half of all trips three miles (five km) or less and nearly one-third of all trips are one mile or less.
Today in Los Angeles, only 26 percent of trips are made by walking, biking or transit, and only about one percent of trips use shared transportation.
"The size and scope of this endeavor make it an unprecedented public investment in shared mobility," said Sharon Feigon, executive director of the Shared-Use Mobility Center, a national, public-interest organization working to foster collaboration in shared transportation.
"This unique project will increase access to transportation for hundreds of thousands of Angelenos," she said, "while at the same time attracting new private-sector investment, increasing public awareness of electric vehicles and cutting congestion and harmful emissions."
Copyright Environment News Service (ENS) 2015. All rights reserved.