Eight Local Governments First to Get Climate Adaptation Help
WASHINGTON, DC, November 18, 2010 (ENS) – Eight cities and counties – from Boston to San Francisco – are seeking to protect themselves from climate change by being the first to join the nation's first comprehensive climate adaptation program for local governments.
The pioneering local governments include Boston and Cambridge, Massachusetts; Flagstaff and Tucson, Arizona; Lee County and Miami-Dade County, Florida; Grand Rapids, Michigan; and the San Francisco Bay Conservation and Development Commission.
Following the hottest decade on record, global average temperatures are projected to rise four to 11 degrees Fahrenheit over the next century, increasing the problems local governments are already confronting.
In Boston, sea level rise has resulted in flooding and erosion. In Cambridge, changing precipitation patterns have brought increased flooding and potential drought periods.
Miami-Dade County is experiencing more frequent severe storms, more frequent floods from rising sea levels, and saltwater intrusion into drinking water aquifers.
On Florida's west coast, Lee County is seeing more extreme hot and cold events, increased coastal erosion and major costs for infrastructure, destabilization of aquatic food webs, and increasing occurrence of tropical diseases in plants, wildlife and humans.
Grand Rapids faces more frequent extreme heat waves, increased air pollution, more massive snow storms that damage infrastructure and burden city services, as well as economic impacts due to changes in the Great Lakes that affect shipping and commerce.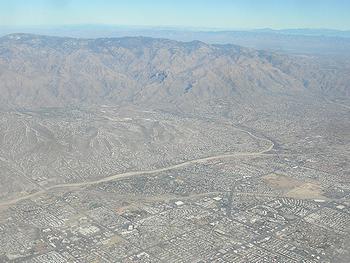 Arid Tucson, Arizona (Photo by Mansley)
In arid Arizona, Tucson and Flagstaff are dealing with water shortages and more intense drought, landscape transformation due to wildfire and invasive species proliferation, and severe heat waves affecting public health.
San Francisco anticipates a mid-century sea level rise of 16 inches; and an end of century sea level rise of 55 inches.
To help local governments cope, the Climate Resilient Communities Program was developed by ICLEI-Local Governments for Sustainability USA and launched this week. Strategies may include strengthening infrastructure, diversifying water supplies, and planting more vegetation to counteract the urban heat island effect.
"Local governments have a responsibility to protect people, property, and natural resources, and these leading communities wisely recognize that climate change is happening now, and that they must begin planning for impacts that will only become more severe in the coming decades," said Martin Chavez, ICLEI USA executive director and former three-term mayor of Albuquerque, New Mexico.
"For more than five years," said Chavez, "local governments have expressed an urgent need for resources and guidance to help them prepare their communities for climate impacts, and ICLEI USA is proud to finally release these groundbreaking resources."
The Climate Resilient Communities Program offers the first standardized adaptation planning process for communities, including the advanced Adaptation and Database Planning Tool, or ADAPT.
ADAPT walks users through the process of assessing community vulnerabilities, setting resiliency goals, and developing effective strategies that integrate into existing local planning efforts.
All of ICLEI USA's 600 U.S. local government members will receive access to Climate Resilient Communities Program resources, but the eight Inaugural Adaptation Communities will receive additional technical support.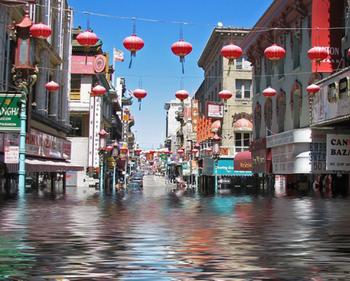 Flood in San Francisco's Chinatown, October 2007. (Photo by Steven Feather)
On Friday, the San Francisco Bay Conservation and Development Commission announced that its Adapting to Rising Tides Project has been selected to be part of ICLEI's inaugural national program.
The announcement was made at a public hearing on amendments to the San Francisco Bay Plan to update the 21-year-old sea level rise findings and policies and to add a new section in the plan dealing more broadly with climate change and adapting to sea level rise.
"Sea level rise from global warming is a fact," the commission says. "Water levels in San Francisco Bay have risen about seven inches over the past century, and scientists agree that the rate of sea level rise is accelerating."
In April 2009, the commission released a report summarizing the latest scientific research on climate change that says, "While exact future increases in sea level rise are uncertain, scientists believe it is likely that the Bay will rise about 11 to 18 inches by mid-century and may rise 23 to 55 inches by 2100."
The policies in the current San Francisco Bay Plan discourage building in shoreline areas that are vulnerable to current or future flooding. The proposed amendments would modify the existing policies to encourage development in suitable low-lying areas and encourage resource enhancement in areas with high natural habitat value.
The proposed policies would support small projects, continued in-fill development, redevelopment of closed military bases, remediation of contaminated sites, construction of critical infrastructure, and adaptive use of low-lying areas planned in a manner that addresses the dangers of accelerated sea level rise.
The commission says investors and insurers around the world are watching closely what the Bay Area and other low-lying regions are doing to deal with climate change.
San Francisco is one of the regions that do not have the luxury of choosing to either cut greenhouse gases or adapt to sea level rise, the commission said. "They must do both."
"The Bay Area is in competition with others around the world to attract investment," the commission said. "In order to win this contest, the Bay region cannot ignore the threats posed by climate change and sea level rise simply because the challenges are too difficult or current economic times are hard."
California Governor Arnold Schwarzenegger issued an executive order in November 2008 directing state agencies to plan for sea level rise and directing the California Natural Resources Agency to develop a statewide adaptation strategy.
Copyright Environment News Service (ENS) 2010. All rights reserved.
© 2010 – 2012, Jim Crabtree. All rights reserved.