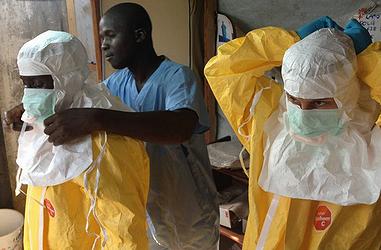 NEW YORK, New York, October 24, 2014 (ENS) – The worst Ebola outbreak in history, which began in West Africa in March, is traveling around the world. On Thursday, a New York City emergency room doctor who worked with Ebola patients in Guinea was diagnosed with the disease and is quarantined in hospital in New York.
Today the first case appeared in the West African country of Mali.
This week two African countries – Senegal and Nigeria – were declared Ebola-free. The World Health Organization said, "The most important lesson for the world at large is this: an immediate, broad-based, and well-coordinated response can stop the Ebola virus, carried into a country in an infected traveller, dead in its tracks."
Of the 9,936 Ebola cases reported as of October 19 to the World Health Organization, 4,877 people have died.
The survivors include an infected nurse who cared for the first case of Ebola diagnosed in the United States. Today, Nina Pham, 26, was released from the National Institutes of Health Clinical Center in Bethesda, Maryland, where she was treated, with a clean bill of health. She went to the White House to meet with President Barack Obama before returning home to Dallas.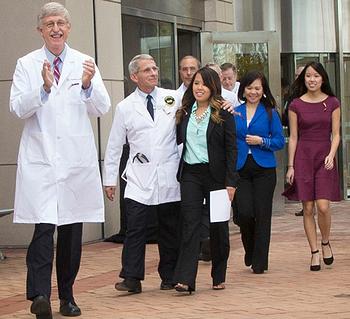 Pham was infected while caring for Liberian patient Thomas Eric Duncan at Texas Health Presbyterian Hospital in Dallas. Duncan did not survive the disease. A second nurse who treated Duncan has also come down with Ebola. Amber Vinson is still being treated for the disease.
"We would not be releasing Ms. Pham if we were not completely confident in the knowledge that she has fully recovered, is virus free and poses no public health threat," said NIH officials in a statement.
On Thursday, New York Mayor Bill de Blasio confirmed that a doctor admitted to Bellevue Hospital Center Thursday has tested positive for the Ebola virus.
During a news conference at Bellvue with New York Governor Andrew Cuomo, city and state health officials and the head of the Centers for Disease Control, the mayor tried to reassure the city's eight million residents, saying, "There's no reason for New Yorkers to be alarmed."
"Ebola is an extremely hard disease to contract. It is transmitted only through contact with an infected person's blood or other bodily fluids – not through casual contact," said the mayor. "New Yorkers who have not been exposed to an infected person's bodily fluids are not at all at risk."
Working with Doctors Without Borders in Guinea, Dr. Craig Spencer, 33, was treating Ebola patients, before he left Africa on October 14, returning to New York City on October 17, city officials said. He is now in quarantine and officials are tracing everyone with whom he came in contact.
Dr. Spencer's fiancée, Morgan Dixon, who lived with him, also has been quarantined at Bellevue, as have two other friends.
Dr. Spencer rode the subway and went bowling in Williamsburg, Brooklyn. City officials decided not to keep the subway line out of service.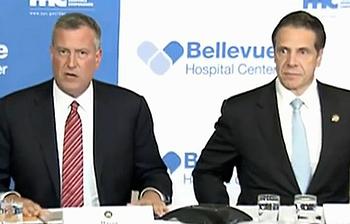 Being on the same subway car or living near a person with Ebola does not in itself put someone at risk, Mayor de Blasio said.
"And we want to emphasize that New York City has the world's strongest public health system, the world's leading medical experts, and the world's most advanced medical equipment," de Blasio said.
"We have been preparing for months for the threat posed by Ebola," said the mayor. "We have clear and strong protocols, which are being scrupulously followed and were followed in this instance. And Bellevue Hospital is specially designed for isolation, identification, and treatment of Ebola patients. Every hospital in the city is prepared in the event that other patients come forward."
"As we learn about the first positive Ebola case in New York City, I want to assure New Yorkers that we are prepared," Governor Cuomo said, acknowledging that it is a "frightening" situation.
"Over the past few weeks we have undertaken a thorough and coordinated effort alongside all relevant partners, from healthcare workers to the local and federal governments, in order to implement the appropriate precautions," the governor said.
As part of New York State's Ebola Preparedness Plan eight hospitals statewide are ready to handle all patients diagnosed with Ebola. Those eight hospitals which are prepared and equipped for the isolation, identification, and treatment of Ebola patients, include: Mt. Sinai in Manhattan, New York Presbyterian in Manhattan, Bellevue in Manhattan, Montefiore in the Bronx, North Shore/LIJ Health System in Nassau County, Upstate University Hospital in Syracuse, University of Rochester Medical Center in Rochester and Stony Brook University Hospital on Long Island.
Doctors Without Borders, known in French as Médecins Sans Frontières, MSF, said Dr. Spencer followed all required protocols.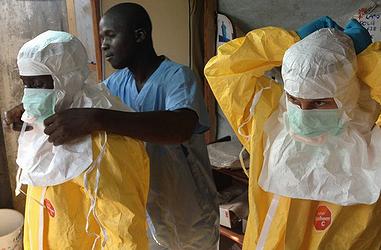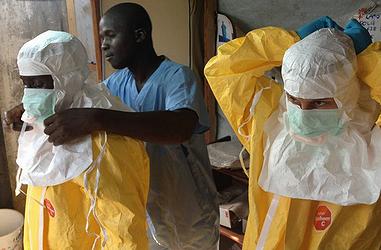 "Extremely strict procedures are in place for staff dispatched to Ebola affected countries before, during, and after their assignments," said Sophie Delaunay, executive director of MSF. "Despite the strict protocols, risk cannot be completely eliminated. However, close post-assignment monitoring allows for early detection of cases and for swift isolation and medical management."
The time interval from infection with the virus to onset of symptoms is two to 21 days. Humans are not infectious until they develop symptoms.
The World Health Organization, WHO, says, "First symptoms are the sudden onset of fever fatigue, muscle pain, headache and sore throat. This is followed by vomiting, diarrhoea, rash, symptoms of impaired kidney and liver function, and in some cases, both internal and external bleeding."
People remain infectious as long as their blood and body fluids, including semen and breast milk, contain the virus. Men who have recovered from the disease can still transmit the virus through their semen for up to 7 weeks after recovery from illness, according to WHO.
Ebola Appears in Mali
Mali's Ministry of Health today confirmed the country's first case of Ebola virus disease. The Ministry received positive laboratory results on Thursday and informed WHO immediately.
In telephone conversation on Thursday night, Malian health officials told WHO that the patient is a two-year-old girl, who recently arrived from Guinea accompanied by her grandmother. The child's first contact with the country's health services occurred on October 20, when she was examined by a health care worker at Quartier Plateau in Kayes, a city in western Mali on the Senegal River.
On October 19, the grandmother left Guinea to return to Mali, taking the child with her. The case history shows that bleeding from the nose began while both were still in Guinea, meaning that the child was symptomatic during their travels through Mali.
Travel was by public transport through Keweni, Kankan, Sigouri, and Kouremale to Bamako. The two stayed in Bamako for two hours before traveling on to Kayes. Multiple opportunities for exposure occurred when the child was visibly symptomatic, WHO warns.
WHO is treating the situation in Mali as an emergency. The initial investigation identified 43 close and unprotected contacts, including 10 health-care workers, who are also being monitored in isolation.
Ebola in Europe
On October 6, WHO was informed of the first confirmed case of Ebola virus disease in Spain. This case represents the first human-to-human transmission of the disease outside Africa.
The case is a female health care worker with no travel history to West Africa but who participated in the medical care of an Ebola case in a Spanish citizen who had been infected in Sierra Leone and evacuated to Madrid September 22 and who died on September 25.
Where Ebola Comes From
WHO says, "It is thought that fruit bats of the Pteropodidae family are natural Ebola virus hosts."
Ebola is introduced into the human population through close contact with the blood, secretions, organs or other bodily fluids of infected animals such as chimpanzees, gorillas, fruit bats, monkeys, forest antelope and porcupines found ill or dead or in the rainforest.
Ebola prevention includes reducing the risk of wildlife-to-human transmission from contact with infected fruit bats or monkeys and apes and the consumption of their raw meat. WHO advises that animals should be handled with gloves and other appropriate protective clothing. Animal blood and meat should be thoroughly cooked before consumption.
Ebola then spreads through human-to-human transmission via direct contact through broken skin or mucous membranes with the blood, secretions, organs or other bodily fluids of infected people, and with surfaces and bedding or clothing contaminated with these fluids.
Health-care workers have frequently been infected while treating patients with suspected or confirmed Ebola. This has occurred through close contact with patients when infection control precautions are not strictly practiced.
Faster Diagnosis: U.S. Navy Opens Mobile Lab in Liberia
WHO warns that Ebola transmission is still "intense" in the three most affected countries: Liberia, Guinea and Sierra Leone.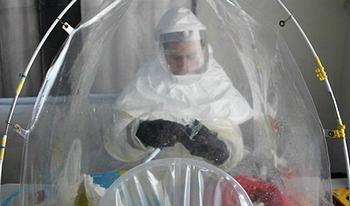 One of the challenges to bring the Ebola outbreak under control in Liberia has been lack of access locally to laboratories able to provide a quick and firm diagnosis of the disease.
This month the U.S. Navy opened a new high-tech mobile laboratory near the Island Clinic, one of the Ebola treatment units in Monrovia, Liberia, that is supported by the WHO.
"The first thing we do with a blood sample is inactivate the Ebola virus, making the virus non-infectious and safer for testing," says U.S. Navy Lieutenant Jose Garcia. As the blood sample might be contagious, this process happens in a protective environment by using a portable biological safety hood to avoid any direct contact.
Until the new lab was up and running, health workers had to wait two to five days to have a preliminary Ebola diagnosis confirmed by sending blood samples to another lab facility in Monrovia.
In the new lab, it takes just three to five hours to get results. Speeding up the time between taking a blood sample and knowing the results minimizes the time non-infected patients are exposed to infected patients and results in better care.
"The main goal of our job is to speed up the time between the arrival of the blood sample and the detection of the Ebola virus in the sample," said Dr. Ketan Patel of the U.S. Naval Medical Research Center in Silver Spring, Maryland, who helps run the mobile lab.
Dr. Patel says, "Since we are dealing with blood samples, there is the risk of infection. Improper handling of these specimens will pose a serious risk to us. That's why we need to fully protect ourselves."
Copyright Environment News Service (ENS) 2014. All rights reserved.