Earthquake Rocks Eastern Turkey, Hundreds Feared Dead
ANKARA, Turkey, October 23, 2011 (ENS) – Up to 1,000 people may have lost their lives in a magnitude 7.2 earthquake that struck eastern Turkey on Sunday. The most powerful earthquake to hit Turkey in over a decade came at 1:41 pm local time, toppling buildings, trapping people inside and crushing vehicles in the streets.
Working through the night, local residents are using their bare hands and whatever tools they can grab to search the rubble under generator-powered floodlights in a desperate attempt to reach survivors buried under the rubble.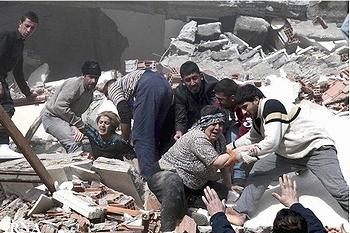 Rescue workers pull injured people from the rubble of collapsed buildings in the city of Van, Turkey. (Photo courtesy Andalou Ajansi)
At least 85 people had been killed by Sunday evening, state-run TRT television reported.
Many of the casualties occurred in the city of Van, just 16 kilometers (nine miles) from the epicenter and in surrounding communities, including Ercis and Tabanli, the village nearest to the epicenter.
"We estimate around 1,000 buildings are damaged and our estimate is for hundreds of lives lost. It could be 500 or 1,000," Kandilli Observatory general manager Mustafa Erdik told reporters at a news conference in Istanbul.
More than 20 aftershocks have rocked the area, located 929 km (577 miles) east of the capital Ankara near Turkey's border with Iran.
Turkish Red Crescent workers are conducting search and rescue efforts, providing blankets, stoves, food and water to survivors and operating disaster management centers in the mountainous and isolated region.
Prime Minister Recep Tayyip Erdogan arrived in the city of Van at 8 pm local time and boarded a helicopter to the town of Ercis.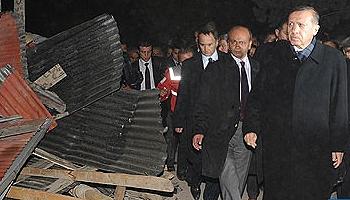 Prime Minister Recep Tayyip Erdogan views the earthquake's destruction in the town of Ercis (Photo courtesy Andalou Ajansi)
Turkish Deputy Premier Besir Atalay said the government has dispatched six helicopters as well as three military cargo planes to the area carrying tents, food and medicine.
The Ministry of Health says a 500-member medical team is in the quake zone. In a statement, the ministry said 145 ambulances are in the zone and 87 doctors from other provinces have traveled to the area.
In neighboring West Azarbaijan, Governor General Vahid Jalalzadeh told Iran's IRNA news agency Sunday that the province's hospitals are ready to care for injured Turkish citizens.
China, Japan, the United States, Germany and several other European countries as well as NATO offered assistance.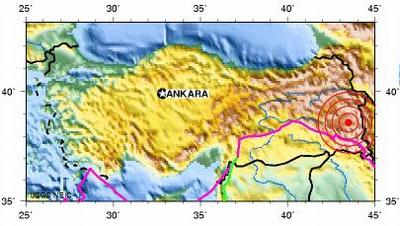 Red circles mark the location of Turkey's latest earthquake, October 23, 2011 (Map courtesy USGS)
Israeli President Shimon Peres phoned Turkish President Abdullah Gul on Sunday to offer assistance. "At this difficult time, Israel is willing to provide any aid required anywhere in Turkey and at any time," Peres said, according to a statement released by his office.
Israeli Defense Minister Ehud Barak later said Turkey has declined Israeli aid.
Turkey is located on a highly active Eurasian geological plate, the source of numerous large earthquakes throughout the country's history. The earliest recorded earthquake dates to 411 B.C.
There have been nearly 100 earthquakes with magnitudes 7.0 or greater in Turkey; and 14 earthquakes with casualties of more than 10,000 have occurred since 342 A.D.
Turkey's most severe earthquake in the 20th century occurred in Erzincan on the night of December 28-29, 1939, devastating most of the city and causing some 160,000 deaths.
The most earthquake-prone part of Turkey is a region stretching from the vicinity of Kocaeli to the area north of Lake Van on the border with Armenia and Georgia.
Copyright Environment News Service (ENS) 2011. All rights reserved.