Earth Day Network Achieves One Billion Acts of Green
WASHINGTON, DC, April 23, 2012 (ENS) – Two years after Earth Day Network launched the Billion Acts of Green environmental service campaign, the goal of one billion environmental actions has been reached.
The final pledges to the "billion" announcement were counted down on Earth Day, April 22, during a live webcast from the steps of the U.S. Capitol on the National Mall in Washington.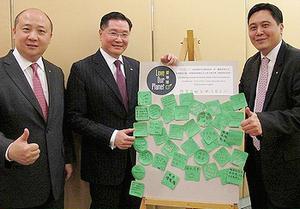 Hong Kong's Regal Airport Hotel Meeting and Conference Centre set up the Love Our Planet art display with recycled materials and offered a Green Ideas notice board for hotel associates. (Photo by Annie Wong)
"A Billion Acts of Green is a global referendum on the environment," said Kathleen Rogers, president of the Earth Day Network. "It shows the breadth of support for strong, coordinated action to deal with our most pressing environmental challenges. And we're going to take this achievement to world leaders and demand just that."
Commitments large and small make up the total. Yeji from South Korea pledged to not use paper cups anymore, while Pearl from the United Kingdom pledged to sell her car and walk everywhere she could.
Hundreds of people pledged to eliminate the use of pesticides and toxic cleaning products, while hundreds of others pledged to plant a garden or eat more local food.
Nearly a thousand have signed a petition to Brazilian President Dilma Rousseff to veto legislation that would open more of the Brazilian Amazon to clear-cut logging.
"We ask that you instruct law enforcement agencies to protect environmental activists and stop illegal logging," the petition states. "The Amazon is not only important to Brazil it is important to the entire planet. We call on you to defend the lungs of the Earth."
In Amman, Jordan, students at Patriarch Diodoros School formed an Earth Day Volunteers group and are "greening" their school inside and out. They have improved the school garden, held schoolwide assemblies on the environment and integrated environmental education throughout the curriculum.
Major contributions from large organizations drove the campaign to new heights, said Rogers.
For example, Earth Day Philippines contributed over 12 million Acts of Green through tree plantings, water projects, river clean-ups, recycling drives and school greenings. And two hundred Catholic parishes contributed 100,000 acts of green through local service projects.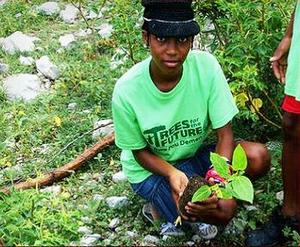 A Haitian girl plants a mahogany sapling in Carives. (Photos courtesy Earth Day Pictures)
Through the work of Twentieth Century Fox Home Entertainment, Earth Day Network and 17 partner organizations around the world, the Avatar Home Tree Initiative, more than one million trees were planted on six continents. These tree-planting projects directly involved over 31,000 people, benefitting tens of thousands immediately and the entire planet for the future.
Trees for the Future and its 85 partners in 15 African countries planted more than 11 million trees through 2011, as part of the Billion Acts of Green.
"Our local partners throughout Africa understand better than anyone the need to stop deforestation in their countries, and they are all thrilled to add their efforts to Earth Day Network's global A Billion Acts of Green campaign," said Ethan Budiansky, head of international programs for Trees for the Future.
The Philadelphia International Airport partnered with Adopt-A-Watt, Inc., which promotes the funding of clean energy, alternative fuel and energy efficient programs through community sponsorship recognition. Adopt-A-Watt provides sponsor-able photovoltaic arrays that are mounted and attached to standard electrical service panels and include an acknowledgement sign bearing the name of a sponsor. More than 50 such arrays at the airport were contributed to the Billion Acts of Green.
"Adopt-A-Watt is an innovative concept that helps us achieve our Green initiatives and provides an opportunity for community participation in that effort," said Airport CEO Mark Gale. "We are committed to the city's goal of making Philadelphia the greenest city in America."
"When we began the campaign in 2010, we never could have imagined the tremendous response we would see worldwide," said Rogers. "A Billion Acts of Green shows us that environmental issues are increasingly impacting how people live their daily lives."
"In the absence of national and international action to solve major environmental problems, such as climate change, people are taking matters into their own hands," Rogers said. "All these little actions add up to something big."
Earth Day Network will showcase the Billion Acts of Green at the UN Conference on Sustainable Development, Rio+20, this June in Brazil, where world leaders will gather to chart the way forward on building a global green economy.
The countdown to the next Billion Acts of Green is already underway, with more than 500 new commitments above the original billion.
Copyright Environment News Service (ENS) 2012. All rights reserved.