Earth Day 2010 San Diego: Building a Greener Downtown
SAN DIEGO, California, April 22, 2010 (ENS) – On the 40th anniversary of Earth Day, San Diego Mayor Jerry Sanders unveiled a new program designed to make the downtown more environmentally sustainable and to help San Diego reach state climate change goals for 2020.
Mayor Sanders says that even before the adoption of the state's new CalGreen building codes next January, California will have some of the most stringent environmental building standards in the country.
"We want to reward those developers who exceed California green building standards and to build in flexibility so that green solutions can be customized for different types of buildings ranging from hotels, to condos, to offices," the mayor said.
Called Centre City Green, the program is under development by the Centre City Development Corporation, CCDC, working on behalf of the Redevelopment Agency for the City of San Diego.
The program will use incentives such as increased building density, faster permitting, development code variances, support of "green team" specialists, and public recognition to encourage building owners to use less water and less energy, and provide healthy indoor and outdoor spaces.
Mayor Sanders was joined by Council President Pro Tem Kevin Faulconer, CCDC officials and representatives of organizations including the U.S. Green Building Council, California Center for Sustainable Energy, San Diego Gas & Electric, and the building industry.
The Earth Day announcement was made at Strata, a new, 24-story luxury apartment tower slated to be the first LEED Silver-certified residential high-rise in the city.
Developed by The Hanover Company of Houston, Strata meets the guidelines for more rigorous Silver certification under the U.S. Green Building Council's Leadership in Energy and Environmental Design, LEED, rating program that includes the use of landscaped green roofs.
Strata and its neighbor, the LEED-certified Hotel Indigo, were two of the first projects to use CCDC's incentive program that allow developers to add square footage to their projects in exchange for installing green roofs. The rooftop plants serve as insulation, reducing the energy needed for heating and cooling. and they improve downtown air quality.
Faulconer, who represents downtown San Diego, said, "Building green and renovating downtown's older buildings are critically important because an estimated 40 percent of carbon emissions in the U.S. come from buildings."
Faulconer said CCDC is developing a lighting master plan with new energy-efficient lighting strategies for downtown buildings, streets and sidewalks. San Diego Gas & Electric donated more than $100,000 to fund these lighting innovations.
A pilot "Green Streets" program to create healthier outdoor spaces that are more pedestrian and bike friendly, add more greenery, reduce automobile demand, support transit, use less energy and water, improve air quality and reduce stormwater pollution in the San Diego Bay, Faulconer said.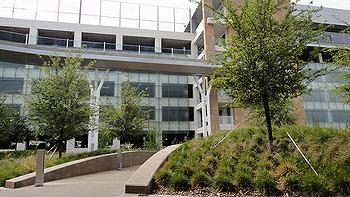 Sony Electronics headquarters in San Diego is a LEED Gold certified building. (Photo by Sony Electronics)
CCDC chairman Fred Maas announced that Centre City Green would issue plaques that greener buildings could display to raise public awareness. "Most important," said Maas, "these programs will have specific performance measures so we can quantify our success in meeting or exceeding state goals for improving air and water quality, reducing our water and energy consumption, and lowering greenhouse gas emissions."
Today, the U.S. Green Building Council Institute announced that the Sony Electronics headquarters building in San Diego is the newest U.S. facility to earn the LEED Gold certification.
Nearly 15 percent of the building's materials are sourced within 500 miles of the site, 47 percent use recycled materials, and a minimum of 75 percent of the wood used in the framing, flooring and furniture is certified by the nonprofit Forest Stewardship Council, which promotes responsible forest management.
Open space accounts for 29 percent of the lot, with vegetation making up 52 percent, more than double the LEED requirement. There are 80 bicycle racks, 140 spaces reserved for carpool vehicles, and 76 set aside for fuel-efficient vehicles, to promote the reduction of greenhouse gas emissions.
In hot, dry San Diego, the Sony building uses low-flow water fixtures and captures 90 percent of stormwater runoff onsite.
Energy performance is maximized by 22.6 percent with the installation of lighting sensors and variable speed drives for air conditioning units.
Solar panels are installed on the building's parking garage to collect energy for the local utility company, a feature that offsets nearly five percent of the building's total energy cost.
Copyright Environment News Service (ENS) 2010. All rights reserved.