E15 Ethanol Blend Registrations Earn U.S. EPA Approval
WASHINGTON, DC, April 5, 2012 (ENS) – The U.S. Environmental Protection Agency has approved 20 companies to manufacture ethanol for use in the 15 percent ethanol-gasoline blend known as E15.
Ethanol is blended with gasoline for use in most areas across the country. For over 30 years ethanol has been blended into gasoline, but U.S. law limited it to 10 percent by volume for use in gasoline-fueled vehicles.
Registration of ethanol to make E15 is a step toward its production, sale, and use in gasoline-fueled cars and light trucks model year 2001 and newer.
E15 is not permitted for use in motor vehicles built prior to the 2001 model year and in off-road vehicles and equipment such as boats and lawn and garden equipment.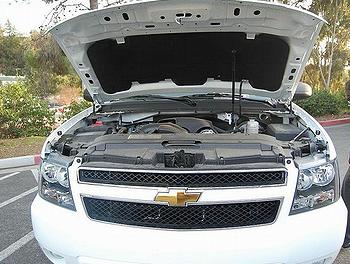 Under the hood of a flex-fuel car at the California Ethanol Symposium, January 14, 2011 at Hondo Rio College. (Photo by Joanna Schroeder)
Ethanol is considered a renewable fuel because it is generally produced from plant products or wastes and not from fossil fuels. To enable widespread E15 use, the Obama Administration has set a goal to help fueling station owners install 10,000 blender pumps over the next five years.
In addition, the U.S. Department of Energy and U.S. Department of Agriculture have provided grants, loans and loan guarantees to spur American ingenuity on the next generation of biofuels.
The EPA registration approvals announced April 2 follow an extensive technical review required by law.
While the EPA is facilitating the use of cleaner-burning E15, the agency is not requiring use or sale of the fuel.
Registration is a prerequisite to introducing E15 into the marketplace. Before it can be sold, manufacturers must help ensure that retail stations and other gasoline distributors understand and implement labeling rules and other requirements.
In response to a request by Growth Energy and 54 ethanol manufacturers under the Clean Air Act, and after extensive vehicle testing by the Energy Department and other organizations, EPA issued two partial waivers of the ban on E15, raising the allowable ethanol volume to 15 percent for use in model year 2001 and newer cars and light trucks.
On October 13, 2010, EPA granted the first partial waiver for E15 for use in model year 2007 and newer light-duty vehicles. Then on January 21, 2011, agency granted the second partial waiver for E15 for use in model year 2001-2006 light-duty motor vehicles.
But citizens' groups are lobbying and litigating for the right to buy ethanol-free fuel. The group Fuel-Testers calls the rapid push for E15 conventional gas "a foolish plan, which will only benefit (profit) ethanol producers, while causing increased risk of gasoline-caused engine damage, water-contamination and decreased mpg for consumers."
The group points out that ethanol is alcohol and will attract and absorb water into the gas, "resulting in phase separation of fuel." "Due to the instability of gas containing alcohol, shelf life is less than three months," Fuel-Testers says.
Last Friday, as the House of Representatives prepared to adjourn for a two-week break, two Republican and two Democratic Congressmen jointly introduced H.R. 4345 – The Domestic Fuels Protection Act of 2012. This act helps remove the technical barriers to widespread use of E15.
In support, nine trade associations sent letters to key Members of Congress in both the House and Senate. Supporters include fuel and petrochemical producers and marketers, convenience stores and the Renewable Fuels Association.
Provisions in the legislation will provide liability protection for the storage of fuels, use of equipment, and sales of the fuels for the appropriate uses. Currently, the United States does not have consistent standards nor regulatory protections for the sale of all fuels.
Copyright Environment News Service (ENS) 2012. All rights reserved.
Environment News Service (ENS) © 2012 All Rights Reserved.