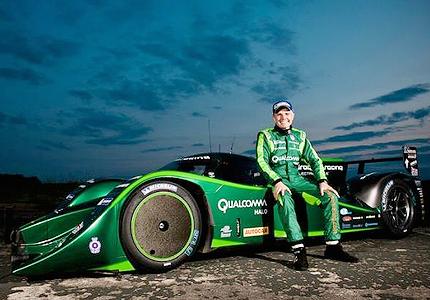 ELVINGTON AIRFIELD, England, June 27, 2013 (ENS) – Drayson Racing has set a new World Electric Land Speed Record of 204.185 mph, smashing the previous record which had stood for nearly 40 years.
At Elvington Airfield in North Yorkshire, former science minister, businessman and racing driver Lord Paul Drayson drove the Drayson B12 69/EV electric Le-Mans Prototype car, rolling on Michelin tires, in the record-setting attempt.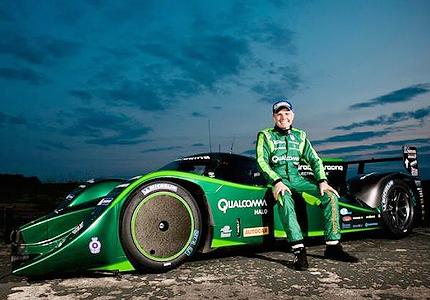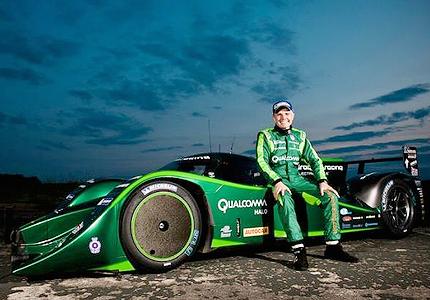 On June 25, in near perfect conditions, Drayson smashed by 29.2 mph the previous 175 mph (280 km/h) record for electric vehicles in the sub-1,000 kg class set by Battery Box General Electric in the United States in 1974.
The record attempts were standardized over a 3,000 meter course at RAF Elvington and averaged over two runs in opposite directions.
As the new world record holder, Lord Drayson said, "I'm delighted we've beaten the record tonight and can show the world EVs can be fast and reliable. Drayson Racing is a laboratory for EV technology, testing it to the most extreme level, as we've seen today."
Not originally conceived as a land-speed record car, the much-traveled, much-adapted Lola B12 69/EV Le Mans Prototype has competed around the world in endurance racing, operating as a bio-fuel showcase, powered by a Judd V10 engine.
It was then adapted to run on battery power and configured for low-drag in preparation for this attempt.
"I'm delighted we've beaten the record tonight and can show the world EVs can be fast and reliable," he said. "Drayson Racing is a laboratory for EV technology, testing it to the most extreme level, as we've seen today."
"It is not the outright speed of 204.185 mph that is most impressive about this record, but the engineering challenge of accelerating a 1000 kg electric vehicle on a short runway over a measured mile," Drayson said. "However I've got a great team and world-class partners, such as QualcommHalo, Michelin, Multimatic and Cosworth."
Last week, Drayson Racing Technologies and Michelin announced the formation of a strategic partnership that began with an assault on the FIA World Electric Land Speed Record.
FIA stands for Federation de Internationale de l'Automobile, a nonprofit association of more than than 230 national motoring and sporting organizations from more than 135 countries on five continents. Founded in 1904, with headquarters in Paris, one of the core responsibilities of the FIA is the development and governance of motor sport worldwide.
The FIA administers the rules and regulations for all international four-wheel motor sport including the FIA Formula One World Championship, FIA World Rally Championship, FIA World Touring Car Championship and FIA World Endurance Championship.
Michelin has become the Official Tire Partner of Drayson Racing Technologies, whose cars will run exclusively on Michelin rubber in the buildup to the inaugural 2014/15 FIA Formula E season – the world's first fully-electric Formula E race.
Michelin is providing the control tires to the FIA Formula E Championship, which will be hosted by 10 cities around the world.
Lord Drayson will also act as a Michelin ambassador and showcase Drayson Racing Technology vehicles at numerous events in the run-up to the inaugural Formula E season.
"Michelin has a strong pedigree in motorsport innovation, and we at Drayson Racing Technologies are sustainable motorsport pioneers, so the partnership was a natural fit," said Lord Drayson.
Jianni Geras, Michelin UK Head of Marketing, said, "Michelin has a rich history of breaking records, with many of the world's super cars achieving great things equipped with our tyres. The World Electric Land Speed Record will be a fantastic addition to this list, further proving our credentials as partners to the most innovative and pioneering automotive manufacturers in the world."
Geras said, "This project is also set to contribute to the development of our control tires for the hugely exciting FIA Formula E Championship that commences next year."
The FIA Land Speed Records are the fastest recognized, official speeds achieved by any wheeled vehicles on land – not including motorcycles.
Drayson Racing is a research and development business, pioneering the development of sustainable technologies in the challenging environment of motorsport. With the electric land speed record, Drayson said the company intends to showcase what is possible with an electric drivetrain and underscore Britain's leadership position in the EV industry.
Lord Drayson said, "This is a true celebration of Britain's leading position within the burgeoning electric vehicle industry and I'm delighted to be at the forefront of this electric revolution."
Formula E is a new FIA championship that brings electric vehicle racing to the people, as city centres around the world play host to an electric energy World Championship designed to promote interest and investment in electric vehicles and sustainable motoring.
Copyright Environment News Service (ENS) 2013. All rights reserved.
PHOTO: Lord Drayson with the Drayson B12 69/EV electric Le-Mans Prototype car after setting a new electric land speed record (Photo courtesy Drayson Racing Technologies) http://www.draysonracingtechnologies.com