Development Banks Collaborate to Support Cities' Climate Actions
DURBAN, South Africa, December 19, 2011 (ENS) – Five multilateral development banks have formed a new partnership to combat climate change. At the United Nations climate conference in Durban earlier this month, the banks said they will develop a common approach for cities to assess climate risk, standardize greenhouse gas emissions inventories, and encourage a consistent suite of climate finance options.
With the overall aim of better coordinating and deepening support to cities that must adapt to and mitigate climate change, the African Development Bank, Asian Development Bank, European Bank for Reconstruction and Development, Inter-American Development Bank, and the World Bank will develop common tools and metrics for cities.
The five banks, in total, lend some US$8.4 billion annually for climate action in cities.
Hela Cheikhrouhou, director of the African Development Bank's Energy, Environment and Climate Change Department said, "Considering that the rates of urbanization in Africa are the highest in the world, this is a timely initiative and is aligned with the Bank Group's recently approved Urban Development Strategy."
Woochong Um, deputy director general, Regional and Sustainable Development Department at Asian Development Bank said, "ADB is working with multilateral development banks through the Climate Investment Funds and other avenues to mobilize the public and private sector financing needed by developing Asia and the Pacific to support climate change."
Jean-Patrick Marquet, director of municipal and environmental infrastructure at European Bank for Reconstruction and Development, said, "The sustainability and climate change challenges for cities can be managed with a multi-faceted approach involving active stakeholders' participation in pursuit of both environmental benefits and transition objectives."
"This is an effort to disseminate best practices on an issue of global importance and where south-south cooperation aided by multilateral banks can really make a difference," said Walter Vergara, Sustainable Energy and Climate Change Unit Chief of the Inter-American Development Bank.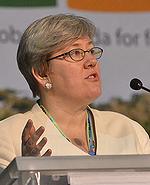 Rachel Kyte, World Bank, in Durban (Photo by CIFOR)
"While cities account for over two-thirds of global energy consumption and an estimated 80 percent of global greenhouse gas emissions, they are also crucibles of innovation. Cities are critical in the fight to tackle climate change," said Rachel Kyte, World Bank vice president for sustainable development.
"With this new partnership, the development banks will be able to better leverage city-level leadership on climate change mitigation and adaptation across the world," said Kyte.
Globally, many cities already are responding to climate change.
Increasingly, they are acting in concert and learning from one another, regionally, and through national and international networks such as the C40 Cities Climate Leadership Group, ICLEI-Local Governments for Sustainability, United Cities and Local Governments, the EU's Covenant of Mayors, and the World Mayors Council on Climate Change.
Cities are calling for the global climate agenda to be urbanized. During the UN climate talks in Durban, cities issued the "Mexico City Pact Report," in which more than 50 cities documented their advances in battling climate change.
The Mexico City Pact has been signed by 205 cities worldwide since its launch just before the UN climate talks in Cancun last year, and is demonstrating the determination of local governments to take action in the fight against climate change.
Marcelo Ebrard, mayor of Mexico City and chair of the World Mayors Council on Climate Change, said, "The Mexico City Pact report shows not only the serious commitments of cities to combat climate change, but also highlights the strategic importance of cities to national governments when it comes to carrying out global-impact actions and decisions."
In Durban, cities also presented the "carbonn Cities Climate Registry (cCCR) 2011 Annual Report."
This report presents 51 cities – from 19 countries and representing 83 million inhabitants – that have reported to the carbonn Cities Climate Registry. The cCCR is a global mechanism that encourages local governments to regularly and publicly report on their greenhouse gas reduction commitments, emissions inventories and climate mitigation and adaptation actions.
"The carbonn platform has given us the opportunity to reflect on and be acknowledged internationally for the steps we have taken in dealing with the climate change problems that face our communities, city, country and the world at large," said Durban Mayor James Nxumalo.
"Seventy-five percent of community commitments aim for greenhouse gas reductions of more than 1.0 percent per year, which exceeds the reduction commitments of most national governments under the Kyoto Protocol, as well as scientific recommendations for the post-2012 period," says the cCCR report's author Yunus Arikan, manager of ICLEI's Cities Climate Center, which hosts the cCCR.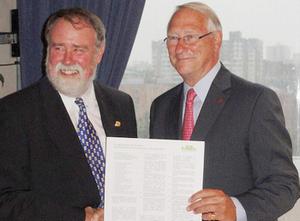 ICLEI President David Cadman, and Montreal Mayor Gerald Tremblay sign the Durban Committment
While Canada rejects the Kyoto Protocol, ICLEI Member Vancouver wants to prolong the commitment to reduce greenhouse gas emissions and says that cities will have to take a leadership role in the battle against climate change.
"Cities are where the rubber hits the road and it is time for the nations of the world to listen to the voice of local government so that our future generations have a safe world to live in," said ICLEI President David Cadman of Vancouver.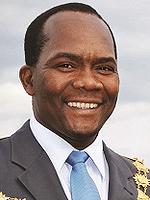 Durban Mayor James Nxumalo (Photo courtesy Office of the Mayor)
Despite the lack of a supporting global climate framework, cities are aiming for ambitious greenhouse gas reduction targets, and they are set to reach them and report on it.
Kyoto Mayor Daisaku Kadokawa says, "In Kyoto city, in 2010 we revised all our regulations relating to global warming countermeasures setting the ambitious goals to reduce the city's total greenhouse gas emissions by 40 percent by 2030 and 25 percent by 2020."
In Durban, 114 mayors and other elected local leaders representing more than 950 local governments from around the world signed the Durban Adaptation Charter, a political commitment to strengthen local resilience to climate change.
From Bangkok, Thailand, to Vancouver, Canada, from Johannesburg, South Africa, to Quito, Ecuador, local governments committed to unprecedented levels of local climate action and agreed to seek "the creation of direct access to funding opportunities."
Durban Mayor Nxumalo, who led the signing of the Charter, said, "The Charter is a clear indication that the impacts of climate change can only be addressed through development that promotes human welfare, ensures ecosystem integrity and promotes a new greener economy. It is appropriate that this challenge was taken up on African soil, given the vulnerability of our continent to climate change impacts; and in Durban, a city that has become a leader in the field of climate change adaptation."
Copyright Environment News Service (ENS) 2011. All rights reserved.