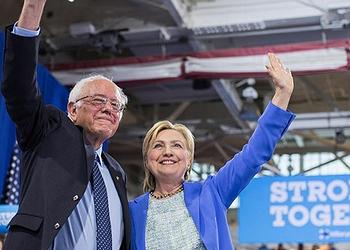 WASHINGTON, DC, July 14, 2016 (ENS) – The Democratic and Republican platform planks on the environment, energy and climate change couldn't be more different. The Democrats appear to be fully engaged in protection and restoration, while the Republicans are not.
Party platforms were hammered out last week in advance of the Republican National Convention opening Monday, July 18 in Cleveland and the Democratic National Convention opening July 25 in Philadelphia.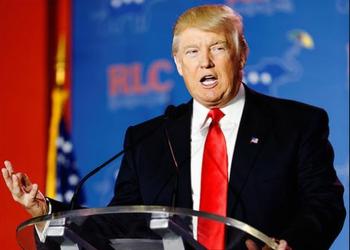 The Republican platform plank on environment is brief.
In its entirety, it states, "We believe sound energy, agriculture, and environmental policy can foster sustainable economic growth. We are also the party of America's growers and producers, farmers, ranchers, foresters, miners, and all those who bring from the earth the minerals and energy that are the lifeblood of our nation's historically strong economy. We are the party of traditional conservation: the wise development of resources that keeps in mind the efforts of past generations to secure that bounty and our responsibility to preserve it for the future. Now we want to hear from you. What issues are most important to you?"
"Republican National Committee Chairman Reince Priebus is "proud" of his party's platform, saying. "This platform represents the input of grassroots Republicans from across the country who reaffirmed our Party's belief in limited constitutional government, family values, and a strong national defense. I thank them for their hard work and service to our Party."
The Democratic draft platform on environment and climate change is more complete; it covers the relationship of these factors to trade and climate agreements, the economy, jobs and national security as well as the activities of daily life.
"Climate change poses an urgent and severe threat to our national security," the Deocratic draft platform warns. "According to the military, climate change is a threat multiplier that is already contributing to new conflicts over resources, catastrophic natural disasters, and the degradation of vital ecosystems across the globe."
"While Donald Trump says that climate change is a 'hoax' created by and for the Chinese, Democrats recognize the danger facing our country and our planet. We believe the United States must lead in forging a robust global solution to the climate crisis," the Democrats' draft states.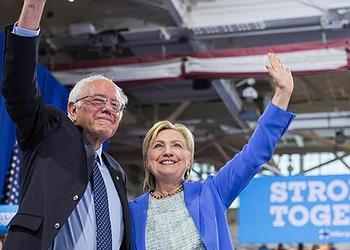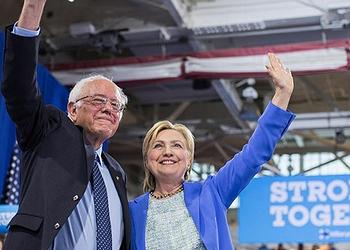 The Democrats' draft platform, which emerged last weekend from a meeting of Clinton and Sanders delegates in Orlando, Florida, must be ratified at the Democratic National Convention, where delegates can make changes.
During the negotiations, Sanders delegates inserted a price on the emission of greenhouse gases into the atmosphere.
On the other hand, Clinton delegates blocked a ban on fracking favored by Sanders delegates, who view the practice of fracturing shale rock to extract oil and gas as environmentally damaging.
Democrats support the Paris Climate Agreement, which the United States signed along with 174 other nations. It commits signatory nations to take necessary measures to hold the global temperature increase to less than two degrees Celsius above pre-industrial levels.
"We will not only meet the goals we set in Paris, we will seek to exceed them and push other countries to do the same by slashing carbon pollution and rapidly driving down emissions of potent greenhouse gases like hydrofluorocarbons," states the Democrats' platform.
"We will support developing countries in their efforts to mitigate carbon pollution and other greenhouse gases, deploy more clean energy, and invest in climate resilience and adaptation," say the Democrats. "And as a proud Arctic nation, we are against putting the region at risk through drilling in the Arctic Ocean or the Arctic National Wildlife Refuge."
"Our climate change policy will cut carbon emission, address poverty, invest in disadvantaged communities, and improve both air quality and public health," says the Democrats' platform. "We support the tribal nations to develop wind, solar and other clean energy jobs."
Native Americans are promised "environmental justice" in the Democrats' draft platform, which states, "We are committed to principles of environmental justice in Indian Country and we recognize that nature in all its life forms has the right to exist, persist, maintain, and regenerate its vital cycles. We call for a climate change policy that protects tribal resources, protects tribal health, and provides accountability through accessible, culturally appropriate participation and strong enforcement."
There is a note of sincerity in the Democrats' platform statement on Earth's rising temperature.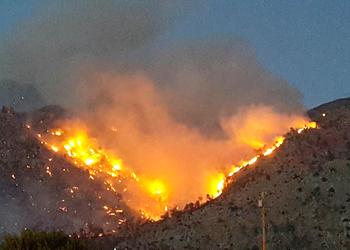 "Climate change is an urgent threat and a defining challenge of our time," the platform states. "Fifteen of the 16 hottest years on record have occurred this century. While Donald Trump has called climate change a 'hoax,' 2016 is on track to break global temperature records once more. Cities from Miami to Baltimore are already threatened by rising seas. California and the West have suffered years of brutal drought. Alaska has been scorched by wildfire. New York has been battered by superstorms, and Texas swamped by flash floods. The best science tells us that without ambitious, immediate action to cut carbon pollution and other greenhouse gases across our economy, all of these impacts will be far worse in the future. We cannot leave our children a planet that has been profoundly damaged."
Five of the 14 mentions of "environment" in the Democrat's platform are related to trade agreements.
The Democrats' draft takes aim at trade deals that fail "to protect workers' rights, labor standards, the environment, and public health." The Dems say the United States should review trade agreements negotiated years ago to update them to reflect these principles.
The draft platform states, "Any future trade agreements must make sure that our trading partners cannot undercut American workers by taking shortcuts on labor policy or the environment… We believe any new trade agreements must include strong and enforceable labor and environmental standards in their core text."
In sum, the draft platform states, "Democrats share a deep commitment to tackling the climate challenge; creating millions of good-paying middle class jobs; reducing greenhouse gas emissions more than 80 percent below 2005 levels by 2050; and meeting the pledge President Obama put forward in the landmark Paris Agreement, which aims to keep global temperature increases to "well below" two degrees Celsius and to pursue efforts to limit global temperature increases to 1.5 degrees Celsius."
"We believe America must be running entirely on clean energy by mid-century," the Democrats state. "We will take bold steps to slash carbon pollution and protect clean air at home, lead the fight against climate change around the world, ensure no Americans are left out or left behind as we accelerate the transition to a clean energy economy, and be responsible stewards of our natural resources and our public lands and waters. Democrats reject the notion that we have to choose between protecting our planet and creating good-paying jobs. We can and we will do both."
Sanders commented on July 10, right after the draft platform was finalized, "While we have made great progress in the Democratic platform advancing the issues that have inspired millions of Americans in this campaign, the fight is just beginning."
"If we are going to transform America and create a government which works for all and not just the one percent we need to elect candidates who will fight for these principles. We need to elect a Democratic Congress and president and make certain that the language in the Democratic platform is translated into law," Sanders said. "We must ensure that progress for working families in America does not end on the pages of the Democratic platform but becomes reality."
Two days later, Sanders endorsed Clinton as the Democrats' nominee for President. Some reasons for his support of his rival are environmental.
"This election is about climate change, the greatest environmental crisis facing our planet, and the need to leave this world in a way that is healthy and habitable for our kids and future generations," Sander said on July 12.
"Hillary Clinton is listening to the scientists who tell us that if we do not act boldly in the very near future there will be more drought, more floods, more acidification of the oceans, more rising sea levels. She understands that we must work with countries around the world in transforming our energy system away from fossil fuels and into energy efficiency and sustainable energy – and that when we do that we can create a whole lot of good paying jobs," said Sanders.
Commenting on the position taken by the presumptive Republican nominee, Sanders warned, "Donald Trump: Well, like most Republicans, he chooses to reject science – something no presidential candidate should do. He believes that climate change is a hoax. In fact, he wants to expand the use of fossil fuel. That would be a disaster for our country and our planet."
Sanders saw the Democratic Platform Committee meeting that ended Sunday night in Orlando as "a significant coming together between the two campaigns…"
"We produced, by far, the most progressive platform in the history of the Democratic Party," Sanders said. "Our job now is to see that platform implemented by a Democratic Senate, a Democratic House and a Hillary Clinton presidency, and I am going to do everything I can to make that happen."
Copyright Environment News Service (ENS) 2016. All rights reserved.