Deadly Typhoon Wreaks Havoc Across China, Taiwan, India
BEIJING, China, September 22, 2010 (ENS) – Typhoon Fanapi, the 11th and strongest typhoon to hit China this year, has brought the heaviest rains in a century to southern Guangdong Province, causing landslides in some cities, said the official Xinhua news agency. Thirteen people have died and 42 others are missing.
At least three people are dead and more than 100 were injured in Taiwan as the typhoon dropped dumped heavy rains on the southern part of the island in just six hours Sunday, flooding low-lying areas.
And across northern India at least 93 people have lost their lives to unprecedented floods and landslides over the past few days.
Fanapi has since been downgraded to a tropical depression but not before flooding and landslides affected one million people and forced the evacuation of 78,400 people in low-lying areas, Guangdong provincial flood control headquarters said in a statement.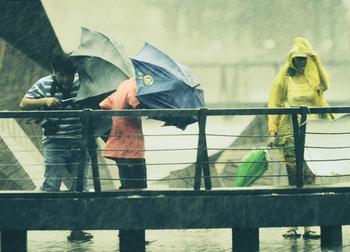 Typhoon Fanapi hits Taiwan (Photo by RUF333)
The storm knocked down some 350 houses, destroyed a dam at a mine and caused an estimated $68.5 million in damage in Xinyi, local media reported.
The dam at the Xinyi Yinyan Tin Mine, owned by Zijin Mining Group Co. in Xinyi City, collapsed after being hit by a landslide, leaving five dead, six missing and seven injured, said Xinxi City government officials.
In Yangchun City, flooding forced the evacuation of nearly 19,000 residents. In Fujian province, Typhoon Fanapi forced the relocation of thousands of people.
More than 3,000 workers were living in makeshift houses at construction sites in the town of Gulei and all of them have been relocated, Chen Hanfu, Communist Party secretary of Zhangpu County, which administers Gulei, told China Daily.
The typhoon soaked one of the areas hardest hit by the May 2008 earthquake in southwest China's Sichuan Province that left more than 69,000 people dead and millions homeless.
Life in this area – Beichuan Qiang Autonomous County – is now again disrupted for 58,000 county residents, causing huge economic losses.
A rain-triggered landslide has blocked the outlet of the Tangjiashan Barrier Lake which was formed during the catastrophic quake of 2008, according to a statement issued by the Beichuan Qiang County government.
Debris from the landslide has created a dam, blocking the lake's outlet. The dam's lowest point is just 10 meters (30 feet) higher than the present water level, and debris is still coming down from the hills. If there are more rains, the lake could rise further, threatening the lives of people in nearby townships, the statement said.
Residents did their best to celebrated the Mid-Autumn Festival today despite the storm damage.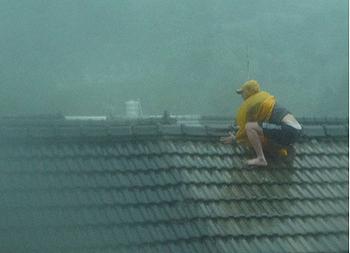 A householder in southern Taiwan tries to keep roof tiles in place during Typhoon Fanapi. (Photo credit unknown)
Before reaching China, Typhoon Fanapi was blamed in the deaths of at least three people in Taiwan, according to Taiwan's official Central News Agency.
The storm brought heavy rains and gales to southern Taiwan after it made landfall on Sunday. A total of 12,000 residents have been evacuated, power was out to many southern communities, and transportation was disrupted.
Standing waters in downtown Kaohsiung City angered residents who blamed failure of the city's flood control system for the waist-high flood level. Nine out of 11 administrative districts in Kaohsiung City were flooded.
Kaohsiung City Government ascribed urban area floods to sanitary sewers designed for five-year flood prevention while Typhoon Fanapi reached 50-year torrential rain levels.
Floods in Taiwan's urban areas now are receding as Fanapi moves away from the island.
President Ma Ying-jeou visited flood-affected areas of southern Taiwan on Wednesday, the Mid-Autumn Festival holiday, to see what the central government can do to help people clean their homes and repair the damage.
Ma promised a thorough review of the drainage problems that resulted in the flooding in the southern Taiwan county.
Residents across a vast stretch of northern India are battling unprecedented floods and landslides. Wednesday the death toll rose to 93 with reports of more deaths from the states of Uttar Pradesh and Uttarakhand.
"The toll in landslides, floods and cloudbursts in different areas of the hill state has risen to 67," Uttarakhand Disaster Management Secretary Rakesh Kumar told the media.
Since Saturday, dozens of people died in cloudbursts and landslides triggered by heavy rains in the hill towns of Almora and Naintial, Uttarakhand. Hundreds fled their homes as water rushed in.
The National Advisory Council Chairperson Smt. Sonia Gandhi today took a helicopter tour of flood affected areas of Uttar Pradesh and Uttarakhand. Defence Minister Shri AK Antony accompanied her. They reported "unprecedented floods and landslides" and secured inital financial assisstance from the central government.
Since September 19, the Indian Army has deployed four columns along with specialized boats to help in the rescue and relief operations in Uttarakhand. The army has evacuated at least 8,000 people from the flooded areas.
Meanwhile, a Chinese military medical team continued its urgent relief work in a southern region of flood-stricken Pakistan on Wednesday. Over the past two months, record-breaking monsoon rains in Pakistan have left 1,700 dead and affected more than 20 million others throughout the country.
Copyright Environment News Service (ENS) 2010. All rights reserved.
© 2010 – 2012, Jim Crabtree. All rights reserved.