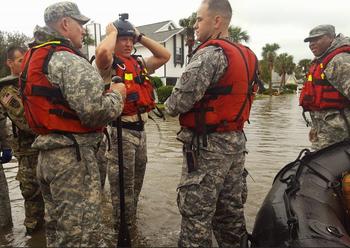 MIAMI, Florida, October 8, 2016 (ENS) – Residents and emergency workers along Florida's northeast coast took a deep breath Saturday morning as Hurricane Matthew moved north and east, leaving four people dead, flooding streets and causing damage to hundreds of miles of beach communities before making landfall in South Carolina.
Matthew never touched land in Florida, although the storm passed close to the coast. The storm did not generate sustained hurricane force winds in Florida, although a gust of 107 mph was recorded on Cape Canaveral Friday morning.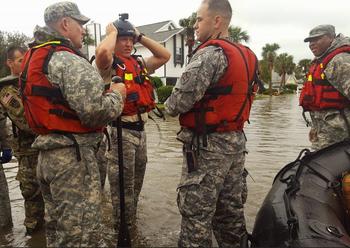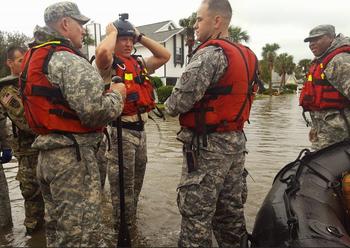 At 5 p.m. Friday, the National Hurricane Center said Matthew was a Category 3 storm centered 40 miles east of Jacksonville, Florida. Matthew's top sustained winds were 110 mph, and it was moving north at 12 mph.
At least a million people evacuated in response to official orders, although thousands did shelter in place. More than 500,000 Floridians are currently in evacuation zones, according to Governor Rick Scott.
This storm was especially feared after it killed more than 800 people as Category 4 winds blasted across Haiti and the Bahamas earlier this week.
At 11 am, the National Hurricane Center said the storm has weakened to a Category 1, with 75 mph winds after making landfall southeast of McClellanville, South Carolina.
"Aircraft reconnaissance and land-based radar data indicate that the center of circulation has crossed the coast of South Carolina near the Cape Romain National Wildlife Refuge," the NHC reports.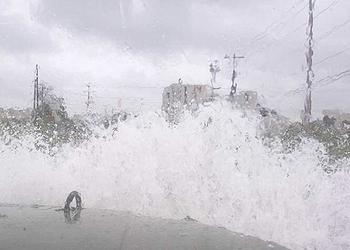 As of 11 am, the hurricane was about 55 miles south-southwest of Myrtle Beach, moving northeast at 12 miles an hour. Hurricane-force winds extend 25 miles out from the storm's center.
Matthew has generated a storm surge that could damage much of South Carolina's low-country, especially Charleston, where sea water topped the walls of the Battery promenade this morning.
"Although weakening is forecast during the next 48 hours, Matthew is expected to remain near hurricane strength while the center is near the coasts of South Carolina and North Carolina," the National Weather Service said at 11 am.
South Carolina Governor Nikki Haley Thursday ordered an evacuation of coastal areas in and around Horry and Georgetown.
The South Carolina Emergency Response Team today strongly reminded all citizens that coastal evacuation orders are still in effect. Hurricane Matthew began impacting South Carolina this morning with hurricane and tropical storm-force winds, heavy rain and flooding along the coast and far inland.
Forecasters say hazardous conditions will continue to affect evacuated areas for at least the next 12 hours. From Hilton Head to North Myrtle Beach, people are asked to stay away from evacuated areas until conditions improve and the danger subsides.
At 11 am the National Hurricane Center advised, "As Matthew's structure changes, the system's strongest winds will shift to the back side of the circulation. These winds will persist over land even after the center begins to move away from the coastline, and has also increased the threat of storm surge in portions of the North Carolina Outer Banks."
Hurricane Matthew is expected to hit the southeastern coast of North Carolina today. A hurricane warning is in effect from Surf City south to the South Carolina line.
North Carolina Governor Pat McCrory said late Friday at a news conference that the storm could drop life-threatening amounts of rain over much of the coast.
"This has the potential for North Carolina to see the worst flooding since Hurricane Floyd in 1999," McCrory said. "We could have prolonged power outages. You should prepare for those prolonged power outages."
The biggest impact along North Florida's coast has been from storm surge. A 4.73-foot storm surge measured in the St. Johns River at Mayport was the highest recorded in more than a century, officials said.
As of 6 am, more than 1.1 million people were without power in Florida alone, an 11 percent outage. Governor Rick Scott directed the state to begin setting up housing for utility crews in strategic areas across the state. Camp Blanding in Northeast Florida is now able to house over 1,000 utility workers and their trucks, and two other locations are being prepared if needed.
Forecasters expected the hurricane to begin heading east out into the Atlantic sometime Sunday. They have moderated previous projections that the storm would reverse course and head back toward the Bahamas as a tropical depression on Thursday.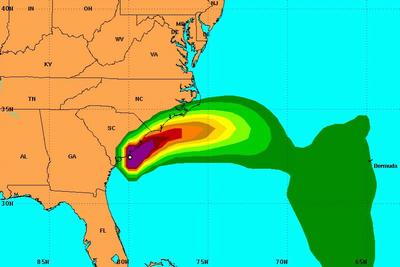 "We are very concerned about storm surge and there is potential for significant flooding in Jacksonville today," Scott said. "Flooding in this area could potentially last for days and river flooding could last even longer."
President Barack Obama warned that storm surge could still cause major damage even after the danger appears to be past. He recalled the track Hurricane Sandy took in 2012, when it first spared much of the southeast coast but later came ashore near Atlantic City, New Jersey.
"Initially people thought this doesn't look as bad as we thought and suddenly you get massive storm surge and lot of people were severely affected," Obama said. "This is still a really dangerous hurricane. The potential for flooding, loss of life and severe property damage continues to exist."
As of Friday evening, more than 180 shelters were open throughout Florida with a total population of more than 23,800 people, Governor Scott said.
Schools and government offices were closed in 45 counties and 30 colleges and universities as well as eight hospitals were evacuated in the hurricane zone.
Many airports and seaports on Florida's east coast are closed, although Miami International Airport is now open.
Florida's Department of Environmental Protection, DEP, is ready to deploy generators to water treatment plants if needed. Household Hazardous Waste debris and drop off sites have been established in 67 counties.
DEP's Florida Park Service is hosting U.S. Coast Guard vessels at select facilities along the East Coast of Florida to allow them to respond quickly to the areas most affected by the storm and is preparing strike teams to move into affected areas once the storm has passed.
DEP is mobilizing responders to the Jacksonville and Orlando areas for Hazardous Waste Assessment teams with the U.S. Environmental Protection Agency.
Copyright Environment News Service (ENS) 2016. All rights reserved.