Dalai Lama Reminds Anti-Whaling Activists to Be Non-Violent
TOKYO, Japan, June 23, 2010 (ENS) – The Dalai Lama has rebuked anti-whaling activists for pursuing what he said were "violent" activities to stop Japan's hunting of whales.
The comment came Saturday during a news conference at the Foreign Correspondents Club of Japan in Tokyo as the exiled Tibetan leader began an 11-day tour of Japan to give public teachings, visit Buddhist shrines and meet with Buddhist monks. No official visits with Japanese government leaders are scheduled.
The Dalai Lama said he had told the U.S.-based Sea Shepherd Conservation Society to remain non-violent in its behavior towards Japan's whaling fleet.
"One time I wrote [in] a letter… their activities should be stopping," he told reporters.
His Holiness said "the group is trying to protect living beings and environment, and this is good, but the method should be non-violent and peaceful."
Japan's annual "research" whale hunt in the Southern Ocean and the North Pacific, is conducted under a provision of the International Whaling Commission treaty that allows lethal taking of whales, but it has been criticized by conservationists and many anti-whaling nations.
Most nations respect a global moratorium on whaling that has been in effect since 1986 – only Japan, Norway and Iceland do not abide by the moratorium.
For the past five years, the Sea Shepherd Conservation Society has taken ships to the Southern Ocean to interfere with the Japanese whale hunt.
Sea Shepherd founder and president Captain Paul Watson claims to have prevented the killing of hundreds of whales, last season nearly halving Japan's self-set quota of 925 whales.
Watson said on Monday, "The Sea Shepherd Conservation Society agrees with His Holiness on the imperative of taking a non-violent approach, but also believes that the Japanese government has misinformed him of the activities of the society."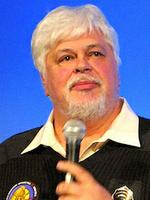 Captain Paul Watson April 2010. (Photo by Suzie Katz)
"He did rebuke us and said to his Japanese hosts that our activities should be non-violent," Watson said. "He issued this criticism in response to accusations by some in Japan who have accused Sea Shepherd of violence during our interventions against the annual bloody slaughter of whales in the Southern Ocean Whale Sanctuary."
"The Sea Shepherd Conservation Society has never caused an injury to any individual," said Watson. "Reports that we have caused injuries have been fabricated for public relations purposes. We take every precaution to not cause injury, although we do destroy property that is used to take the life of sentient beings and for this we make no apologies."
Watson said that this year the Sea Shepherd Conservation Society has directly saved the lives of 528 whales. "We are in the business of saving lives and not inflicting harm," he said, pledging to return to the Southern Ocean this coming whaling season.
"The Sea Shepherd Conservation Society will continue to intervene against the illegal slaughter of these gentle Buddhas of the sea," Watson said, "and we will continue to do it exercising the utmost caution to not cause of harm to any person but rather to be the cause of saving the lives of hundreds of sentient beings from the mercilessly ruthless harpoons of the Japanese whaling fleet."
Copyright Environment News Service (ENS) 2010. All rights reserved.