Critical Report Slams EPA's Office of Civil Rights
WASHINGTON, DC, April 5, 2011 (ENS) – While U.S. EPA Administrator Lisa Jackson has made environmental justice one of the seven priorities for her term in office, a new review she commissioned criticizes the agency's anti-discrimination program for both employees and contractors.
Issued on March 21 by the Deloitte Consulting firm, the "Evaluation of the EPA Office of Civil Rights" details "significant performance challenges."
The Office of Civil Rights lacks "the rudiments of organizational infrastructure," such as established procedures, defined staff duties or the ability to track cases. Its handling of employee complaints "is known for poor investigative quality and a lack of responsiveness."
These challenges have emerged over the past decade and have continued to erode performance at the agency's Office of Civil Rights, OCR, the review states.
"To a significant extent, they are attributable to OCR's difficulty in building a staff with the qualifications, knowledge and training to effectively complete its mission-related work, much of which is highly technical and complex," finds the Deloitte report.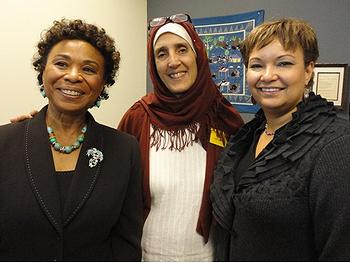 EPA's national environmental justice tour visits Mandela Market in Oakland, California. From left: U.S. Rep. Barbara Lee, Mandela Foods Executive Director Dana Harvey, EPA Administrator Lisa Jackson, October 16, 2010. (Photo by Mandela Market)
Administrator Jackson, who is part African-American, maintains she is working to strengthen the EPA's Office of Civil Rights. In releasing a redacted version of the Deloitte review to employees on April 1, she said, "A strong civil-rights and diversity program is essential to the success of the U.S. Environmental Protection Agency."
"From my first days as administrator, I have worked to strengthen this agency's commitment to civil rights, equal employment opportunity and diversity in the workplace for our employees and job applicants," she said.
The Deloitte report finds that the Office of Civil Rights "has not adequately adjudicated" complaints alleging discrimination against communities of citizens affected by environmental rules promulgated by the EPA, known as Title VI complaints.
Only six percent of 247 such complaints have been accepted or dismissed within the agency's 20-day time limit, and the backlog stretches back to 2001, the year George W. Bush took office as President.
"At the time of this report's publication, there were numerous cases that have been awaiting action for up to four years. Two cases have been in the queue for more than eight years," Deloitte reviewers state.
The Office of Civil Rights has struggled to track, investigate, and resolve cases alleging Equal Employment Opportunity violations inside the agency in a timely or effective manner, the report states.
OCR has not completed compliance checks of EPA grantees, in a timely or effective manner, to ensure that grantees are not engaging in discrimination in their work.
And OCR has not consistently filed its statutory affirmative employment reports over the past five years, although the 2010 report was submitted on time, the report states.
"OCR staff members also suffer from the absence of the rudiments of organizational infrastructure – well-documented policies and procedures, standardized processes, and effective systems," according to the Deloitte report. "Staff members are often confused about their job duties."
"Managers lack the performance tracking and management systems and processes needed to manage the office's business and hold staff members accountable for effectively executing their jobs. OCR has not implemented the processes needed to collect and maintain information needed to fulfill statutory recordkeeping requirements," finds the report.
The review confirms reports from EPA employees to Public Employees for Environmental Responsibility that personnel abuses go largely unchecked to the detriment of key public health and pollution control functions, says PEER Executive Director Jeff Ruch.
"Conditions of fairness inside EPA, especially for whistleblowers, have gotten worse, not better during the past two years," said Ruch.
On April 1, Administrator Jackson said her December 2010 appointment of Rafael DeLeon to lead the Office of Civil Rights is a big step in the right direction.
But on that same day, a group of current and former EPA employees called for an investigation of DeLeon on the grounds that he "has been the subject of numerous complaints by women at the agency." The employees also cited a "gulag mentality" inside the Office of Civil Rights.
Jackson said the OCR is making progress under her leadership. "I am proud of the progress we have made during the past 24 months," she said. "In December 2009, we appointed a special counsel for Title VI to help the EPA address a number of longstanding complaints and the Title VI process. Working with the Office of General Counsel, we revitalized our efforts and processed the highest number of complaints in any year."
Last year, Jackson undertook a nationwide environmental justice tour through California, South Carolina, Missouri, Mississippi and Georgia with members of the Congressional Black Caucus as part of an effort by the Obama administration to assess environmental issues in underserved communities.
Yet Ruch is still critical. "There is no shortage of political opponents who want to hamstring EPA so it is surprising that EPA's management is often its own worst enemy," he said. "How can EPA speak with any credibility on topics such as environmental justice when it cannot address gross injustice inside its own hallways?"
Copyright Environment News Service (ENS) 2011. All rights reserved.