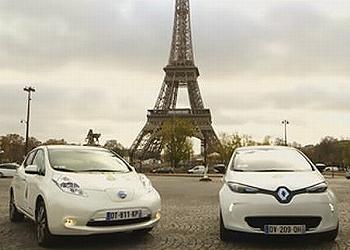 PARIS, France, December 11, 2015 (ENS) – Ministers and senior representatives from the auto industry, civil society and international organizations Tuesday called for a rapid move to zero-emission vehicles as a key component of a future global climate change strategy.
The statement came at an event on Zero Emission Vehicles (ZEVs) at the Netherlands Pavilion at COP 21, the 21st Conference of the Parties to the United Nations Framework Convention on Climate Change now underway at the Paris–Le Bourget Airport.
"It is exciting to see that more and more car makers from all around the world are developing and producing mass market zero emission cars," said Sharon Dijksma, state secretary of infrastructure and environment, Netherlands.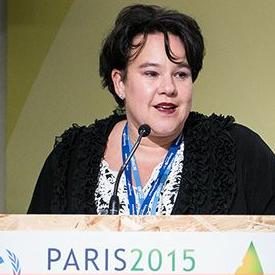 "The transition to zero emission mobility is in my opinion unstoppable and also absolutely necessary to make our world more safe, sustainable and livable," she said.
The Renault-Nissan Alliance is providing 200 pure electric vehicles for COP21, the world's largest EV fleet.  A network of 90 charge spots has been set up to charge the vehicles using low-carbon electricity provided by French energy supplier EDF.
Yet, today's transport sector is almost entirely dependent on fossil fuels. It contributes roughly one quarter of all energy related carbon dioxide emissions to the atmosphere.
And the transport sector's emissions are projected to grow to one-third of all global CO2 emissions, and grow faster than any other sector.
Fatih Birol, executive director of the International Energy Agency believes the world needs many more electric cars.
"Electric vehicles can drive us into a cleaner, more sustainable energy future," he said. "The IEA has shown that if global warming is to be limited to 2 degrees, at least a fifth of all vehicles on roads by 2030 should be electric."
Leading by example, some countries have put in place policies to support the use of electric vehicles.
In Norway, for instance, one out of four cars sold is electric.
In China, there are 230 million electric bikes in on the roads, officials say. A national two and three-wheeler strategy that started 10 years ago has resulted in electric two and three wheelers having all but replaced petrol motorbikes in China's major cities.
Such practices need to be scaled up and replicated around the world, the group urged.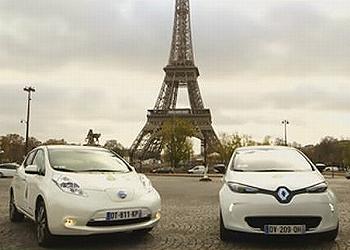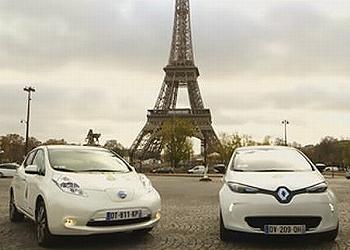 Joan Clos, executive director of UN-Habitat, the UN Human Settlements Agency, had this to say. "ZEVs will also reduce local air pollution in cities that is causing immense damage to health and the economy. The uptake of electric-mobility will be more feasible and also fruitful if cities adopt compact planning and measures to improve public transport."
Many of the event participants believe that while the world will still rely on fossil fuels for transportation for some time, the time is now to start a global shift to zero emissions vehicles.
The Electric Vehicles Initiative of the International Energy Agency, the Urban Electric Mobility Initiative of UN-Habitat, and the International Zero Emission Vehicle Alliance, launched in 2015 with 11 founding national and subnational members, were showcased at the event.
UNEP announced a new global program to support emerging economies to move to electric mobility.
UNEP's Ligia Noronha, director of the Division of Technology, Industry and Economics, believes, "The time has come for a global push towards zero-emission vehicles."
"The continued use of fossil fuels for vehicles is costing too much – in terms of climate, air pollution and economies," said Noronha. "To get the necessary benefits we need to ensure this will indeed be a global shift – in all regions and countries."
Copyright Environment News Service (ENS) 2015. All rights reserved.