Conservationists Seek to End Lead Poisoning of Midway's Rare Sea Birds
HONOLULU, Hawaii, February 2, 2010 (ENS) – Every year, thousands of rare Laysan albatross chicks die on Midway Atoll in the Pacific Ocean because they eat toxic lead paint chips from 70 crumbling, abandoned U.S. military buildings there. Now, Hawaiian and national conservation organizations are taking action to persuade or force the federal government to clean up the buildings on Midway, which is part of a National Monument as well as a National Wildlife Refuge.
Two Hawaiian groups – the Conservation Council for Hawaii and the Hawaii Audubon Society – have renewed calls to Congress to provide funding to clean up 70 deadly lead paint-contaminated buildings on Midway Atoll National Wildlife Refuge.
They are joined by the American Bird Conservancy. "Curious albatross chicks are ingesting the lead-based paint chips, which causes a variety of painful ailments and ultimately, a slow death," said Dr. Jessica Hardesty Norris, Seabird Program director with the national bird conservation group.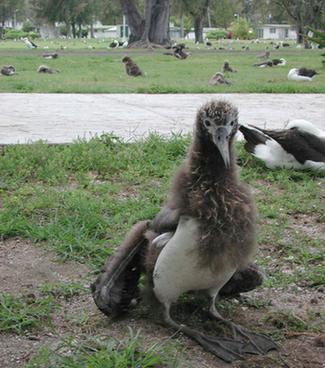 Albatross chick with drooping wings, a disorder of the nervous system brought on by eating lead paint chips from Midway's decaying buildings. (Photo by Myra Finkelstein)
In addition, the Center for Biological Diversity Monday filed a notice of intent to sue the U.S. Fish and Wildlife Service and affiliated agencies for their failure to clean up the toxic, lead-based paint on the Midway buildings.
The buildings have been responsible for the deaths of as many as 130,000 Laysan albatross chicks since jurisdiction of Midway was transferred from the Navy to the Department of the Interior in 1996.
"The death of thousands of seabirds is contrary to the purpose of our National Wildlife Refuge System," said Marjorie Ziegler of the Conservation Council for Hawaii. "We are preparing a letter to members of Congress to bring this matter again to their attention in the hopes that they can find a way to clean up Midway and stop the needless suffering of innocent birds."
About 70 percent of the world's population of Laysan albatrosses nests on Midway Atoll. The IUCN Red List of Threatened Species classes the Laysan albatross as globally Vulnerable to extinction.
A new study published in the journal "Animal Conservation" found that lead poisoning is killing up to 10,000 chicks per year on Midway, affecting the long-term survival of the species.
The study's lead author, Dr. Myra Finkelstein, an environmental toxicologist at the University of California-Santa Cruz, found that albatross chicks near contaminated structures have lethal levels of lead in their blood.
Many poisoned chicks develop nervous system damage called "droopwing" that leaves them unable to lift their wings, which drag on the ground and become susceptible to open sores and fractures. Unable to fly, many die of starvation and dehydration.
"It is heart-wrenching to see this problem persist for so many years," said Finkelstein. "These magnificent birds sometimes experience horrific effects from lead poisoning for months before they finally die."
Finkelstein and coauthors, including scientists and managers from the U.S. Geological Survey and the U.S. Fish and Wildlife Service, concluded that by 2060, there may be 190,000 fewer albatrosses due to lead poisoning. By contrast, removing lead-based paint now could increase the albatross population by up to 360,000 by 2060.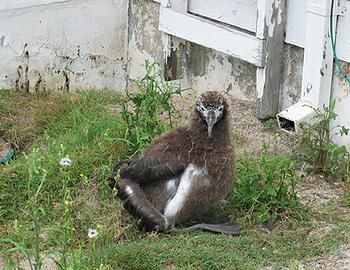 Albatross chick with droopwing has eaten lead-based paint that falls from old military buildings on Midway. (Photo by Myra Finkelstein)
"We strongly encourage Congress to pay close attention to the important scientific conclusions of today's "Animal Conservation" paper on Laysan albatrosses and enact a meaningful appropriation to address this severe and well documented wildlife hazard in Hawaii," said John Harrison, president of Hawaii Audubon Society.
In 1903, the U.S. Navy built its Midway base, which was later the site of a famous World War II battle. When the U.S. Fish and Wildlife Service took over responsibility for Midway in 1996, it stopped maintaining most of the 95 military buildings. These structures are shedding toxic lead-paint chips that are then eaten by the albatross chicks.
In 2006, the area encompassing Midway and its waters was included in President George W. Bush's designation of the Northwestern Hawaiian Islands as Papahanaumokuakea Marine National Monument.
Lead contamination also poses a threat to other Midway wildlife, including the highly endangered Laysan duck and 17 other species of seabirds.
The Center for Biological Diversity's notice of intent to sue challenges the failure of the Fish and Wildlife Service, National Oceanic and Atmospheric Administration, and Hawaii's Department of Land and Natural Resources to abate and dispose of the lead paint, despite the harm it is causing to protected seabirds.
The Center is seeking immediate, comprehensive cleanup of lead-contaminated structures and soil so that they no longer harm Midway's wildlife.
The Department of the Interior estimates that $5.6 million is needed to clean up the toxic lead paint on Midway Atoll. Some 70 of the buildings must be stripped of all lead-based paint, and the surrounding sand thoroughly sifted to remove paint chips.
Interior officials have said that the current federal budget for the nation's wildlife refuge system is insufficient to prevent the continued ingestion of lead paint by Laysan albatross chicks.
Copyright Environment News Service (ENS) 2010. All rights reserved.