Conservationists Renew Legal Challenge to Jaguar Capture Permit
TUCSON, Arizona, July 26, 2010 (ENS) – The Center for Biological Diversity today filed a formal notice of intent to sue the U.S. Fish and Wildlife Service for issuing a permit to the Arizona Game and Fish Department authorizing the taking of endangered jaguars by setting traps and snares.
At the time of European colonization, jaguars were reported from California to the Carolinas. Clearing of forests, draining of wetlands, grazing of livestock and killing with traps, poison and guns removed jaguars until only one, Macho B, was known to live in the United States. He was killed in southern Arizona last year.
However, conservationists still hope that jaguars may return to the United States from Mexico.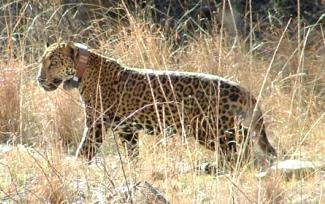 Last U.S. wild jaguar, Macho B, with collar and satellite tracking device, February 2009. (Photo courtesy AZGFD)
The nonprofit Center for Biological Diversity argues in its notice of intent to sue that the federal permit was issued to the Arizona agency on June 14 without first establishing a required recovery plan to ensure that further killing, trapping or harming of jaguars would not contribute to their extinction.
Yet on Friday, the Center for Biological Diversity and the Arizona Game and Fish Department agreed to dismiss a federal lawsuit filed by the Center in 2009 regarding state agency's endangered species permit.
U.S. District Court Magistrate Judge Jacqueline Marshall issued an order dismissing the lawsuit without prejudice.
"The Arizona Game and Fish Department has played a prominent role in the conservation of threatened and endangered species in Arizona and has allocated significant resources over the years to the conservation and recovery of federally-listed species," said Gary Hovatter, deputy director for Game and Fish.
"The dismissal of this case will allow us to again focus on those efforts rather than on litigation designed to hinder them," he said.
But both federal and state wildlife agencies have maintained for years that they do not intend to recover U.S. jaguars. They have held that there is no need to do so because jaguars in the United States are not a distinct population from those that live in Mexico and those living across the border are not endangered.
Finally, the U.S. Fish and Wildlife Service announced in January that it will designate critical habitat for U.S. jaguars and develop a jaguar recovery plan. The Service will propose areas for critical habitat designation by January 2011, according to an announcement in the Federal Register.
The reconsideration of the Bush-era policy was required by a court order in the last of three lawsuits brought since 2004 by the Center for Biological Diversity.
In this latest legal battle over a permit, the Center had alleged that the Game and Fish Department did not have a permit to carry out activities that might lead to the "take" of a jaguar under the Endangered Species Act.
The state agency contended that it did not need a separate permit because the "take" of threatened and endangered species, including jaguars, for purposes consistent with wildlife conservation objectives is already authorized under a section of the Endangered Species Act.
In an apparent attempt to bolster that authorization, the Fish and Wildlife Service issued a take permit to the Arizona agency in June and restated the department's authority to manage threatened and endangered species as authorized by the Endangered Species Act.
But Michael Robinson of the Center says that with this latest threat of a lawsuit his organization is attempting to convince the U.S. Fish and Wildlife Service to rescind the permit issued in June, saying, "We believe this "illegal permit will be struck down by the court."
If the permit is not rescinded within 60 days, the Center will file suit in federal district court in Tucson, Arizona, which Robinson says is the closest district to where jaguars might be found if they enter the United States from Mexico.
"The Fish and Wildlife Service appears to have learned nothing from the killing of the last known jaguar in the United States, Macho B, just last year," said Robinson. "Arizona Game and Fish should not be allowed to risk capturing another jaguar until there's a clear plan for ensuring the health and conservation of these extremely rare cats."
Macho B was captured on February 18, 2009 by a snare set by Arizona Game and Fish Department contractor Emil McCain, who was conducting a study of mountain lions and black bears.
The jaguar's health declined rapidly after the snaring, and he was recaptured 12 days later and euthanized. It was later revealed that McCain had illegally baited the trap with female jaguar scat.
Although the permit specifies that such baiting will not be permitted, it continues to allow the use of snares of a sufficient size to capture jaguars, which resulted in the death of Macho B as well as two other jaguars in Mexico in recent years.
"The Fish and Wildlife Service appears to have not just given a blank check to Arizona Game and Fish, but also the checkbook and pen," said Robinson. "The precarious status of jaguars in the United States means extreme caution should be taken to ensure that none are harmed, which is not the case with this permit."
Robinson says that at this point the Center is opposed to capturing a jaguar to place a radio collar on the animal that would track its movements.
"We believe it's premature to radio collar a jaguar," he told ENS. "It may be OK after a recovery team is appointed. If the team says we need this certain information in addition to what is already known, we would be OK with it under those circumstances."
For earlier ENS coverage of U.S. jaguars and Macho B, go to:IG Report: Last U.S. Jaguar Captured, Killed Intentionally Endangered U.S. Jaguars to Get Critical Habitat, Recovery Plan
Copyright Environment News Service (ENS) 2010. All rights reserved.