Conservationists: Forest Planning Rule Strips Wildife Protections
WASHINGTON, DC, March 10, 2011 (ENS) – Conservation groups are concerned that new National Forest Management planning rule announced by the Obama administration last month takes away the single most important measure to ensure wildlife protection afforded by the 1982 regulations they will replace.
The USDA Forest Service is hosting a national public forum to discuss the proposed rule today in Washington DC. The meeting is open to the public and will be Webcast at http://www.fs.fed.us/video/live/ to allow for greater participation.
There will be public forums held throughout the country during the comment period which ends May 16. The proposed rule, meeting information, and information on submitting comments can be found at www.fs.usda.gov/planningrule.
The proposed rule would update planning procedures that have been in place since 1982 covering 193 million acres of forests and grasslands across the country managed by the Forest Service. Drinking water for some one in five Americans comes from the National Forest System.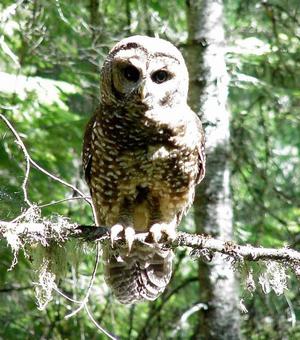 Spotted owl in California's Shasta-Trinity National Forest (Photo by Cheryl Carrothers courtesy U.S. Forest Service)
The Forest Service says the new rule creates a modern planning process that reflects the latest science and knowledge of how to create and implement effective land management plans.
But Defenders of Wildlife says the draft rule ignores scientific recommendations on wildlife diversity protection.
Rodger Schlickeisen, president and CEO of Defenders of Wildlife said, "President Obama holds the future of our nation's forests and wildlife heritage in his hands as his administration crafts the new rule governing national forest policy. His administration has an opportunity to lead us into a new century of forest management. Unfortunately, in its present form, the draft rule promises much more than it delivers, leaving the future of wildlife on 193 million acres of land belonging to the American people mostly up to chance."
The nonprofit Sierra Forest Legacy, based in California, says, "At first reading, we note that the single most important measurable protection to ensure protection of wildlife, afforded by the 1982 regulations, has been removed entirely."
The group is referring to the "Viability Standard" at 219.19 in the 1982 regulations, which states, "Fish and wildlife habitat shall be managed to maintain viable populations of existing native and desired non-native vertebrate species in the planning area."
The 1982 Viability Standard continues, "For planning purposes, a viable population shall be regarded as one which has the estimated numbers and distribution of reproductive individuals to insure its continued existence is well distributed in the planning area."
"In order to insure that viable populations will be maintained, habitat must be provided to support, at least, a minimum number of reproductive individuals and that habitat must be well distributed so that those individuals can interact with others in the planning area," the Viability Standard concludes.
The Sierra Forest Legacy warns, "Without such clear direction for protecting wildlife, the new planning rule represents a step backward, suggesting that the agency has abdicated its long held responsibility for maintaining our national forests as the last refuge for the continent's increasingly imperiled wildlife."
Marty Hayden, vice president of policy and legislation with the public interest law firm Earthjustice, said, "The Forest Service's draft rule shows that the Obama administration understands and supports the basic concepts of how to protect the indispensible watersheds on our National Forests, but, by failing to adopt enforceable standards, it falls short of guaranteeing the protections our country desperately needs."
The Forest Service says the proposed rule is the product of the most participatory planning rule development process in Forest Service history. The Forest Service held over 40 public meetings and roundtables across the country that drew more than 3,000 participants, and hosted a blog to engage the public. The Forest Service also reviewed more than 26,000 comments on the notice of intent to issue a new planning rule.
"The Forest Service has been a steward of American lands for more than a century, and this proposed planning rule will build on that tradition," said Forest Service Chief Tom Tidwell. "We value the thoughtful input we've received in the development of this proposed rule, and we look forward to continuing collaboration to construct an adaptive management framework for the people's forests and grasslands, based on sound science and reflecting public values."
The Forest Service says highlights of the proposed planning rule include:
A framework that would allow adaptive land management planning in the face of climate change and other stressors.
Increased requirements for public involvement and collaboration throughout all stages of land management planning.
Improved ability to respond to climate change and other stressors through provisions to restore and maintain healthy and resilient ecosystems.
Increased protections for water resources and watersheds.
More effective and proactive requirements to provide for diverse native plant and animal species.
Provisions to guide the contributions of a National Forest or National Grassland to social and economic sustainability.
Updated provisions for sustainable land, water and air-based recreation.
Requirements to provide for integrated resource management of a range of multiple uses and values including outdoor recreation, range, timber, water, wildlife, wilderness, energy, mining, and ecosystem services.
New requirements for a local and landscape-scale monitoring program that are based on the latest science.
But conservationists are not convinced the draft planning rule will protect waters and wildlife. "It's not just the streams, rivers, and wetlands outside my back door and yours that remain in trouble. Waters across the nation are threatened by a legacy of serious harm from forest and grazing land use on National Forest lands," said Dr. Chris Frissell, director of science and conservation for the Pacific Rivers Council.
"This history is a principal reason why our native trout and salmon are in such tough shape today, and this means the new planning rule will need to take firm steps forward, not backward, to ensure the health of our watersheds and fisheries is restored," he said.
"The rule still needs, among other things, clear direction to reduce harm to watersheds by removing and restoring forest roads, an established national minimum streamside buffer zone, and development and compliance with firm standards protecting waters and aquatic life," said Dr. Frissell. "Good intentions are great, but in an ecosystem as complicated as a watershed, standards and a commitment to real monitoring are necessary to ensure that the agency's actions in fact protect and restore the environment. This draft rule doesn't get us there. "
On the proposed rule's treatment of science, Dr. Frissell said, "The rule still needs language to say it's the Forest Service's job to both bring the best available scientific information to the table and to actually use it as the basis for planning, and to implement and monitor the measurable standards that are necessary to ensure water resources and watershed health are in fact being protected and restored."
Copyright Environment News Service (ENS) 2011. All rights reserved.