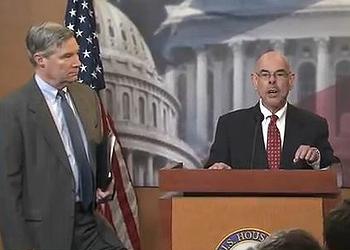 WASHINGTON, DC, January 24, 2013 (ENS) – Climate change is getting renewed attention in Congress. Representative Henry Waxman of California and Senator Sheldon Whitehouse of Rhode Island, both Democrats, today announced the formation of a Task Force on Climate Change that will be active in both the House and the Senate.
Inspired by President Barack Obama's statement in his inaugural address that failing to respond to the threat of climate change would "betray our children and future generations," the task force aims to focus Congressional and public attention on developing effective policy responses, and will be open to all Members of Congress interested in collaborating on this issue.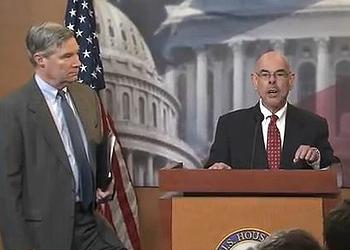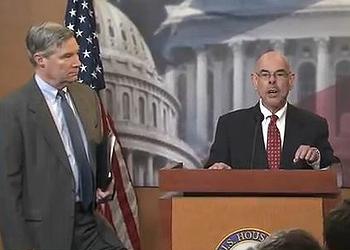 The Task Force will be co-chaired by Waxman, who serves as the Ranking Member of the House Energy and Commerce Committee, and Whitehouse, who chairs the Subcommittee on Oversight for the Senate Environment and Public Works Committee.
"Congress and the public need to understand that climate change impacts are turning out worse than expected and our window to act is closing," said Waxman. "This threat is not waiting until we are ready to deal with it. That is why I am pleased to join with Senator Whitehouse to work to educate our colleagues and all Americans about the magnitude of the problem and the urgency of the threat we are confronting."
"I'm honored to join Representative Waxman in this effort," said Whitehouse. "Carbon pollution is wreaking havoc on our atmosphere and on our oceans, and it's time to bring all hands on deck as we seek to meet that challenge."
"We intend this new group to bring the attention and energy to the issue necessary to get something done," he said. "I look forward to working with President Obama, Chairman [Barbara] Boxer in the Senate, and any of our other colleagues who wish to join us."
Senator Boxer, who chairs the Senate Environment and Public Works Committee, said, "Dangerous climate change poses an urgent threat and we have a responsibility to address that threat."
On January 11, Boxer announced that environmental attorney Joe Mendelson will join her EPW team as chief climate counsel. Previously, Mendelson served as the policy director of the Climate and Energy Program at the National Wildlife Federation. He played a key role in a landmark 2007 U.S. Supreme Court decision that established that the Environmental Protection Agency has jurisdiction over reducing carbon pollution from motor vehicles.
As a first order of business in the new task force, Waxman, Whitehouse and Congressman Ed Markey of Massachusetts, the Ranking Member of the House Committee on Natural Resources, today sent a letter to President Obama. They applauded his recognition of climate change in his inaugural address, pledged to help him address this issue, and urged him to quickly develop a comprehensive climate change plan.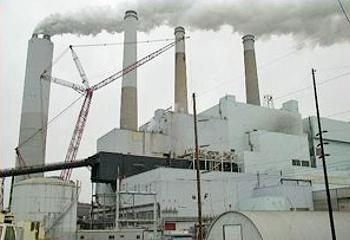 "The window to deal effectively with a warming planet and to mitigate long-term risks is quickly closing," they wrote. "Meanwhile, oil and coal industries continue to spend hundreds of millions of dollars denying the science, exaggerating the costs, and confusing the public. As a result, too few Americans fully appreciate the magnitude of the problem or the urgency of the threat we are confronting."
The lawmakers ask for "presidential leadership" to "forge together a national consensus that insists on addressing climate change."
They ask the President not to wait for Congress to act, but to use his administration's "broad authorities" to lower heat-trapping emissions, to encourage clean energy research and development and develop adaptive strategies.
"We in Congress need your leadership most of all," the Democratic lawmakers wrote. "Virtually all Republicans in Congress opposed comprehensive climate legislation in the 11th Congress, and they voted to strip EPA of regulatory authority in the last one."
"Progress in Congress may be so difficult or protracted that you should not hesitate to act," they wrote. "Congress will benefit from knowing what actions you will take administratively to meet your climate pledge and protect our nation. And we will benefit even more from a concerted effort between your administration and your allies in Congress to marshal the latent public support into a political force."
Environmentalists greeted the climate task force with enthusiasm.
Environmental Defense Fund President Fred Krupp said, "I'm very happy to hear that Senator Sheldon Whitehouse and Congressman Henry Waxman are creating a new task force to fight climate change. In his inaugural address, President Obama called on all of us to protect our children and future generations from the dangers of climate change."
"At EDF, we're grateful to these lawmakers for their ongoing leadership on this critical issue, and we stand ready to help the task force however we can."
Krupp said the task force, along with Senator Barbara Boxer's recently announced "climate clearinghouse," are steps towards "reducing the pollution that endangers us."
Boxer said in December that this year she will hold weekly "open forums" on climate change, and she hopes both Republicans and Democrats will participate in the "climate change clearinghouse" to discuss potential global warming legislation.
"We are going to review the latest information, we are going to work on supporting a major bill, we are also going to work on various smaller provisions that we think will move us forward and focus on green jobs, energy efficiency and making sure that we get the carbon out of the air, and work with the administration on some executive stuff," Boxer told "The Hill."
Boxer said a major climate change bill would cap carbon emissions and find ways to "harden our infrastructure to protect our people against extreme weather."
Copyright Environment News Service (ENS) 2013. All rights reserved.
© 2013, News Editor. All rights reserved.