Congress Pulls Wolves Off Endangered Species List
WASHINGTON, DC, April 14, 2011 (ENS) – Congress today approved a budget bill that includes a rider removing wolves in Montana, Idaho, Washington, Oregon and Utah from the federal endangered species list and sets the stage for near-term delisting in Wyoming. The measure returns control of wolf management to the states.
The votes mark the first time that Congress has directly removed federal protections from an endangered species, circumventing the science-based process of the Endangered Species Act.
The rider was introduced by Senator Jon Tester, a Montana Democrat, and Representative Mike Simpson, an Idaho Republican, and approved by Democratic leadership in the U.S. Senate.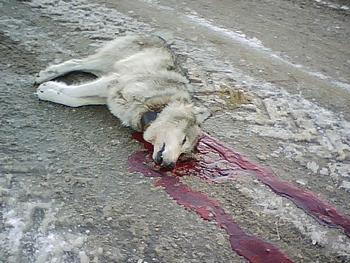 Wolf shot by a ranch manager in Pine Creek, Montana, February 2008 (Photo by Pam Frasier)
"This is more than a victory for Montana," said Senator Tester, who chairs the Congressional Sportsmen's Caucus. "It's a win for rural America, for jobs, and for our wildlife – and it's what's right for the wolves themselves. This was never going to get done with partisan games or grandstanding. We fixed this problem with Montana values – by putting aside our differences and working together on a responsible, common sense plan."
Montana Governor Brian Schweitzer praised the delisting, saying, "Enough is enough. Montana must have the ability to manage wildlife, to do our job, to seek a balance among predator and prey. We need the authority to respond to the challenges wolves present every day."
"This is a common sense measure that will ensure good management of wolves through Montana's existing plan, which allows for healthy numbers of wolves and safeguards the interests of ranchers and sportsmen," the governor said.
Rodger Schlickeisen, president of Defenders of Wildlife, said, "What Congress has done today at the request of Senator Tester and Representative Simpson is unforgiveable and marks a low point in the recent history of wildlife conservation. Never before has Congress stripped Endangered Species Act protections for one particular species, putting politics above sound science and our national commitment to conserving America's wildlife."
"This provision sets a terrible precedent that could be regarded as an invitation to other legislation to strip protections for any other endangered species that a politician finds inconvenient to protect," Schlickeisen warned. "Grizzly bears, salmon, whales, polar bears, and Florida manatees and panthers are just examples of those that could be at risk."
Wolves were once common throughout all of North America but were killed in most areas of the United States by the mid-1930s.
Wolves have been a bone of contention in the Northern Rockies since they were reintroduced to central Idaho and Yellowstone National Park in the mid-1990s over the objections of ranchers and hunters.
Court rulings in Idaho and Montana have removed wolves from the endangered species list twice but they have been relisted again under federal court orders.
"The Obama administration and Interior Secretary Ken Salazar in particular share the responsibility for undermining the Endangered Species Act," said Schlickeisen. "Secretary Salazar started down this unfortunate path when he adopted the Bush administration's delisting plan, which was clearly illegal. When the court ruled that his delisting was illegal, he repeatedly expressed support for legislative delisting in spite of the damage that he had to know it would do to the Endangered Species Act."
"This is a dark day for wolves and for all species relying on federal protections for their survival," said Kieran Suckling, executive director of the nonprofit Center for Biological Diversity. "Senator Tester included the rider as a ploy to score political points in his 2012 reelection campaign, and now wolves and other species will have to pay the price."
The states with the most wolves in the northern Rocky Mountains, Idaho and Montana, intend to kill many of the 1,270 animals last counted in their two states, which include approximately 80 breeding pairs.
In Idaho, both houses of the Legislature last week passed a bill that would declare wolves a disaster emergency on a par with other natural disasters and allow Governor Butch Otter to take actions to address the emergency.
The legislation says the state's estimated 800 wolves are compromising public safety, destroying herds of big game animals like elk and damaging hunting and agricultural industries. A state of emergency would allow the governor to use his police powers to lessen the threat.
Governor Otter said today that enactment of the federal budget resolution removes the need for him to sign the wolf disaster emergency bill into law.
Otter said he will meet with state officials on reinstating a public wolf hunt based on the 2009 hunt, which he termed a success.
Environmentalists fear the states will hunt wolves back to extinction, and they worry that the U.S. Department of Agriculture will ramp up aerial gunning of wolves and conduct campaigns that destroy wolf pups in their dens.
"Congressional delisting without the opportunity to restore protections threatens to bring us back to the days when wolves and other wildlife were systematically poisoned on public lands," said Suckling.
Wolf conservationists point out that wolves and large grazing animals lived side-by-side for tens of thousands of years before the first settlers arrived, saying food availability and weather regulate wolf populations naturally.
They cite studies on Yellowstone elk and wolves finding that weather and hunter harvest affect elk declines more than wolf predation. Wolves often enhance prey populations by culling weak and sick animals from the gene pool, leaving only the strongest animals to reproduce.
Copyright Environment News Service (ENS) 2011. All rights reserved.