Congress Proposes to Suspend EPA's Greenhouse Gas Regulatory Power
WASHINGTON, DC, March 4, 2010 (ENS) – Senator Jay Rockefeller today introduced legislation to impose a two-year moratorium on the Environmental Protection Agency's ability to regulate greenhouse gases from power plants and other stationary emitters.
The bill is the latest salvo in the battle over which branch of government will control greenhouse gases – the legislative branch through a clean energy and climate bill, or the executive branch by EPA regulation.
"Today, we took important action to safeguard jobs, the coal industry, and the entire economy as we move toward clean coal technology," said Senator Rockefeller, a Democrat who represents the coal-producing state of West Virginia.
"This legislation will issue a two year suspension on EPA regulation of greenhouse gases from stationary sources – giving Congress the time it needs to address an issue as complicated and expansive as our energy future," Rockefeller said. "Congress, not the EPA, must be the ideal decision-maker on such a challenging issue."
"At a time when so many people are hurting, we need to put decisions about clean coal and our energy future into the hands of the people and their elected representatives," he said, "not a federal environmental agency."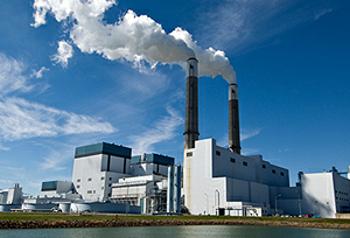 The coal-fired Clover power plant on the Staunton River in Virgina emits greenhouse gases into the atmosphere. (Photo courtesy Dominion Virginia Power)
Congressman Nick Rahall, another West Virginia Democrat, is introducing companion legislation in the House of Representatives with Democratic Congressmen Alan Mollohan of West Virginia and Rick Boucher of Virginia as original cosponsors.
In April 2007, the Supreme Court ruled in Massachusetts v. EPA that the EPA must make a determination regarding greenhouse gases when it comes to regulating motor vehicle emissions.
On December 15, 2009, EPA published its final rule in the Federal Register, stating, "The Administrator finds that greenhouse gases in the atmosphere may reasonably be anticipated both to endanger public health and to endanger public welfare."
The Supreme Court ruling gives the EPA the authority to regulate greenhouse gases under the Clean Air Act. If Congress wants to change or alter that authority, or suspend it long enough to pass comprehensive legislation, Congress must be able to pass a bill to do so.
Both President Barack Obama and EPA Administrator Lisa Jackson have stated their preference for legislation over regulation to limit greenhouse gas emissions responsible for climate change.
Last June, the House of Representatives passed its version of a clean energy bill that would cap greenhouse gases and establish a market for trading in emissions permits. A companion bill is still under negotiation in the Senate.
The Rockefeller bill has the support of Republican Senator Lisa Murkowski of Alaska, who said today, "Senator Rockefeller's legislation is further evidence of the growing, bipartisan, and bicameral resistance to EPA's back-door climate regulations. Given the overwhelming opposition to these actions, I'm hopeful that this bill will draw additional support and advance quickly."
"If that does not occur, the disapproval resolution is guaranteed consideration in the Senate," she said.
The resolution disapproving the EPA's endangerment finding (S.J.Res.26) was introduced January 21, 2010, by Murkowski and Senator Blanche Lincoln, an Arkansas Democrat, along with 39 cosponsors, mostly Republicans, with one other Democrat, Ben Nelson of Nebraska. It would remove all "force and effect" from the finding.
Timothy Wirth, president of the United Nations Foundation and a former U.S. Senator from Colorado said today, "Preempting the EPA has been the number one objective of the coal industry ever since Congress started to address climate and energy legislation. Taking away or suspending their authority would set a dangerous precedent for environmental protection in the United States."
If such a bill is approved by Congress, Wirth called on President Barack Obama to veto it.
"President Obama has spoken out clearly in support of legislation to combat climate change and make the clean energy economy a reality. He should make it clear that he will veto any legislation that preempts the EPA's authority," said Wirth.
"The coal industry has had its day, and now we must together look to the future and move as rapidly as possible toward a clean, low-carbon economy," Wirth said. "The steps must include robust energy efficiency programs, expanded renewables and increased use of natural gas as a cleaner, bridge fuel."
Friends of the Earth President Erich Pica said, "The bill introduced by Senator Rockefeller would allow climate-warming pollution from the country's biggest industrial emitters to continue unchecked. It is yet another example of the overwhelming power polluting corporate interests have in Washington."
David Doniger, policy director of the Natural Resources Defense Council's Climate Center, says the Rockefeller bill would effectively block global warming pollution limits for four years, not two because it would bar EPA from doing research on available technologies and would bar outreach and consultation with industry, state, or environmental stakeholders.
"So even after the two-year period ran out," he said, "it would take EPA another two years to get things done."
"It is not constructive to block the only working law on the books to curb global warming pollution and replace it with nothing," Doniger said. "Blocking the Clean Air Act will do nothing to bring Congress closer to passing comprehensive climate and energy legislation."
Copyright Environment News Service (ENS) 2010. All rights reserved.
© 2010 – 2012, Jim Crabtree. All rights reserved.