Conflict, Drought Put a Million Syrians at Risk of Starvation
ROME, Italy, April 24, 2012 (ENS) – The United Nations food aid agency is scaling up its efforts to reach hundreds of thousands of Syrians affected by an armed struggle for freedom and persistent drought in the Middle Eastern country.
Officials with the World Food Programme plan to target 250,000 hungry people per month inside the country until December 2012, based on a request by Syrian Arab Red Crescent to increase emergency food distribution. This would more than double the number of beneficiaries from the 100,000 Syrians now served each month, and the WFP plans to reach 500,000 people in the next few weeks.
The World Food Programme distributes food aid to Syria. (Photo by John Wreford courtesy WFP)
"As the conflict continues, Syrians in areas affected by the violence are struggling to feed their families and WFP is deeply concerned about the potential for food insecurity," Ertharin Cousin, executive director of the World Food Programme, said today in a statement.
"The expansion of our assistance came at the request of the Syrian Arab Red Crescent, and we are ready to further scale up our humanitarian assistance when access permits," she said.
The violence in Syria began in March 2011 as a protest movement against the government of President Bashar Hafez al-Assad similar to others in countries across the Middle East and North Africa. The conflict has to date claimed more than 9,000 lives, mostly civilians, and displaced tens of thousands of other Syrians.
Last month, a government-led assessment mission jointly carried out by seven UN agencies and the Organization of Islamic Cooperation, estimated that as many as one million Syrians are in need of humanitarian assistance.
World Food Programme officials say that even before violence broke out in Syria, a food security survey found that 1.4 million people – especially those from areas hit hard by a drought in previous years – were struggling to feed themselves and that they are concentrated in areas currently affected by unrest.
Syrian Arab Red Crescent distributed food aid to almost 165,000 persons in the east and northeastern parts of Syria, 2011. (Photo courtesy SARC)
The drought has continued for years, since 2006 in many areas. Severe drought affecting an area with 1.3 million inhabitants has meant that farmers have not been able to harvest for four consecutive years, while many herders have lost over 80 percent of their livelihood for lack of pasture and fodder, according to an appeal for emergency funds covering the period August 2009 through December 2010 made by the International Federation of Red Cross and Red Crescent.
Drought in the eastern governorates of Hassakeh, Deir al Zor and Raqqah has impacted nearly the entire rural population. Thousands of families from the east have migrated to urban centers or abroad.
The UN has presented a multi-million dollar plan to respond to humanitarian needs in Syria, but as yet has not secured government approval to move it forward.
John Ging, director of the UN Office for the Coordination of Humanitarian Affairs, detailed the plan to governments, NGOs and regional organizations at a meeting of the Syria Humanitarian Forum on Friday.
"Syria has recognized there are serious humanitarian needs and that urgent action is required," Ging said. "We now need to get agreement from the Syrian authorities to implement the response plan. In the meantime, we're mobilizing resources to make it happen."
The US$180 million plan includes dozens of projects to respond to the needs of one million people over six months, with most of the money earmarked for food and health care.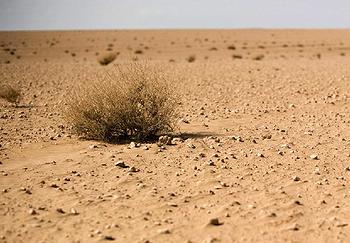 Drought in eastern Syria (Photo courtesy SARC)
Other relief efforts have not been fully funded. Donor response to a funding appeal last month for US$84 million to help Syrians in Jordan, Lebanon, Turkey and Iraq has been slow.
"Less than 20 per cent of the funds have been given," Melissa Fleming, chief UNHCR spokesperson, told journalists in Geneva on Friday. "Of the 34 organizations that have appealed for funds under the Syria Regional Response Plan, only eight have received funding to date totalling US$15.6 million dollars."
Speaking at UN Headquarters in New York on April 13, UN Emergency Relief Coordinator Valerie Amos said at least a million people are in urgent need of humanitarian help in Syria. "Even as the political and military situation evolves, the immediate priority for humanitarian organizations is to obtain unhindered access, especially to people in areas which have seen heavy fighting," she said.
"It is extremely important that negotiations to enable humanitarian organizations in Syria to deliver aid remain separate from other efforts to resolve the crisis," said Amos. "It is also vital that we are able to make emergency humanitarian supplies and services available to people in a way that protects civilians and aid workers."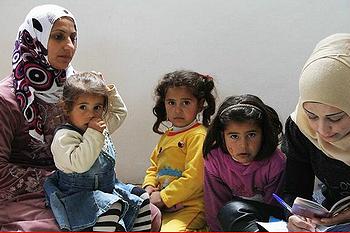 Members of a Syrian family register as refugees in northern Lebanon, March 2012. (Photo by F. Juez courtesy UNHCR)
Working in partnership with the Syrian Arab Red Crescent, the World Food Programme has been providing food aid for up to 100,000 people a month in cities such as Homs, Hama, Idleb and Damascus. Yet, some parts of these areas remain inaccessible for UN staff.
Assistance comes in the form of a monthly food basket containing basic foods – grains, oil, sugar, canned meat and beans – equivalent to 74 percent of the daily energy requirement per person per day.
"We will also be providing capacity-building activities to Red Crescent employees and volunteers to support their efforts and enhance their distribution capacity," said Daly Belgasmi, WFP's regional director for the Middle East and North Africa.
This week, WFP also began distributing hot meals to Syrian refugees living in Syria's neighbor Jordan, providing food packages to 15,000 people, in cooperation with the Jordanian Hashemite Charity Society and the Jordanian Red Crescent.
WFP's emergency operation for Syria was launched in August 2011 with a projected budget of $37.4 million. The agency is still seeking funding, as less than half that amount has been secured.
Copyright Environment News Service (ENS) 2012. All rights reserved.