CODA Begins Production of Electric Cars in California
LOS ANGELES, California, November 17, 2011 (ENS) – CODA Holdings, the U.S. electric vehicle and advanced battery developer, Wednesday started production of its first model, a zero emission electric mid-size sedan.
"We are excited to announce that we have started production of our all-electric CODA sedan," said CODA chief executive Phil Murtaugh. "We dedicated this year to increasing efficiencies in order to bring down costs and as we go to market, we are committed to passing these savings to our customers. These progressions align with our mission of putting an electric vehicle into every garage."
The first CODA sedans are on view at the Los Angeles International Auto Show, which opens to the public November 18 and runs through November 27 at the Los Angeles Convention Center.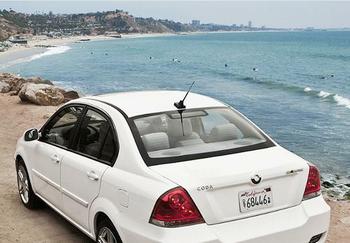 2012 CODA overlooking the Pacific Ocean at Los Angeles (Photo courtesy CODA)
The CODA delivers the longest range of any all-electric vehicle, said Murtaugh. A 36 kWh advanced lithium-ion battery pack and an air-cooled active thermal management system enables a fully charged CODA to go up to 150 miles, almost five times the average daily commute in the Los Angeles area.
A 6.6kW onboard charger enables recharging at four hours for 100 mile charge, two hours for 50 miles. Drivers can plug their CODA into a standard household outlet to top up the battery anywhere. The CODA accelerates up to 85 mph with its 134 horsepower motor and features a regenerative braking system.
CODA held the grand opening celebration of its new global headquarters in the heart of Los Angeles on November 11.
"We chose to place the global headquarters in Los Angeles not only because it is one of the most significant early markets for the deployment of electric vehicles, but because elected officials and business leaders have demonstrated their commitment to fostering a successful local cleantech industry," said Murtaugh.
California Governor Jerry Brown, Los Angeles Mayor Antonio Villaraigosa, Los Angeles City Council President Eric Garcetti and California Air Resources Board Chairman Mary Nichols were on hand to mark the occasion, along with Congresswoman Karen Bass.
"Dynamic innovation is a key building block of California's 21st century economy," said Governor Brown. "Car companies like CODA are investing in California because our laws encourage electric cars and recognize the paramount importance of reducing oil dependency."
CODA is currently the fastest-growing company in Los Angeles, with a 275 percent job increase year to date and an expected 300 percent growth by the end of this year.
"We are proud to welcome CODA to Los Angeles – the city that creates and innovates," said Mayor Villaraigosa. "We see CODA's move as a boost to our growing clean technology industry in LA and we are thrilled they chose to locate in our city."
CODA's headquarters, situated on South Fairfax Avenue, next to Interstate 10, houses 220 engineers, technicians and corporate staff. The city has named the adjoining road Electric Drive to honor CODA's core technology.
In addition to its headquarters, CODA's presence in the Los Angeles area includes the CODA Experience Center at the Westfield Century City in Santa Monica where people can learn more about the CODA, electric vehicles, take a test drive and reserve vehicles.
Copyright Environment News Service (ENS) 2011. All rights reserved.