Coal Company Must Restore Indiana Streams, Pay $810,000
INDIANAPOLIS, Indiana, January 10, 2012 (ENS) – The owner and operator of 31 surface coal mines in Appalachia and Indiana has agreed to pay a financial penalty and restore affected waterways for failing to obtain the required Clean Water Act permit for stream impacts caused by its coal mining operation in Indiana.
Under the settlement announced Monday, Triad Mining Inc. will pay a $810,171 civil penalty to the U.S. Treasury.
Triad must restore 34,906 linear feet of streams and enhance 4,330 linear feet of stream bed to address and mitigate impacts to stream beds caused by its mining activities at the Freedlandville surface mine. It is located east of the city of Freelandville, in Knox and Sullivan Counties, Indiana.
In addition, the company will create and maintain 66 acres of forested buffer areas and nine acres of forested wetland to protect the restored streams.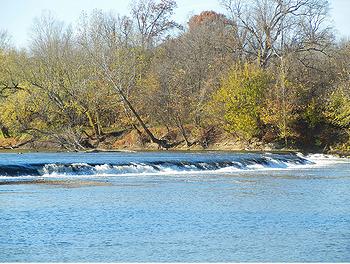 Waterfall on the East Fork of the White River (Photo by Sarah)
Since 2002, mining operations conducted by Triad have resulted in the unpermitted excavation and filling of more than 53,000 feet of streams that flow into the White River, say the Department of Justice and the U.S. Environmental Protection Agency.
The affected streams on the site are primarily headwater streams that flow to the White River. The EPA points out that headwater streams regulate water availability, groundwater recharge and floodwater attenuation.
"Protecting America's waters is one of EPA's top priorities," Cynthia Giles, assistant administrator for EPA's Office of Enforcement and Compliance Assurance said Monday. "Today's settlement will ensure that waterways impacted by unpermitted mining operations are restored and can again benefit the state of Indiana and the surrounding communities."
Triad, a subsidiary of James River Coal Company, obtained the required Surface Mining Control and Reclamation Act permits from the state of Indiana for its mining operations, but never obtained the required Clean Water Act permit for the site, despite the fact that its surface mining operation involved excavating coal seams located directly below stream beds.
On March 24, 2008, the Army Corps of Engineers issued a cease and desist order requiring Triad to stop its unauthorized stream-filling activities.
Triad continued its mining practices until the Army Corps of Engineers sent a second order on June 24, 2009, which Triad complied with. Since the second order was issued, Triad has continued mining, but has avoided additional impacts to streams.
The settlement requires Triad to obtain and implement a Clean Water Act Section 404 After-the-Fact permit to address the violations alleged in this case. EPA and the United States negotiated the terms of this settlement with Triad in conjunction with the U.S. Army Corps of Engineers, which will issue the permit.
"With this settlement, Triad will achieve compliance with the nation's Clean Water Act and be held accountable for its unpermitted discharges into streams of the White River watershed," said Ignacia Moreno, assistant attorney general for the Environment and Natural Resources Division of the Department of Justice.
She said, "Triad must also undertake restoration efforts and mitigate impacts from its mining activities by enhancing stream beds and creating buffer areas that will benefit aquatic life and recreational resources for the people of Indiana."
Copyright Environment News Service (ENS) 2011. All rights reserved.
Environment News Service (ENS) © 2012 All Rights Reserved.