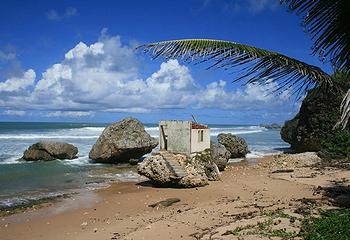 BRIDGETOWN, Barbados, June 5, 2014 (ENS) – Barbados, a small Caribbean island at the forefront of the fight against climate change, today hosted this year's World Environment Day, leading United Nations-wide efforts to draw attention to the plight of the world's small islands at risk of being lost to sea-level rise.
Over the last 100 years, the global sea level has risen by 10 to 25 centimeters, or up to about 10 inches.
UN Secretary-General Ban Ki-moon said in his message for World Environment Day, "This year, I urge everyone to think about the plight of Small Island Developing States and to take inspiration from their efforts to address climate change, strengthen resilience and work for a sustainable future."
Said the UN chief, "Raise your voice, not the sea level."
Today, Secretary-General Ban took part in the first Sustainable Energy for All Forum at UN headquarters. The goal is sustainable energy for all by 2030, an enormous challenge yet a tremendous opportunity.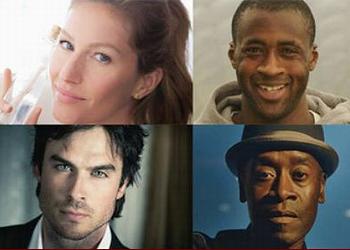 To open the week-long celebration in Barbados that started June 1, Prime Minister Freundel Stuart said, "As the global host of 2014 World Environment Day, the most important day of the year for environmental action, Barbados is honored to stand alongside the United Nations Environment Programme and the rest of the global WED community in raising our voices in solidarity with, and support for the Small Island Developing States of the world."
"Given the interconnectedness of the planet, our prosperity is also that of our neighbors in the developed and developing world," Stuart said.
Energy Minister Senator Darcy Boyce flicked the switch at a beach facility operated by the National Conservation Commission to signal the launch of the government's initiative to power all public facilities with solar electricity.
UNEP and the Barbados Chamber of Commerce sponsored a private sector forum in Bridgetown to promote clean technology development and investment in small island states.
Also in Barbados, the UN Environment Programme, UNEP, designated as a Goodwill Ambassador Ian Somerhalder, an actor best known for his work on the international hit TV series, "The Vampire Diaries," and on the critically acclaimed drama "Lost."
"Humans are currently consuming far more than our planet can provide or sustain," said Somerhalder, a Louisiana native. "We are polluting our air with carbon emissions, destroying our forests and species, and filling our seas with plastic and waste. The time is now to go greener by making choices that are good for people and the planet."
Somerhalder joined fellow UNEP Goodwill Ambassadors Gisele Bündchen, Don Cheadle and Yaya Touré in sending an SOS to the world on behalf of Small Island Developing States.
Their message, "We are all connected. The challenges faced by islands will face us all. So, every action we take to reduce waste and mitigate climate change counts. Join one of our teams and pledge to make a difference by taking action for World Environment Day."
On June 5, 1972, the UN General Assembly authorized the formation of UNEP to, "provide leadership and encourage partnership in caring for the environment by inspiring, informing, and enabling nations and peoples to improve their quality of life without compromising that of future generations."
That same day was designated World Environment Day. Over the years it has grown to be a broad global platform for public outreach celebrated by stakeholders in over 100 countries.
Among the hundreds of events held to celebrate World Environment Day 2014, some 45,000 people, including UN staff, participated in a clean-up campaign throughout Kosovo.
The Baltimore Orioles baseball team raised awareness of the environment in Sarasota, Florida, while in Shanghai, China a youth conference on "eco-civilization and green development" was held.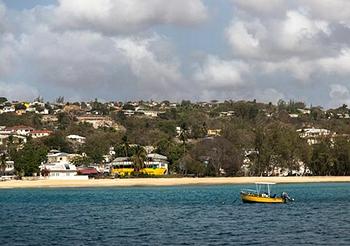 In support of the UN designation of 2014 as the International Year of Small Island Developing States, World Environment Day focused on those countries in the broader context of climate change as its theme.
Many of today's events spotlighted the upcoming Third International Conference on the Small Island Developing States, scheduled from September 1 to 4 in Apia, Samoa.
"Small island nations share a common understanding that we need to set our planet on a sustainable path," said Secretary-General Ban, explaining that reaching that goal demands the engagement of all sectors of society in all countries.
Home to 62.3 million people, these small island nations play a crucial role in protecting oceans.
They contribute little to climate change – emitting less than one percent of the world's greenhouse gases – yet they suffer from the effects of climate change owing to their small size, remote locations, and limited economic resilience.
Research shows that by 2100, global warming could lead to a sea-level rise of up to two meters, making many of these island States uninhabitable, especially in the Pacific region.
Achim Steiner, executive director of the UN Environment Programme, UNEP, warned that the very existence of low-lying nations, such as Kiribati, Maldives, Marshall Islands and Tuvalu is threatened by climate change-induced sea level rise.
A new UNEP report says that sea-level rise in the world's 52 small island nations is the most pressing threat to their environment and to their socio-economic development.
As the climate warms, annual losses are estimated in the trillions of dollars due to increased vulnerability to sea level rise, but the lack of financial resources to cope with the situation is a big obstacle.
For these small island nations, sea level rise is estimated to be up to four times the global average. The capital cost of sea-level rise in the Caribbean Community countries alone is estimated to reach $187 billion by 2080.
"Investing now to head off such a massive economic impact makes sound business sense," Steiner said in his World Environment Day message.
The "SIDS Foresight Report" identifies climate change impacts and related sea-level rise as the chief concern among 20 emerging issues impacting the environmental resilience and sustainable development prospects of small island states, although the other issues are serious – coastal squeeze, land capacity, invasive alien species and threats from chemicals and waste.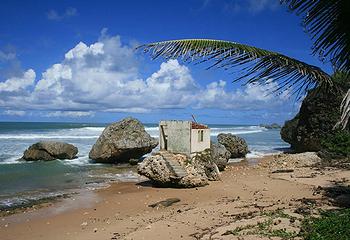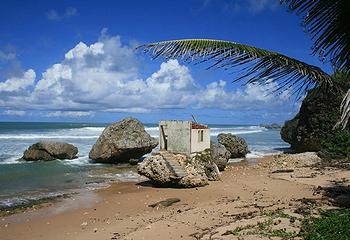 UN General Assembly President John Ashe, in his message on this World Environment Day, appealed for a global call to action for people across the world to support small island states as well as low-lying coastal states endangered by rising sea levels, climate change, the loss of biodiversity and forests and overfishing.
"Only by transitioning together to a green economy can we ensure a sustainable prosperous future for all countries threatened by rising sea levels," said Ashe.
Christiana Figueres, executive secretary of the UN Framework Convention on Climate Change, UNFCCC, said today that while small islands face many challenges, they are also leaders under that treaty "both morally and practically."
They remind nations of the risks and the responsibility to act, and many of these nations have undertaken National Adaptation Programs of Action under the UNFCCC.
Figueres cited a host of initiatives by small island states that have leveraged the Kyoto Protocol's Clean Development Mechanism to build their own clean energy futures.
These include improved adaptation of water resources in the Comoros; wind power projects in Cape Verde, the Dominican  Republic and Jamaica; and methane capture in Papua New Guinea and Cuba.
"Our pathway is clear," Figueres said. "Clean energy economies produce profits without pollution, better livelihoods in stable industries, restore health and wider wealth and preserve water and essential resources."
Copyright Environment News Service (ENS) 2014. All rights reserved.