Climate Heats Up, But Global Warming Treaty Out in the Cold
NEW YORK, New York, September 24, 2010 (ENS) – The global climate is heating up. The first eight months of 2010 tied the same period in 1998 for the warmest combined land and ocean surface temperature on record – 1.21 degrees F (0.67 degrees C) above the 20th century average, according to U.S. government data.
With this in mind, the top United Nations climate change official is urging governments to quicken their negotiations ahead of the UN's annual climate conference in Cancun, Mexico, opening at the end of November.
While no one expects a legally binding climate treaty to emerge from the Cancun summit, world leaders will be expected to conclude agreements on technology transfer, mitigation and adaptation, and funding.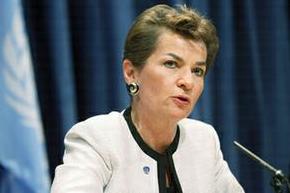 Christiana Figueres, executive director of the UN Framework Convention on Climate Change briefs reporters at the UN. (Photo by John McIlwaine courtesy UN)
"We are barely two months away from the UN climate change conference in Cancun, the place where governments need to take the next firm step on humanity's journey to meet the full-scale challenge of climate change," said Christiana Figueres of Costa Rica, who took over in July as executive director of the UN Framework Convention on Climate Change, UNFCCC.
Ahead of the Cancun meeting, governments will hold a negotiating session in Tianjin, China next week. It is in Tianjin, said Figueres, that they will need to "cut down the number of options they have on the table, identify what is achievable in Cancun and muster the political compromises that will deliver those outcomes."
She told a news conference at UN Headquarters in New York, that up to $28 billion of $30 billion committed by industrialized countries in fast start funding for climate mitigation and adaptation has been identified, saying that is "the golden key" to trust-building efforts in Cancun.
"On the whole," Figueres said, "governments have been cognizant this year that there is an urgent need to move forward and they have been collaborating in moving beyond their national positions to begin to identify common ground so that they can reach several agreements in Cancun."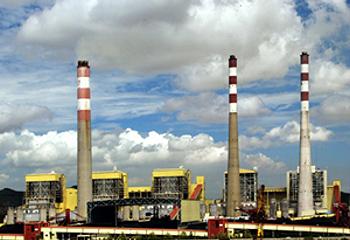 The 5,000 megawatt Guodian Beilun Power Station is the largest coal-fired power station in China. (Photo by China Daily)
Agreement is needed on how the greenhouse gases responsible for global warming can be controlled after the Kyoto Protocol's first commitment period expires at the end of 2012.
Under the protocol, 36 developed nations are legally bound to reduce their emissions of six greenhouse gases by an average of 5.2 percent below 1990 levels.
But the world's two largest emitters, the United States and China, are not Parties to the Kyoto Protocol, nor are many developing country major economies such as Brazil, Indonesia, India and Mexico.
After last year's UN climate summit in Copenhagen did not result in a legally binding agreement limiting greenhouse gas emissions despite months of UN exhortations to "Seal the Deal," no one anticipates that this year's Cancun summit will achieve a final treaty document.
"Let me be clear," said Figueres Thursday, "there is no magic bullet, no one climate agreement that will solve everything right now."
"To expect that is naive. It does not do justice to the crucial steps already achieved since the beginning of the Convention and it dangerously ignores the need to keep innovating," she said.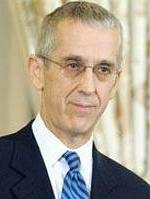 Todd Stern, U.S. Special Envoy for Climate Change (Photo courtesy State Dept)
U.S. Special Envoy for Climate Change Todd Stern agrees. Briefing reporters Tuesday in New York after a meeting of 17 major economies on climate change, Stern said, "Nobody is anticipating or expecting in any way a legal treaty to be done in Cancun this year."
Instead of a legal treaty, last year's summit produced the Copenhagen Accord, which opens the door for both developed and developing countries to make voluntary pledges to reduce greenhouse gases and fund climate mitigation and adaptation programs.
Stern said the Obama administration views the way forward as building on the Copenhagen Accord with a set of decisions on the core issues – mitigation, adaptation, finance, technology, and REDD – the UN collaborative program on Reducing Emissions from Deforestation and Forest Degradation in Developing Countries.
Stern said the major economies came to a "broad consensus on the need to have decisions on those issues" in a balanced way.
"You don't move on two or three of them and make no progress on the others but they all kind of have to march together and at more or less the same speed at least roughly speaking," said Stern. "This is obviously easier said than done."
"What you might think of as the old kind of Kyoto paradigm of developed countries have to do things on a mandatory basis and developing countries don't or developing countries actions are purely voluntary, that was not a feature of the Copenhagen Accord," Stern said.
Russia's Kostromskaya Power Station is the world's largest gas-fired power station. (Photo courtesy RAO UESR)
"The Copenhagen Accord envisioned that all the developed countries and all the developing countries who submitted actions would, on essentially the same basis, agree to implement them in an internationally transparent fashion," said Stern. "So those are elements that will obviously need to be part of any agreement this year."
In London, the UK's new Energy and Climate Change Minister Chris Huhne told a conference audience Thursday that, "Climate change is the definition of a global threat. A failure to act in time will affect us all."
Held at Chatham House: The Royal Institute of International Affairs, the conference is considering whether an international deal on climate will be reached in the next year, and if not, what alternative forms of governance will emerge and what practical steps governments and business can take.
"This is the pre-eminent challenge in global governance," said Huhne told participants. "If we cannot deal collectively with such a threat to our very existence as a species on this planet, we are lost."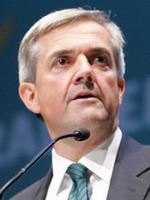 UK Energy and Climate Secretary Chris Huhne (Photo courtesy Liberal Democrats)
"Let us first be clear that the science is becoming more certain, not less," Huhne said. "This year alone, we have seen extreme weather events across the globe. Mudslides in China. Forest fires in Russia. Floods in Pakistan. And the breaking-off of a massive ice sheet in Greenland. No one of those events on their own can be attributed with certainty to climate change, but the increase in their frequency can – as the re-insurers will tell you."
"Security analysts see climate change not as a matter of public debate, but as a threat multiplier. Food security, water shortage, climate-driven migration, energy conflicts: these problems will not respect Britain's borders," he warned. "These will have a direct impact on our way of life, our security and our taxes. It is in our direct national interest to secure global action on climate change."
"The failure to secure a binding deal at Copenhagen stemmed from a breakdown in political will. Suspicion and division overcame confidence in our chances of achieving a fair and firm agreement," Huhne declared.
"The UK is responsible for just two percent of the world's emissions. But that does not mean we will escape the consequences of inaction. Myriad pressures await if we cannot rise to the challenge," warned Huhne, a Liberal Democrat member of the UK's Coalition Government, which is led by Conservative Prime Minister David Cameron.
"The Coalition Government agreement on climate change is clear," he said. "We are determined to reach an ambitious international deal to limit emissions."
Back in New York, Figueres says negotiations are "on track" towards reaching agreements on the sharing of technology, jump-starting activities in developing countries dealing with reducing deforestation and degradation, setting out a framework for adaptation, and establishing a fund that would help developing countries with their mitigation and adaptation efforts.
She noted four major trends shaping the future: energy supply and security; natural resource depletion; population growth; and climate change.
"An unchecked climate change is the flame that would make the other three burn most seriously," said Figueres. "Governments can either stand together to turn these four threats into a new development paradigm that harnesses the full power of society, science and business, or they will fail divided."
Copyright Environment News Service (ENS) 2010. All rights reserved.