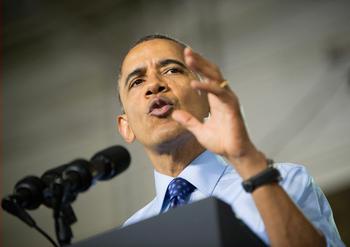 WASHINGTON, DC, April 22, 2014 (ENS) – An Earth Day Proclamation from President Barack Obama today contains a "dire" warning of the potent consequences of climate change and a pledge to protect Americans and all humankind from this looming problem  "that threatens us all."
"The first Earth Day was a call to action for every citizen, every family, and every public official. It gave voice to the conservation movement, led to the creation of the Environmental Protection Agency, and pushed our Nation to adopt landmark laws on clean air and water," said the President. "This Earth Day, we remember that when Americans unite in common purpose, we can overcome any obstacle."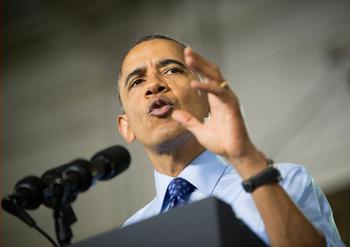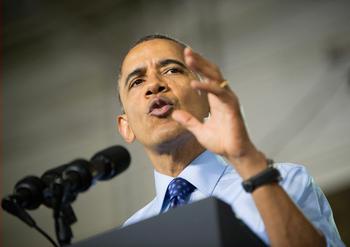 "Today, we face another problem that threatens us all," Obama proclaimed. "The overwhelming judgment of science tells us that climate change is altering our planet in ways that will have profound impacts on all of humankind."
"Already, longer wildfire seasons put first responders at greater risk. Farmers must cope with increased soil erosion following heavy downpours and greater stresses from weeds, plant diseases, and insect pests. Increasingly severe weather patterns strain infrastructure and damage our communities, especially low-income communities, which are disproportionately vulnerable and have few resources to prepare. The consequences of climate change will only grow more dire in the years to come," Obama predicted.
Obama recounted the work his administration has done to prepare the nation for the impacts of climate change – tenfold increase in solar power, triple the electricity from wind power, and took credit for bringing "carbon pollution to its lowest levels in nearly two decades."
"In the international community, we are working with our partners to reduce greenhouse gas emissions around the globe. Along with states, utilities, health groups, and advocates, we will develop commonsense and achievable carbon pollution standards for our biggest pollution source – power plants," Obama said.
Climate change is not the only environmental front Obama has been working on, he said in the Earth Day proclamation.
"We are also taking on environmental challenges by increasing fuel efficiency, restoring public lands, and curbing emissions of mercury and other toxic chemicals. We are safeguarding the water our families drink and the waterways and oceans that sustain our livelihoods. This February, we proposed new standards to protect farm workers from dangerous pesticides."
"And because caring for our planet requires commitment from all of us, we are engaging organizations, businesses, and individuals in these efforts," said Obama.
Today, senior officials across the Obama Administration are observing the 44th anniversary of Earth Day with events and announcements.
Secretary of Agriculture Tom Vilsack, speaking at Drake University in Des Moines, Iowa about the current state of climate change policy at the federal, state, and local level, celebrated Earth Day by announcing record financial support for 116 projects that will improve water and wastewater services for rural Americans and benefit the environment.
Today's announcement is USDA's largest Earth Day investment in rural water and wastewater systems. Nearly $387 million is being awarded to 116 recipients in 40 states and the Commonwealth of Puerto Rico. The Department is providing $150 million in grants through the 2014 Farm Bill plus $237 million in loans and grants from USDA's Water and Environmental Program.
"Having reliable, clean and safe water is essential for any community to thrive and grow," Vilsack said. "I am proud that USDA helps build rural communities from the ground up by supporting water infrastructure projects like these. I am especially proud that we can help communities that are struggling economically and those that have urgent health and safety concerns due to their failing water systems."
Secretary of Education Arne Duncan and White House Council on Environmental Quality Acting Chair Mike Boots will announce the U.S. Department of Education's Green Ribbon Schools award honorees. Schools won for their exemplary efforts to reduce environmental impact and utility costs, promote better health, and ensure effective environmental education.
Energy Secretary Ernest Moniz will convene a two-part public meeting in Providence, Rhode Island and Hartford, Connecticut to receive stakeholder input to the Quadrennial Energy Review – an administration-wide effort to make recommendations regarding key infrastructure needed for transmission, storage and distribution of energy, taking into account energy and climate goals and the impacts of climate change.
In Rhode Island, Secretary Moniz will be joined by Governor Lincoln Chafee and Senator Jack Reed. Governor Dannel Malloy and Representative John Larson will join the Secretary in Connecticut.
EPA Administrator Gina McCarthy was a guest on "The Daily Show with Jon Stewart" Monday night discussing President Obama's Climate Action Plan. Today, Secretary Moniz and Administrator McCarthy will travel to Boston, their shared hometown. At the New England Aquarium, they will join Boston Mayor Marty Walsh to discuss the effects of climate change on the Boston Harbor and meet with Boston teens participating in the aquarium's youth environmental programs.
On Wednesday, Administrator McCarthy will join the American Lung Association and public health partners for a press conference on health impacts of air pollution at the Cleveland Clinic in Cleveland, Ohio.
Also on Wednesday, General Services Administrator Dan Tangherlini will participate in an educational event in Rawlins Park in Washington, DC, focused on green cities. GSA officials will welcome the public to its unique 1800 F building, which features an open workplace layout, smart occupancy and unique energy and water efficiency features.
On Earth Day, Secretary of Housing and Urban Development Shaun Donovan will speak at the Cities for Tomorrow Forum in New York City hosted by New York Times Architecture Critic Michael Kimmelman. The two men will take part in the "Safe, Affordable, and Sustainable Housing: Creating and Re-Creating Our Cities" segment of the forum and discuss strategies for creating an urban environment that runs cleanly and efficiently.
Today Deputy Secretary of the Interior Mike Connor will host a live streamed online chat in honor of Earth Day. To submit questions or to watch live, go to www.doi.gov/live starting at 2:30 p.m. ET.
U.S. Geological Survey Acting Director Dr. Suzette Kimball will participate with local officials in an anniversary event in Embudo, NM, celebrating the 125th anniversary of the first USGS streamgage, which provides public access to data on stream flow collected at approximately 1.5 million sites in all 50 states and U.S. territories to help local officials manage water supplies and anticipate water events such as floods and droughts.
The Bureau of Land Management will announce the winner of the BLM-wide internal Think Green! contest that solicited ideas on how the agency can lessen its environmental footprint.
The U.S. Fish and Wildlife Service has an Earth Day portal http://www.fws.gov/home/earthday/ listing local happenings and featuring video podcasts and eco-tips for public use. Many national parks plan Earth Day and National Park Week (April 19-27) celebrations, which Secretary Sally Jewell kicked off in Crater Lake National Park in Oregon on Saturday, April 19.
For the Department of Justice, Deputy Attorney General James Cole and Acting Assistant Attorney General for the Environment and Resources Division Robert Dreherwill participate in an Earth Day event at Marvin Gaye Park in Washington, DC to highlight environmental legal enforcement actions over the past year.
On April 21 and 22, NASA will be celebrating Earth Day at Union Station in Washington, DC. NASA's large multi-screen HD visualization Hyperwall and Science Gallery informational banners will display NASA Earth science images and science results, and hands-on demonstrations and activities will be available to the public.
Today, NASA Administrator Charles Bolden will visit the exhibits, give brief remarks, and answer questions from students. In addition, NASA scientists will give presentations about our changing planet.
On Earth Day, the White House Office of Science and Technology Policy and WG Digital Strategy will host a "We the Geeks" Google + Hangout on "Extreme STEM" featuring scientists who have worked at the bottom of the ocean, in space, and in Antarctica, and the impacts of climate change on these vast frontiers. NOAA Administrator Kathryn Sullivan will participate.
On Earth Day, Secretary of State John Kerry will participate in the State Department's Earth Day Expo where he will visit environment-related exhibits and meet with State Department employees to discuss State's environmental programs in sports, facilities management, posts overseas, policy and more. Follow Secretary Kerry's participation in the event and the event itself using @statedept.
Copyright Environment News Service (ENS) 2014. All rights reserved.